Luxury Caribbean Catamaran Charters
Catamaran luxury yachts are an amazing way to vacation in the Caribbean and tour the absolute beauty of the US Virgin Islands (USVI) and British Virgin Islands (BVI) like never before. Not only are catamaran yachts spacious, but they're also exceptional at maintaining a steadier feel for those who may be prone to seasickness.
Here at Caribbean Soul Charters, we offer bespoke, luxury crewed yacht charter booking on catamaran sailboats guaranteed to fulfill your family's dream yachting vacation on the Caribbean sea.
If you're looking for a luxury catamaran sailboat, our concierge yacht charter service will ensure your desires in a Caribbean yacht vacation are met with perfection.
Please select up to five of the below luxury catamarans and email us with your selection and we will do the rest from there.
If you would like to discuss your trip in greater detail so we can customize the ideal trip for you and your loved ones on the best yachts the Caribbean offers, please call +1 (340) 690-1121 or Toll-Free at +1 (877) 432-6700 and let's get started. Be sure to ask for Sue!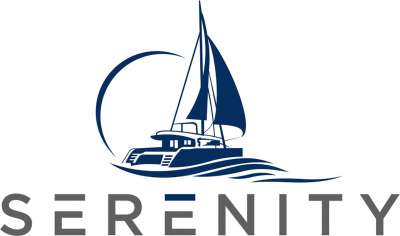 SERENITY 4.8 GUESTS COMMENTS
April 2023
We all had the most amazing time! Rain or shine. We appreciated how special both of you made this vacation for us. You are both superb teammates for catch phrase, and many more games and adventures! We will miss you!!!

- Adam Flamingo
April 2023
Tina and Theo,

I've had the best week of my 30 years of life, you two have been awesome! Thanks for making this a vacation and home all at once!

Your friend,

Ross Deason
Incredible Time
Tina was exceptional. Very charismatic and polite. Very informative, helpful. Always smiling. Her ability to handle the boat single handed was impressive. She came across as someone who was very experienced and totally professional. She was calm in handling the boat in what were sometimes difficult conditions.

We got to go to agenda with Tina on the first day. We covered all of the popular destinations – Anegada, Bitter End, The Baths, Normand Island, Jost Van Dyke etc. WE use paddle boats, underwater jets, snorkeling kit, etc.

Thea impressed us all with the range and quality of her cooking. Every meal was different. She did well to accommodate any dietary restrictions/likes/dislikes, and was extremely talented. Everyone was extremely complimentary on Thea's meals.The meals were restaurant grade presentation and quality. Quantity was just right. Occasional snacks were wonderful.

Largely, Tina and Thea did a great job trying to accommodate our wish list. We understand provisioning is sometimes quite difficult to do in BVI, so we were OK if we didn't get everything we asked for. If anything this was more than made up with the vast variety of cocktails that were made up.

Special thanks to Tina and Thea for making this the holiday of a lifetime. They really made the whole trip a dream. Thank you!

The Allen family
March 2023
Tina and Thea,

Thank you for the most amazing week, this trip was unforgettable… And part because we almost lost it when we saw a barracuda. But more so because you both went above and beyond in your level of service and professionalism. Thea, the food was superb. As we told you, it was better than most meals (all that one) we had ashore & frankly better than what we cook at home!
We can't believe how much we did over seven days. We thoroughly enjoyed every island and the variety of activities we took part in. We will be back!!

Words can't express how incredible sailing around the BVI's was. Thank you both for contributing so much to making this happen!
March 2023 - Broker provided survey
Yacht & Crew
Please answer the following questions pertaining to the yacht you chartered and the crew.
Rating of Yacht & Crew: 5/5
Was the yacht comfortable and clean?
yes
Was the yacht well ventilated?
yes
Was the crew friendly and accommodating?
Yes and very professional
Was the food good and well presented?
Yes
8. Additional comments about the yacht and crew?
As stated above, the crew of Tina and Thea are very professional and pleasant. They knew what to do, how to do their jobs and confidently directed us. Your could tell they planned ahead for locations and moorings and dock space. Their suggestions on land excursions was accurate and very helpful. Tina and Thea are both Croatian so English is a second language. Their knowledge of English is excellent! I would highly recommend both of them to others considering a charter.
Cruising Area

Did you like the area you chartered in?
yes, We covered all of the locations we suggested and saw others as well.

April 2022 - broker provided survey
Rating of Yacht & Crew:
5/5

Was the yacht comfortable and clean?
yes

Was the yacht well ventilated?
yes

Was the crew friendly and accommodating?
great crew!

Was the food good and well presented?
fantastic

Additional comments about the yacht and crew?
Tina and Shawn were incredible. It made out cruise!

Cruising Area
Did you like the area you chartered in?
yes
March 2022
Our vacation was beyond amazing!! Thank you!! Richard and I had not been on a vacation since 2020 with COVID took over. Your knowledge, attention to detail and overall engaging and friendly demeanor made this vacation extra special. You are PHENOMENAL!!

You made Susan, Richard and I feel so special. We needed to disconnect and lose ourselves in this most beautiful BVI and so we did because of you!! The new places you took us to, the guided tours, the great food, the time we spent with you, and my surprise birthday celebration are unforgettable memories we will treasure always!

We also loved all your toys - full face masks, underwater Gopro, paddle boards, scooters, and the that's what she said card game... lol!

We can't wait to visit the Rikija Lounde at the Kent Hotel with you and show you some fun places in Miami when you visit. We are looking forward to seeing you again soon and experiencing a new adventure (Croatia) as you are indeed the Captain of choice. We love you Captain Tina!! Thank you!! Till we meet again soon!
March 2022
Wow. Just wow!
I knew I would have a good time just because I was with Richard and Ann, but... This trip goes in my top 5 and I am ready to do it again with the same crew! Painkillers, conch, lobster, best of Anegada, was the best of the best! You all were more than we expected. Skipper, Captain, Nurse, Chef, Dishwasher, Crew, Plumber, Woman - very professional, but lovely person with a big heart. I applaud you and you are adored by all of us. Be strong girlfriend! Joyed meeting joy, cherish good friends! We are so luck to have met you all and thank you for helping us to celebrate birthdays that were very special. You are family now. Most of all know that life is short, enjoy all the moments, especially good people. Peace, health, and happiness!
February 2022
Thank you for such an amazing trip! You were/all the best captain. If you are ever in DC/Michigan, please give us a call so we have a chance to show you a great time! This was an unforgettable trip! I will definitely be practicing my wake boarding skills/jumping in case we ever get the chance to go with you again:) Every stop was amazing! The only thing that I would change is the amount of sunscreen I used - ROASTED! Thank you again for everything. Love you!
-Whitney
PS - We are better at Jenga than Corey and T.Dog
February 2022
A really amazing, once in a lifetime experience. Sleeping under the stars, sailing under the sun, and snorkeling under the water. A wonderful and fun filled trip. This was the perfect combo of relaxation and excitement. Absolutely lovely!
February 2022
Wow! What a trip to remember indeed! Thanks to the crew we not only saw exquisite fish, coral, FLAMINGOS, swam with turtles and had our very own corona island moment, BUT we ate like kinds, never had to want for anything and had all the sports gear to play in the water. Not to mention, the crew were QUEEENS at limbo! Thank for for a very memorable trip, we drank all the red wine and we appreciate you both going above and beyond.
-Rosey, Will, Katrian, Matt, Jamie and Mike
February 2022
Tina, la capitana, una GENIA.
Además de súper responsable, un encanto de persona
Y Kay Kay, la chef, también muy joven y muy agradable
El barco Serenity, un lujo
Tiene solo 3 meses y su diseño francés lo hace muy exclusivo
El juegos náuticos, todos nuevos y en perfectas condiciones
Estos viajes vinieron para quedarse

Translation:

Tina, the captain, a GENIUS.
In addition to being super responsible, a charming person too
And Kay Kay, the chef, also very young and very nice
The Serenity boat, a luxury
She is only 3 months old and her French design makes it very exclusive
The water games, all new and in perfect condition
These trips are here to stay
February 2022
What a wonderful trip!!!

Serenity is the best boat I saw all week during our arrival in the bays. It is very comfortable, and the cabins are excellent. The variety and quality of arrival toys are amazing. Tina is an excellent hostess, she is always attentive and willing to cover all the requirements of her guests. In addition, we feel very protected by her dedications to trying to take care of the safety of all of us and is always ready to please us. The chef is a very sweet person and the meals very good, worthy of a 5-star restaurant. She was always trying to please us with her culinary treats.

Thanks to the crew, we are trying to repeat this trip next year if they are still the crew on this boat. Thank you very much, this has been an unforgettable week!
2021/Matea
Mattea was amazing! Her food was delicious and I admire the passion and dedication she put in her cooking
and presentations. She always made sure we were stocked up on food and never left us hungry. She also was
an awesome tour guide and took us to beautiful locations to explore and eat. We love you mattea!
2021/Tina
"This trip made my dream come true"
Jeoung
S. Korea

2021/Tina
"Amazing trip with an amazing 'capy', couldn't have been better. Perfect suggestions for swimming spots and restaurants. A million thanks."
Haralambos
USA
2021/Tina
"Tina was the difference between a good holiday and a great holiday!"
Joe
Australia

2021/Tina
"You were not only an outstanding skipper, but also a wonderful tour guide, concierge and friend."
Carson
USA

2021/Tina
"Best week in my life!"
Jadranka
Netherlands
2019/Matea
Tia was also amazing. We feel like we made a friend for life. Good was always delicious, waiting for us when
we woke up and the cabin was spotless. Anytime we needed to adjust something or changed our mind on
food she was as nice as can be and took care of it no problem. If it wasn't for our skipper and host our trip
would've been completely different and a lot worse. They were both amazing!
2018/Matea
Wow, she can cook. She made some of the best food I have ever had in my life. Luckily she is from Croatia so
we really got to taste the real Croatian culture. She cooked everyday for us. Would wake up to a full spread of
amazing fruit and meats for breakfast. Then have an amazing Croatian dish for lunch or dinner. She also kept
the yacht so clean. We had 10 guys on the yacht so she did an amazing job with the amount of food
preparation and cleaning.
2017/Matea
By far the best meals I've ever had. She was the sweetest person and was so incredibly professional. Did
everything to take care of us. The whole crew adored her.

2016/Matea
Matea exceeded any expectation our crew could hope for from a hostess. The food was amazing. You could
tell how much effort she put in-using her mother's recipes. She made us bookings as incredible restaurants
and helped us decide on the best tables to book on the nights out. She was also so much fun. Everything from
water balloon fights to getting those first drinks poured- she made it happen.