Luxury Caribbean Catamaran Charters
Catamaran luxury yachts are an amazing way to vacation in the Caribbean and tour the absolute beauty of the US Virgin Islands (USVI) and British Virgin Islands (BVI) like never before. Not only are catamaran yachts spacious, but they're also exceptional at maintaining a steadier feel for those who may be prone to seasickness.
Here at Caribbean Soul Charters, we offer bespoke, luxury crewed yacht charter booking on catamaran sailboats guaranteed to fulfill your family's dream yachting vacation on the Caribbean sea.
If you're looking for a luxury catamaran sailboat, our concierge yacht charter service will ensure your desires in a Caribbean yacht vacation are met with perfection.
Please select up to five of the below luxury catamarans and email us with your selection and we will do the rest from there.
If you would like to discuss your trip in greater detail so we can customize the ideal trip for you and your loved ones on the best yachts the Caribbean offers, please call +1 (340) 690-1121 or Toll-Free at +1 (877) 432-6700 and let's get started. Be sure to ask for Sue!



RUMAWAY GUESTS COMMENTS
February 2023 - Broker provided survey
Your overall rating:
5 stars out of 5 stars

Was this your first charter experience?
No

Charter dates:
January 30-February 4, 2023

Destination:
Virgin Islands

How did you enjoy your cruising vacation?
Loved it.

In the future, would you charter again?
Yes

Book the same yacht again?
Yes

Follow the crew onto another yacht?
Yes

How is the yacht? Is she clean and well maintained? Were your cabins comfortable? Was the cockpit comfortable? Was there enough shade?
It was all good.

Were your meals excellent and fresh? Spiced with variety and beautifully presented? Did the menus meet you expectations? Did your chef and crew pay close attention to your preference sheets?
Yes, they did honor our preference sheets. The food was off the charts EXCEEEEEELENT!!

How would you describe your Captain and crew? Were they courteous? Helpful? Friendly? Attentive? Knowledgeable?
Everything you'd ever want in a crew they displayed 24/7.

How did you find the pace and itinerary of your vacation?
Excellent
March 2022
WOW, WOW, WOW, DID WE HAVE FUN! Such a stunning boat, even equipped with dancing poles, lucky us! The food was fancier than Applebees on a date night - seriously yummy. The sailing was epic. Being lulled to sleep each night will be a big miss when we get home. Love your fun and hospitable personalities. Next time we hope to find that lost shaker of salt!

XOXO
Greg & Kelly
John & Laura
Scott & Jan
Mike & Sonya
March 2022
What a very special and memorable week this has been for our family. Your hospitality, food, fun and itinerary was what made it amazing and the scenery wasn't too shabby either. Thank you for ALL you did to make our first voyage so perfect. We will never forget this week and all the great laughs around the dinner table, comfy beds, smooth sailing and great tines, but best of all our new friends - who live on the sea! Loved getting to know you both and we look forward to another trip one day.
With so much love -
Julie, Mark, Peter and Mags
February 2022
Thank you for an amazing experience. The food, accommodations and company were top shelf. We hope to see you again soon.

Jay, Ashley, Dom & Spence
February 2022
Unbelievable experience. Thank you so much for your hospitality and service. The food was amazing, Tara. You were both so accommodating and helpful. Looks like you both love what you do.
See you next year!
Susan and Audie
February 2022
Thank you for an amazing charter. You exceeded every singly expectation. You both are great hosts and we look forward to our next charter with you. We are so blessed to have been able to spend a week with you.

Thanks again,
Jason & Erin
Kennebunk, ME
January 2022
Thank you for the very special and memorable week in the USVI. We adored St John - all the nature, stars/darkness, hikes, snorkels, and beaches. It was a perfect fit for our family. We (the kids especially!) enjoyed the tubing and fast dinghy rides :)

You accommodated all our interests and food requests which made it fully relaxing, but also lively and fund with good cocktails, Carib beers, dice games, and dock walks. It was the perfect balance.

I think everyone's favorite memory will be feeding and cannonballing the tarpons at night.

Truly a vacation of a lifetime!

Love and good luck to you both!

Jesse, Teddy, Patrick, Mike and Noah
January 2022
Our week aboard the Rumaway far exceeded our expectations, and then some! It was our first time staying on a catamaran and sailing around the USVI, sleeping at sea, visiting hidden away coves and beaches. What a thrill! What a joy! And having the two of you as our hosts, Captain and "Captainess", our guides, and our charming company for the week was magical. You treated us like royalty, and we think you are USVI royalty. Thank you for creating so many unique experiences and showing us the special St John that you know so well. We will be counting the days until we're able to return for another adventure in paradise!!
January 2022
Thank you so much for the most relaxing week ever! Our family of 5 from NJ who had never done a sailing vacation before had the most amazing time! The boat was amazing, and we loved all the toys! We loved all the snorkeling experiences - turtles, shark(!), fish, the Lime Out Taco Bar was the most unique experience along with pizza on the water and a convert! You made us feel so welcome, accommodated all our needs and took us to the most beautiful places with the most amazingly blue water we have ever seen. We will definitely recommend Rumaway to all our friends! Hopefully the pictures of all the food with help with the media.
Thank you again -
Dimity, Joanna, Alexa, Hayley, and Tori
XXX
December 2021
Tara & Travis,
Thank you so much for allowing us to enjoy the experience on your amazing yacht. From the food, to the excursions, to the attention to every need our family had, it was a once in a lifetime event. We especially appreciate your assistance in accommodating Chris's disability. We know Chris was not easy for you and it was much appreciated. We will definitely recommend the Rumaway to family and friends. You always have a place to stay in Condado if you are ever this way.
Chris, Carla, Renay & Shane
November 2021
Tara & Travis,
What a fantastic life experience! This was by far our best vacation ever. From the fabulous food, beautiful scenery, fabulous weather and exceptional service, all shared with amazing company! First class all one way!
Thank you for fulfilling one of my bucket list items -
Shannon & Tim
Pilot Point TX
November 2021
Travis & Tara-
Half a page of this book isn't nearly enough space to describe all the wonderful, magical experiences we've had this week! We loved learning more about the ocean and all of the islands and living on a boat. The food has been amazingly good and we loved watching you guys work as a team to make this such a perfect week for us! Thank you!!

Until next time-
Myra, Luke, Mariah, Cole, Jake, Eddie & Mary Beth
Austin TX
Thanksgiving 2021
November 2021
Travis, Tara & Scott,
Your demonstration of leadership has been incredible. Your authentic care and concern for our needs and desires were evident each and every day. Thank you for sharing my 60th birthday celebration with us. More importantly, thank you for sharing your life journey and the wonderful legacy of the Rumaway with us.
God Bless,
Tara
October 2021
Travis, Tara & Scott,
Wow! What a week we've had - celebrating Larry's 60th, being together as a family and R&R. This has been such a great experience on the most beautiful waters we've ever seen. The meals were delicious and plentiful. Your service to us was so appreciated - pillows behind my back, floats waiting in the water, tent on the beach; your constant care and concern for our health, safety and enjoyment didn't go unnoticed! Thank you for sharing paradise with us!
Blessings,
Larry & Melanie
October 2021
Thank you for sharing your boat, your stories, you (incredible) food, your expertise, and your piece of paradise with us! We'll think of you every time we drink rum!
Your friends,
Ren & Will
October 2021
Hi!
It has been such a fun week letting our tour guides (you) venture us through the VI! Your hospitality has been unprecedented and my taste buds will not let me forget the amazing food and drinks we have experienced! Also, thank you for the cold A/C. I hope our paths cross again in the future!
-Landon
September 2021
We cannot say enough to express what an incredible experience it was to charter with Travis & Tara aboard RumAway. From picking us up at the airport with "Welcome to St. Thomas" refreshments to the send-off breakfast on our last morning, we were blown away by Travis & Tara's hospitality, warmth, passion, and excitement for life and commitment to providing the ultimate experience for their guests. RumAway is a beautiful vessel and perfectly suited for exactly whatever type of vacation you desire whether that is relaxing in the sun on the deck or on the oversized bean-bag chairs in the ocean, snorkeling with sea turtles, paddle-boarding or hiking to sugar factory ruins. Travis and Tara are very gracious hosts and put forth extreme effort to ensure their guests have a great time. Tara is an excellent chef and presents meals carefully crafted toward the requests of the group. We enjoyed every meal and never went hungry! Travis is an exceptional captain and knew exactly which cove we should go to for the experience we were looking for that day. We enjoyed listening to Travis explain the history of the area and point out various points of interest as we sailed along. Of all of the vacations we have taken, this was certainly at the top of our list. We cannot recommend Travis and Tara enough – we look forward to our next vacation aboard RumAway!

Ron & Elizabeth
September 2021
Travis & Tara,

You are the ultimate hosts! Our buddymoon was absolutely amazing! The sights, the snorkeling, the food... incredible!! Thank you, thank you, thank you!! We will be back! Until then &/or in Cabo..

Love, Kathy & Steve
September 2021
Tara & Travis,
We can't thank you enough for all you did this week! The snorkeling, food(!!), showing us the beauty of the islands - all amazing.
Best buddymoon ever
-Love Donna & Doug and the honeymooners, Joann and Rick
August 2021
Travis & Tara - thank you for an incredible week! We had such an awesome time. We are very grateful to you for allowing us to come into your home and for the gracious way in which you hosted us. The weather was perfect, the food WONDERFUL, the drinks plentiful, scenery absolutely amazing, and your loving hearths and hospitality very much felt --- we look forward to more sails on the Rumaway!
Love Ron & Liz
August 2021
How can we every thank you for such an amazing experience. This has been one of the best weeks of our lives! You made us feel very comfortable from the start. Thank you from the bottom of my heart for helping make Todd's 50th birthday so awesome!

Love Todd & Sara
August 2021
Words cannot describe how much we enjoyed this experience! Our family loves vacations, especially in new places like the Rumaway charter cat! We felt at home from day one and that only grew as the days and sunsets passed! Your hospitality was top notch, the best experiences, including the floating dock, paddle boards, kayak, and especially the tubing led to days of full enjoyment. We loved spending the time chatting over coffee or cocktails, especially the sundowners (kids and adult versions of course) enjoyed while we heard Travis blow the conch - then letting the kids have fun. The food was absolutely amazing, especially thankful for your outstanding gluten free menu - truly appreciated! I guarantee we will be back, either here in the USVI, or somewhere around the world for another amazing Rumaway experience!
Megan, Kaylee, Asher, Ryan, Brynlee
July 2021
I spent my whole life visiting the VI and this was my first time spent aboard a catamaran. It exceeded my wildest expectations by far! We all felt welcome and safe from the moment we stepped foot on the dock. The food was amazing and there wasn't anything they would not do to try and accommodate us. Tara and Travis are exceptional at what they do! Thank you both for making this experience special for all of us! We can't wait to Rumaway with y'all again!
Renn
July 2021
This has been on our bucket list for a long time - and the trip exceeded our expectations! Thank you for a fabulous trip! We loved all the beautiful beaches, cays, coves, etc. The sunsets were spectacular (loved the blowing of the conch shell!) And I have to mention, the kayaking and paddle boarding - loved it. The whole trip was great. Thank you (and Scott's cooking was 5 star)
Craig & Debbie
July 2021
We went sailing in the most beautiful sea in the world - with turtles and fish to the side of us, famous sunsets to awe over (and a conch shell to note it!) The only pare of the rip better than this is our Captain Travis, smooth sailing, very accommodating, and wanted only to be sure our trip was prefect. And it was! Hats off to Travis and to Scott, vacay was a very memorable week!
Bill & Robin
July 2021
Travis & Tara,
Words cannot adequately describe our gratitude for the outstanding Rumaway experience and the precious friendship we found in the two of you. Captain Trav, the jack-of-all-trades, up-for-anything, tireless captain and Tara, chef extraordinaire who accommodated our allergies and diets in every meal, you are two special people. Thank you for sharing your love of the Virgin Islands with us. Until our next sail, we wish you many blessings!
Love,
Dawson, Lisa, Jeff, Sarah, Matt & Maddie
June 2021
Travis & Tara,

Thank you so much for a great and magical vacation thru the USVI. We loved the boat and can't stop talking about the food! You were so hospitable and granted our every request. The girls really appreciated all the toys and activities. We are so blessed for our time with you and your lovely boat!

Thanks again,
Lloyd, Jamie, Masan, Lang & Wit
June 2021 - broker provided survey
How did you enjoy your cruising vacation?
We loved our trip with Travis and Tara. It was our first catamaran charter and we had high expectations going into the vacation. It lived up to and even exceed all of them.

How would you describe your Captain and crew? Were they Courteous? Helpful? Friendly? Attentive? Knowledgeable?
We can't say enough about the crew. That was probably our biggest fear going into the trip. Could we get along with strangers for 6 nights. They quickly put that fear to rest from the first minute we met. They were engaging and excellent at making us feel right at home (on their home). They were great with our kids too. They shared interesting facts about the islands and the boat. And all with a smile on their faces.

Tell me about your meals? Did the menus meet your expectations? Did your Chef and Crew pay close attention to your Preference Sheets?
Tara is a great chef and the food was delicious and varied. She catered to both adults and the kids. The menu was exactly what we discussed and they had provisioned the boat with all our preferences we shared in advance. She made great daily cocktails at sunset which was really cool and fun.

How is the yacht? Is she clean and well-maintained? Were your cabins comfortable? Were the outdoor spaces adequate for lounging? Was there enough shade?
We loved the boat. It was clean and well-maintained. The cabins were comfortable and the air conditioning worked great. We liked the front lounging areas and they had plenty of comfy seating options. The back swim platform was great too. There was plenty of sun and plenty of shade depending on what you wanted.

What did you like most about the yacht? What did you like the least? What would have made you more comfortable or satisfied?
The boat had ample room for all of us both below deck and above. One of the cool things about Rumaway was all the toys they have on board. We used them all. Kayaks, paddleboards (including one stable and big enough for all 5 of us that was the envy of others all stops), a floating dock, water beanbags, cool rocking chairs and hammocks, a tube and sub-wing for the dinghy to pull. There wasn't much we didn't like. Perhaps a flybridge would have been nice, but we knew the boat didn't have this going into the trip so it wasn't a big deal for us.

How did you find the pace and the itinerary of your vacation?
The pace was great as Travis and Tara gave us plenty of options. They were active when we were active and gave us breaks when we wanted to relax. They never said no to any of our requests. The itinerary was a little of everything which is exactly what we wanted on our first charter experience. A trip to town for shopping, quiet secluded coves, great beaches and snorkeling, hiking, a cool party with live music at Christmas Cove.

Would you charter this yacht again? If not, please explain:
Yes, we can't think of much that could have been better! We would highly recommend Rumaway and Travis and Tara.

Lloyd, Jamie, Maslan (14), Lane (12) and Wells (8)

June 2021
Thank you so much Mr Travis & Mrs Tara! This was a while new experience for my family and something we'll remember for a lifetime.
-Tran, An, Thu, Thi & Megan
June 2021
Thank you for everything you've done for us these past 3 days. The food was top tier, sights & sailing a 10/10 and hospitality and service was way more than I could ask for. This will definitely be an experience I won't forget.
-Allan

"Life moves pretty fast; if you don't stop & take a look around once in awhile, you might miss it"
Thank you for the amazing service Mr. & Mrs. Travis! This will definitely be a trip I will never forget (especially the night paddle boarding)!
-Kristine
June 2021
What an amazing week! From the amazing itinerary to the delicious meals, our week at sea was perfect! Travis is the ultimate guide and fact guru! Tara is the most wonderful chef and drink master! They went above and beyond from the snorkel spots to the most beautiful sunsets and sparkling lights. We can't wait to Rumaway again!

- The AXXXXN Family
June 2021
What an amazing week! From the amazing itinerary to the delicious meals, our week at sea was PERFECT! Travis is the ultimate guide and fact guru! Tara is the most wonderful chef and drink master! They went above and beyond from the best snorkel spots to the most beautiful evenings of sunsets and twinkling lights! We can't wait until our next RumAway!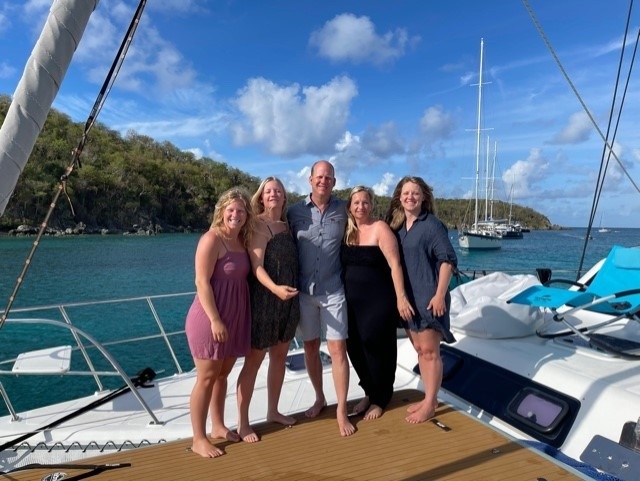 May 2021
From the moment I stepped onto RumAway, I knew it would be an experience like no other! And it certainly did not disappoint!! We were greeted with smiles and hospitality. My husband, who stays curious, eagerly started exploring the Catamaran with Travis. While, Tara, took right away to making sure she had everything we needed or wanted in our cabin and aboard the boat. I loved sitting at the bow while we sailed from bay to bay! The water is so crystal clear that you could see the bottom of the ocean at a depth of 60+ feet! The views seem to have no end, along with the cool breeze and mists of salt water as the waves crest, make you realize that you are in paradise! It is truly fascinating to watch Travis sail with such ease. You can tell they are both passionate, experienced, and knowledgeable of the area. We started our days with sunshine, fresh coffee and breakfast every morning! We were so impressed with the meals Tara prepared for us! The Ahi Tuna nachos were a favorite that we have tried to mimic since we have been back home! We paddle boarded, which my husband is way better balanced than I am, apparently, and relaxed on the floating dock by the boat for hours. We ended our days with cocktails and the most breathtaking sunsets, that you have to see to believe!! We loved snorkeling at Maho Bay with sea turtles and tropical fish in every color! We even had our first experience scuba diving, since they are both certified and have all the gear! Travis took us for a fun ride in the RumRunner to the beach at St John for us to have lunch and pick up some souvenirs! The sightseeing is unmatched by any other place I have been! If you are considering a vacation to the Virgin Islands, this is the way to go!! I couldn't imagine being cooped up in a hotel or Airbnb after experiencing the luxury of living on RumAway for a week! The sights, the smells, the salt, the food, the company, the laughs, the rum! Everything was absolutely perfect!! We are so grateful for Travis and Tara for giving us the vacation of a lifetime!! We will definitely be back aboard the RumAway as soon as we possibly can!! #letsrumaway
March 2021
"RumAway voyage blew our minds. Who knew these land people loved to sail? This was an entirely new experience for us and simply relaxing and having a jolly good time with great attention and care from Tara and Travis was beyond what we could anticipate. Looking forward to more awesome adventures aboard this splendid boat with its spectacular crew!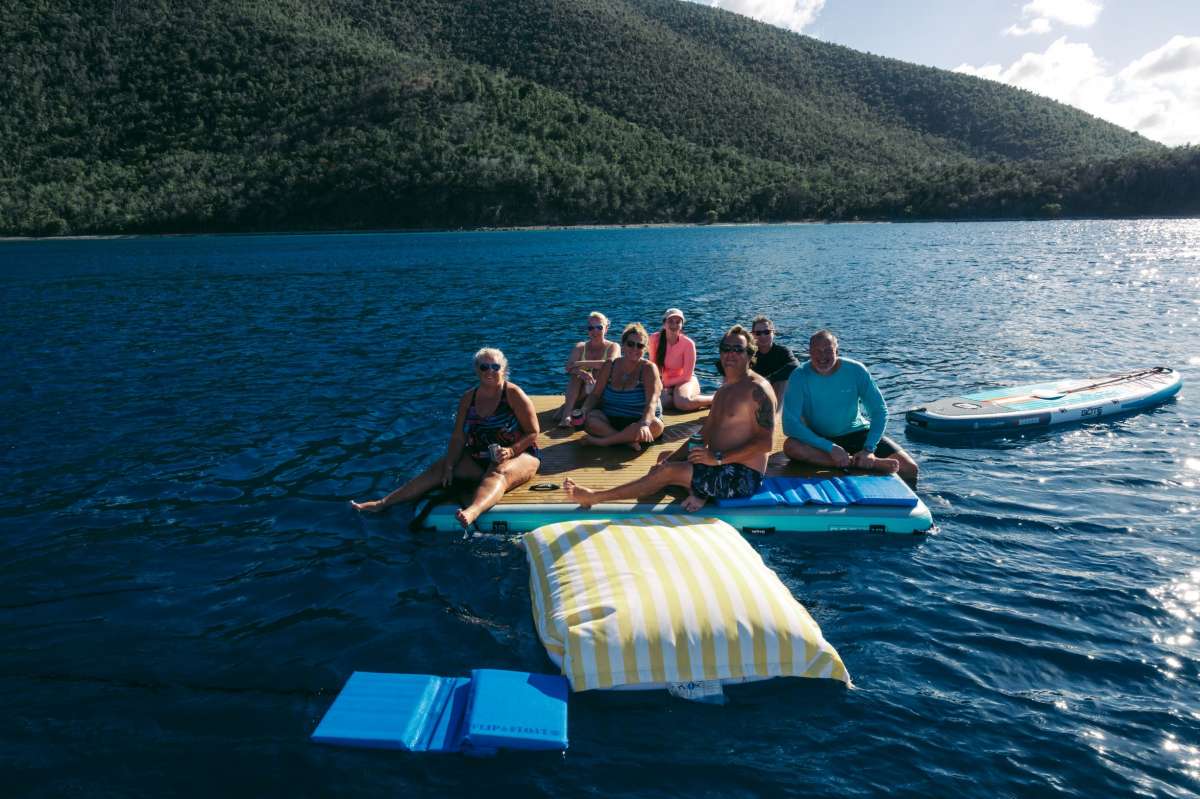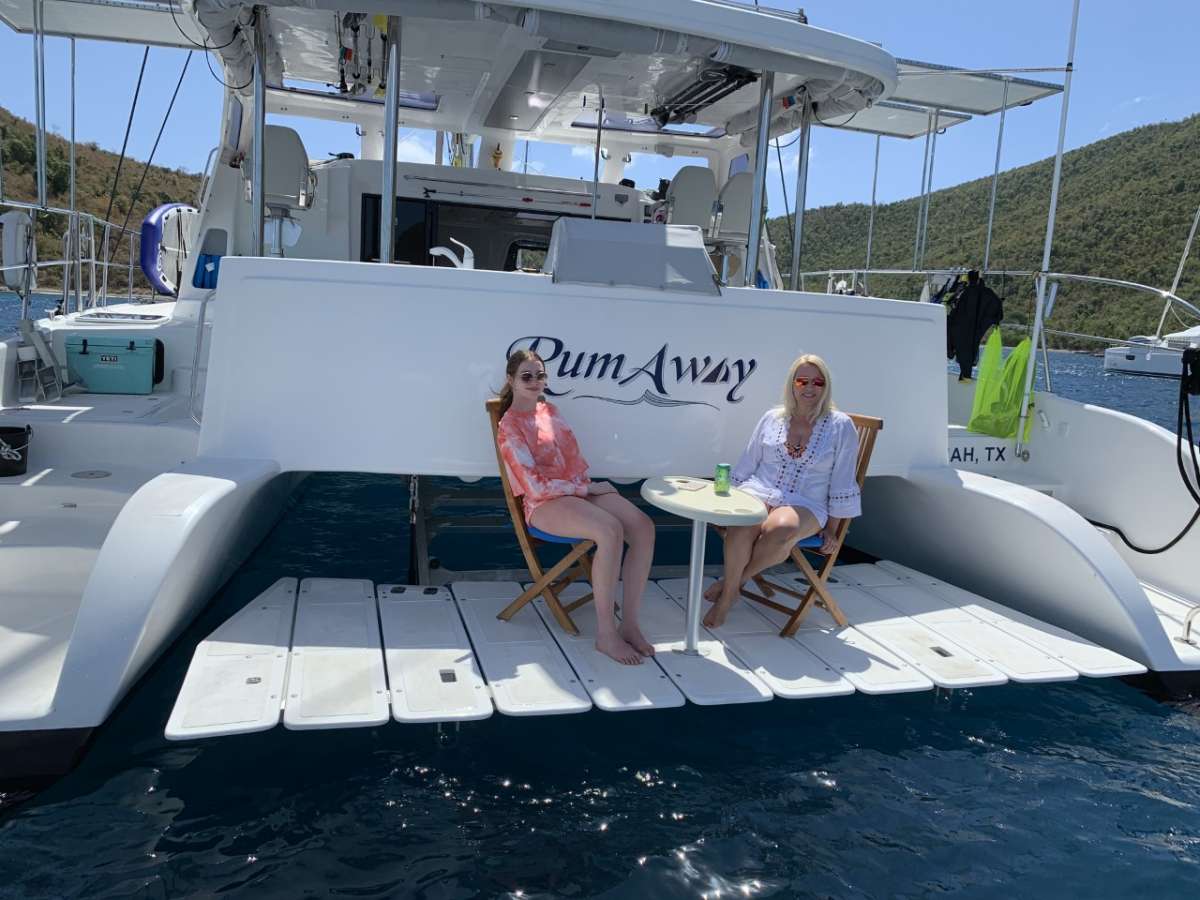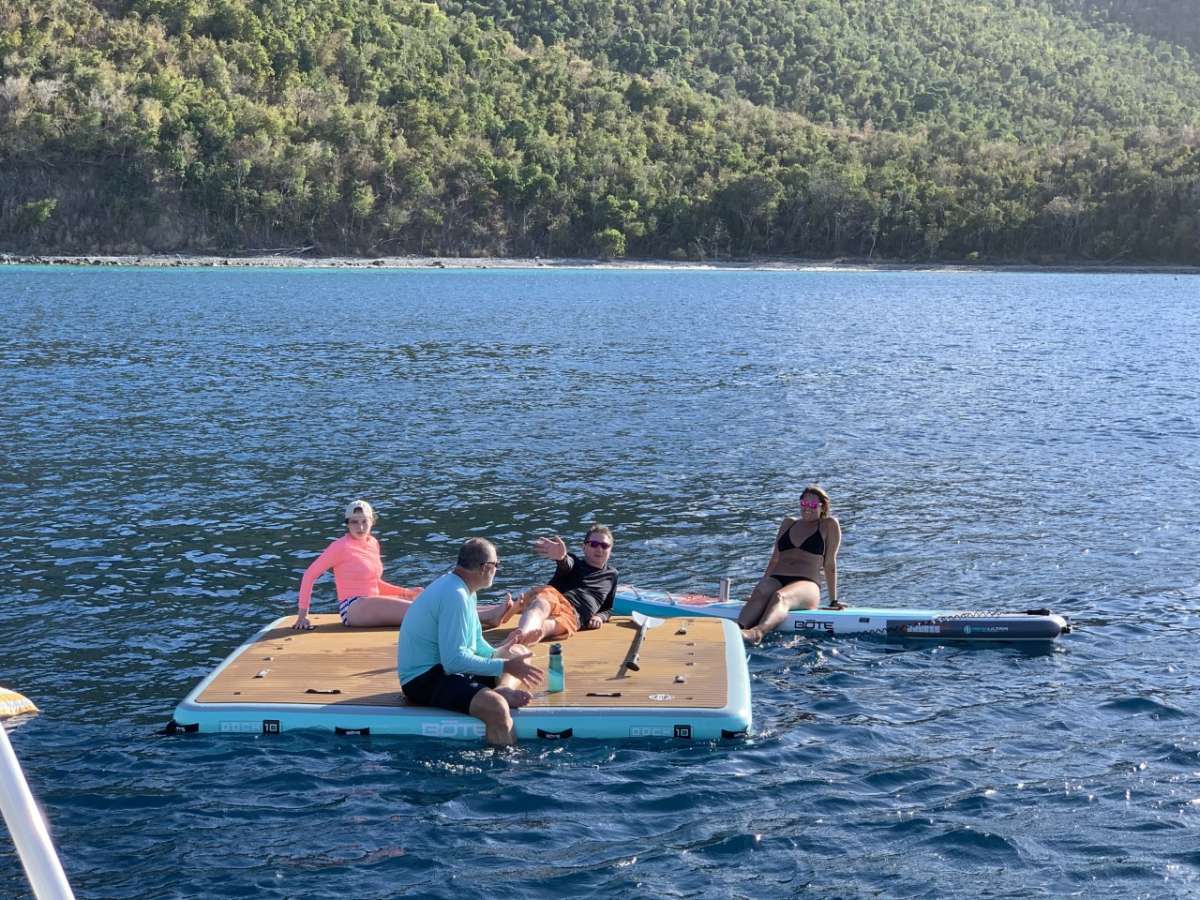 March 2021
Rumaway voyage blew our minds. Who knew these land people loved to sail? This was an entirely new experience for us and simply relaxing and having a jolly good time with great attention and care from Tara & Travis was beyond what we could anticipate. Looking forward to more awesome adventures aboard this splendid boat with it's spectacular crew!

- The BXXXXXT Family