Luxury Caribbean Catamaran Charters
Catamaran luxury yachts are an amazing way to vacation in the Caribbean and tour the absolute beauty of the US Virgin Islands (USVI) and British Virgin Islands (BVI) like never before. Not only are catamaran yachts spacious, but they're also exceptional at maintaining a steadier feel for those who may be prone to seasickness.
Here at Caribbean Soul Charters, we offer bespoke, luxury crewed yacht charter booking on catamaran sailboats guaranteed to fulfill your family's dream yachting vacation on the Caribbean sea.
If you're looking for a luxury catamaran sailboat, our concierge yacht charter service will ensure your desires in a Caribbean yacht vacation are met with perfection.
Please select up to five of the below luxury catamarans and email us with your selection and we will do the rest from there.
If you would like to discuss your trip in greater detail so we can customize the ideal trip for you and your loved ones on the best yachts the Caribbean offers, please call +1 (340) 690-1121 or Toll-Free at +1 (877) 432-6700 and let's get started. Be sure to ask for Sue!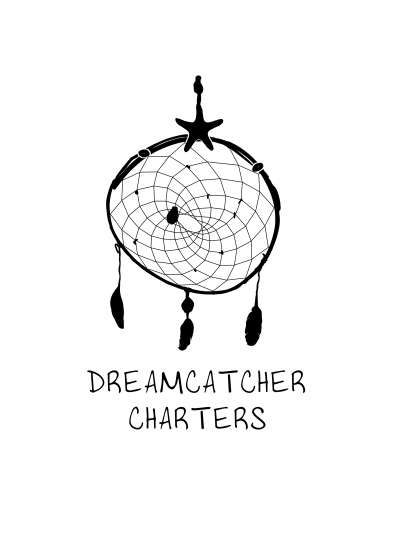 DREAMCATCHER SAMPLE MENU
Chef Stef believes in cooking from the heart and will create a custom menu based on your likes and dislikes.  However, she often goes "off script"
and makes dishes that have been inspired after meeting you. The sample menu below is a small taste of the delicious creations she
will put in front of you.  If you have a special request, please let us know.
Breakfast - Fresh fruit plate, coffee, tea or juice
-Cinnamon French toast with berry compote, thick cut bacon and fresh fruit
-Crepes, sweet crepes with fresh fruit, and hot syrup 
-Avocado toast, fresh local bread topped with ripe avocado, thick crispy bacon and your choice of egg
-Yogurt parfait, plain yogurt topped with fresh fruit, organic granola and local honey
-Fresh egg scramble with wilted spinach, tomatoes and sour dough toast
-Shakshuka eggs with thick toast for dipping 
Lunch – tea, soda, wine, beer or cocktail
-Caribbean grilled shrimp Cesar salad with homemade parmesan crisps
-Fish or shrimp tacos with spicy creme fresh, guacamole and homemade corn chips
-Lobster Louie Salad - big chunks of fresh lobster, hard boiled egg, tomatoes and homemade dressing
-Mango, avocado and shrimp salad served with warm homemade bread 
-Greek chicken salad with homemade dressing and warm pita bread 
Appetizer - chefs drink special of the day
-Marinated cherry tomatoes and avocado in homemade parmesan cup
-Charcuterie board
-Homemade corn chips with homemade guacamole and pico gallo
-Grilled prosciutto wrapped asparagus spears
-Bacon wrapped brussel spouts with balsamic reduction 
Dinner- Paired with a glass of wine, house salad and/or sliced French bread
-Seared scallops and/or shrimp with brown butter lemon pan sauce with creamy risotto 
-Red wine braised beef short ribs with cauliflower mash and savory mushrooms
-Surf n' Turf - Fresh caught grilled lobster, steak cooked to perfection, mashed potatoes and vegetables
-Savory Peruvian chicken and rice, sweet & savory plantains and special green sauce 
-Chicken or Fish piccata - seared in tangy white wine lemon sauce with herbed brown rice
-Summer risotto with sweet corn, fresh tomatoes, seared shrimp in a light lemon butter sauce 
Dessert - served with coffee or nightcap
-creamy vanilla ice cream topped with fresh fruit and Guavaberry Rum
-double chocolate cake with fresh whipped cream and berries 
-mini cheesecake 
-chocolate tasting with port 
-pirate bites, caramel & chocolate in a warm pastry 
Food Pics:
#1 French toast with berry compote and warm syrup
#2 Fresh fruit 
#3 Crispy corn tortillas with shrimp, homemade pico and Spanish rice 
#4 Lobster Louie salad with homemade 1000 Island dressing
#5 Pear and brie wrapped in prosciutto on a bed of arugula topped with balsamic reduction 
#6 Parmesan cup with marinated tomatoes and avocado
#7 Pirate Night - roasted game hen, potatoes, asparagus and pureed beets 
#8 Seared tuna on wakame salad with pickled ginger and eel sauce (served with fresh made wonton crackers)
#9 Summer risotto with sweet corn tomatoes and shrimp
#10 Flourless chocolate cake