Luxury Caribbean Catamaran Charters
Catamaran luxury yachts are an amazing way to vacation in the Caribbean and tour the absolute beauty of the US Virgin Islands (USVI) and British Virgin Islands (BVI) like never before. Not only are catamaran yachts spacious, but they're also exceptional at maintaining a steadier feel for those who may be prone to seasickness.
Here at Caribbean Soul Charters, we offer bespoke, luxury crewed yacht charter booking on catamaran sailboats guaranteed to fulfill your family's dream yachting vacation on the Caribbean sea.
If you're looking for a luxury catamaran sailboat, our concierge yacht charter service will ensure your desires in a Caribbean yacht vacation are met with perfection.
Please select up to five of the below luxury catamarans and email us with your selection and we will do the rest from there.
If you would like to discuss your trip in greater detail so we can customize the ideal trip for you and your loved ones on the best yachts the Caribbean offers, please call +1 (340) 690-1121 or Toll-Free at +1 (877) 432-6700 and let's get started. Be sure to ask for Sue!


OCELOT GUESTS COMMENTS
January 2023
Thank you Zara and Tim for the best Camera Family 2023 vacation. You both went above and beyond to make everyone feel welcome and at home. Your meals were delicious and the cocktails tasty. Snorkeling the caves and Indians were beautiful. The Baths were glorious to enjoy! Who can forget our "Foxy's Facts" and late night living there. Your hospitality and little extra touches made for a perfect trip. We can't wait to come back! We can't thank you enough!
January 2023
Hands down best family vaca! Voted by all of us. Zara and Tim made our time on the water so special. The meals were above and beyond delicious and accommodating our family's dietary needs is not easy. Beautiful coves and water activities were perfect for our adventurous family. We hope to do this again and couldn't imagine any other crew to do it with. Thank you Zara and Tim for everything!!
December 2022
Our family has had a fabulous and relaxing sailing vacation in and around The USVI. From the moment we got onboard Tim and Zara were incredibly friendly, thoughtful, professional, and a warm desire to be attentive to our needs as their 1st family charter on Ocelot! We have sailed before on a catamaran in Croatia, so we know what to expect of a week living and dining on a catamaran. Tim and Zara did not disappoint. Dining on the boat was delicious, healthy, varied, and beautifully presented. Zara was easily able to accommodate our family's dietary needs as well. Zara was an incredible host and bartender! Tim definitely knows his way around The USVI and every great beach, snorkeling area and routes to sail. Tim was flexible in giving us options for the day so we were able to pack in a lot during a day- snorkle, paddle, kayak, and hike all in a day. Tim and Zara became part of our family unit as the trip progressed which made it that much more special. We were absolutely blown away with nightly Hanukkah treats for us- really so unique and thoughtful. We would 100% love the opportunity to sail again with Tim and Zara
April 2022
When you arrived, your first impression of the yacht was:

Looked great.


What did you think about your accommodation?
Cabins, beds, bathrooms:

Accommodations were great – no surprises

Salon, cockpit, deck space:

Space arrangement was great.

Was the boat kept clean during your charter (your cabins, the bathrooms/heads, your towels, bedding, the cockpit, the galley)?

We had everything we needed.

Did you miss anything on board?

No.

What did you enjoy the most on board?

Everything was great. Some family members really appreciated the open water sailing. Others would say the friendliness of the crew. Others would say the swimming or the on-shore excursions such as hiking. Everyone loved the food.


Please describe your Captain (professional/outgoing/friendly etc.)

All the above. The captain was great.
What do you think about your itinerary, the places and bays you visited and the activities you have done?

Itinerary & activities were great. Our family was pretty flexible. The crew did great in terms of helping put an itinerary together for us.

Please describe your chef (professional/outgoing/friendly etc.)

Same comments as the captain – the crew was outstanding.

Please describe your meals (presentation, quality, quantity)

Meals were great. Much better variety, quantity & preparation thoughtfulness than we had ever expected.


Do you feel the meals and drinks reflected the requests you made in your preference sheet?

Yes. The crew was very accommodating in terms of a few dietary preferences.


If you had children in your party, what did the crew do to make their vacation special (food, games, toys, etc)?

The crew was great with the kids. Especially in terms of preparing children food dishes and giving them some special 1 on 1 time when needed.

December 2021
D & D

A thousand thanks for all of your hard work and all of our big fun! We appreciate all you did for us. - food was delicious, diving that was beautiful, beaches that were wonderful, snorkeling that was stupendous, drinks, flexibility, turtles, a marlin! (almost), half a barracuda, theme nights, coffee and much more! Happy Holidays! Many bon voyages!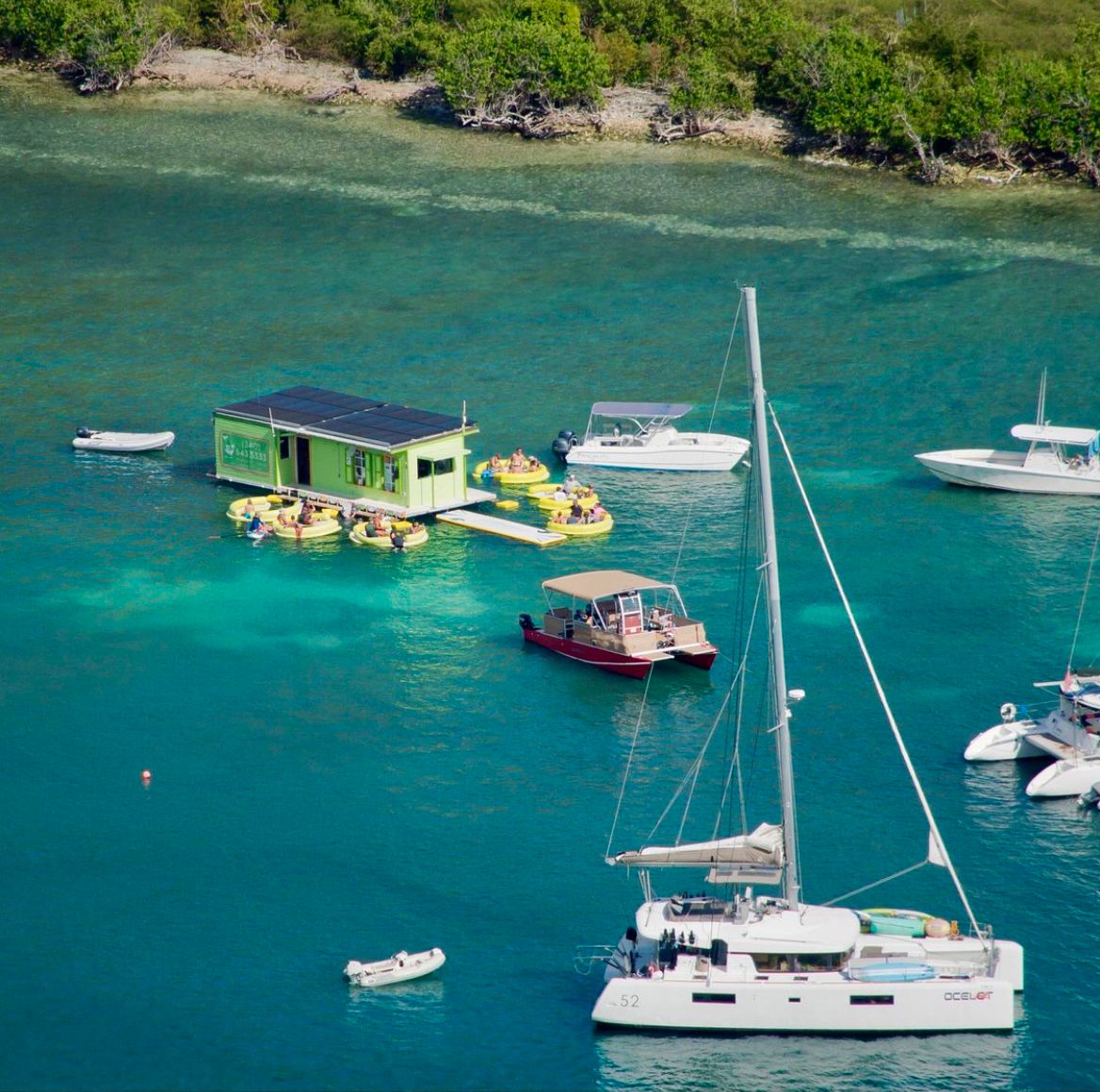 December 2021
Dev and Dav,

Thank you for everything you did to make this week so fun and relaxing. You guys did it all! From amazing meals to fun games and incredible diving (I did see the cuttlefish). Good luck in future endeavors and Merry Christmas and Happy New Year!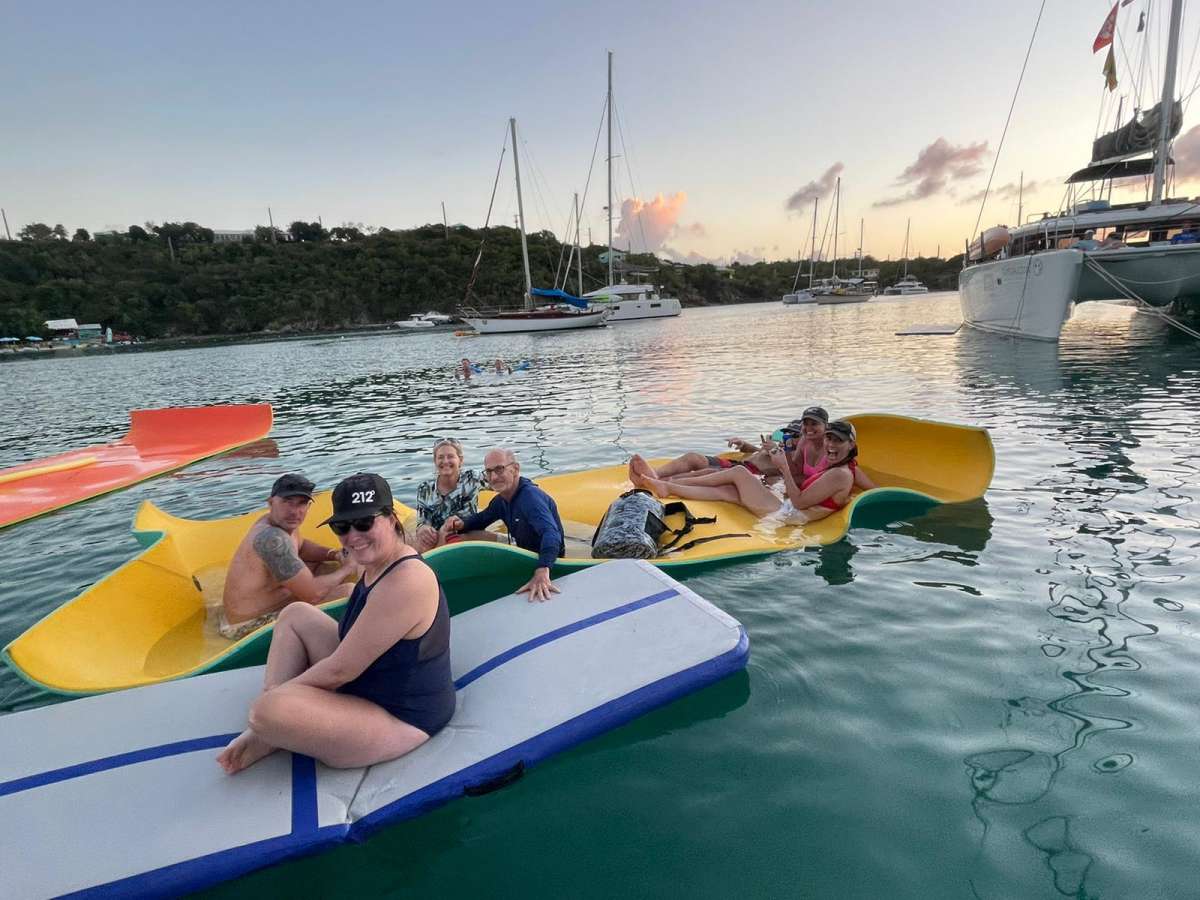 December 2021
Devan and Davis,


What a week! Thank you for everything you have done to make our vacation fun and exciting while at the same time making it chill and relaxing. Thank you for your patience and flexibility with my diving and our silly and memorable themed nights. Y'all are amazing and we will miss you and our time here! Merry Christmas and Happy New Year!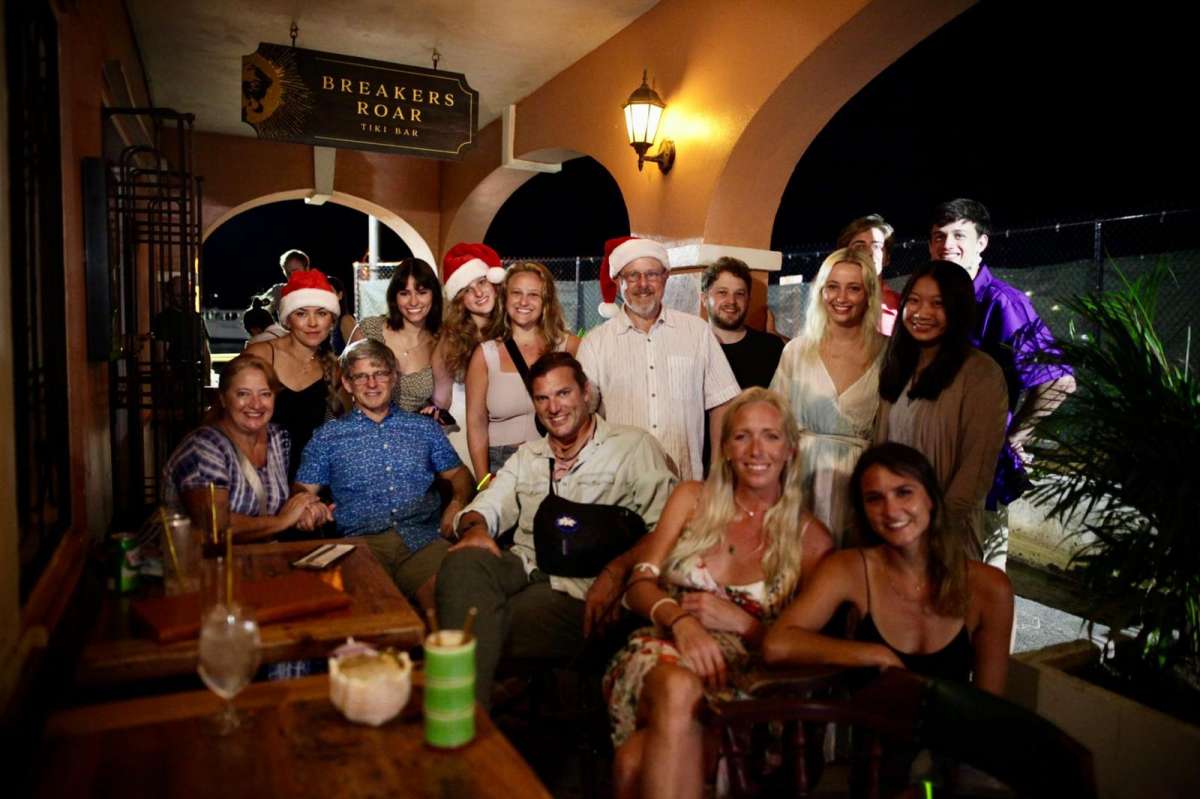 December 2021
Dearest Double D's

Honestly I don't know how to put all my thankfulness into words. Also piano Christmas music is playing right now so feelin' kinda senti. Thank you for sharing your awesome life and boat with us this week. It was very fun and cool and dope and swag. Y'all are two of the chillest/funniest people ever and I am so jello of everyone whose paths cross with y'all in the future. Have the best life ever – sing moana super load when you're sailing the world. Watch out for the pirates. Ok. Love y'all you remind me of Ashton Kutcher and the mermaid from Aquamarine. Club Slot for lyfe!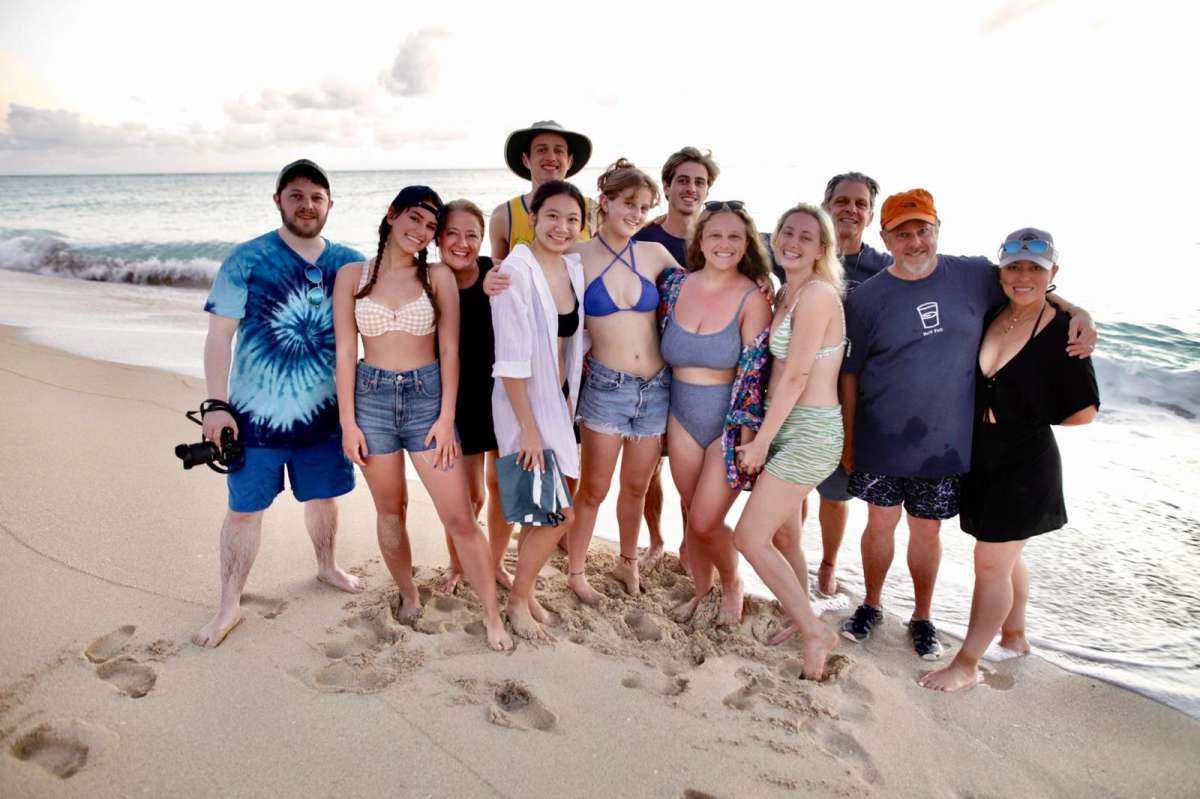 December 2021
Dear Devan and Davis,

Thank you so much for an amazing week! This was a much needed vaca following a tough quarter at school. You both were very welcoming and thoughtful throughout the trip. I really appreciate you guys showing us around. I loved the sunset on the beach and all the turtles/sealife! Happy Holidays!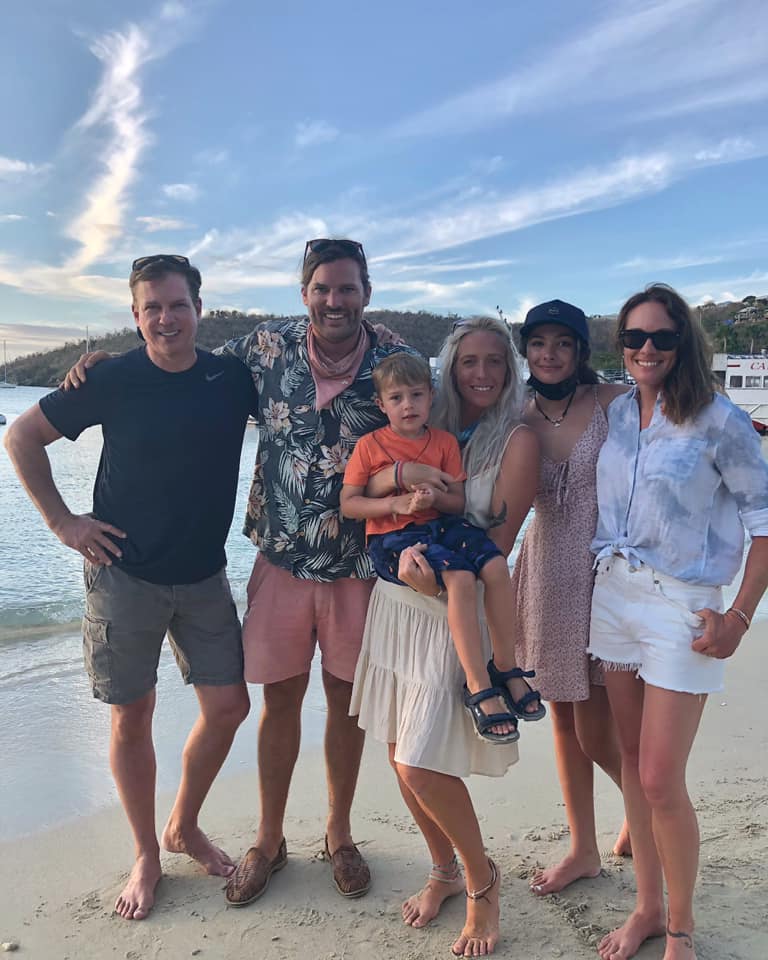 November 2021
Devan and Davis,

We cannot thank you enough for making this 'bucket-list trip' for our family so wonderful. It completely exceeded our expectations and we 100 percent have you guys to thank for that. You are both so easy-going and could handle all of our varying interests, tastes, and personalities perfectly. Each spot you took us to, each activity we did, and each meal we ate was perfection! We will remember this trip forever and we will always be grateful to y'all for everything. Best of luck to you guys in the future...maybe we can meet us again in Wilmington. Thank you again for everything!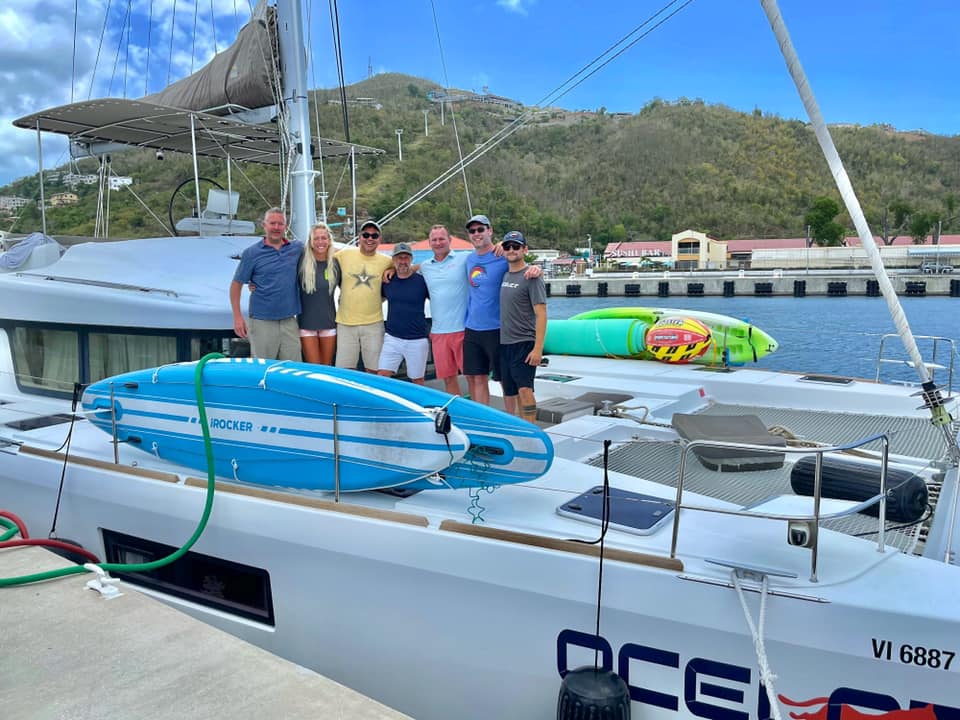 November 2021
Devan and Davis – Thank you for the best week in paradise – you are a class act crew and we enjoyed every minute of fun, mapping, trivia, sailing, talking, laughing, eating, snorkeling, sunset watching, and everything we are forgetting (probably because we had too much chardonnay :)) We truly appreciated your professionalism combined with playfulness, love, and knowledge :) We wish you the best for the rest of the season and life together – Be grateful for all of the small things :) We look forward to staying in touch!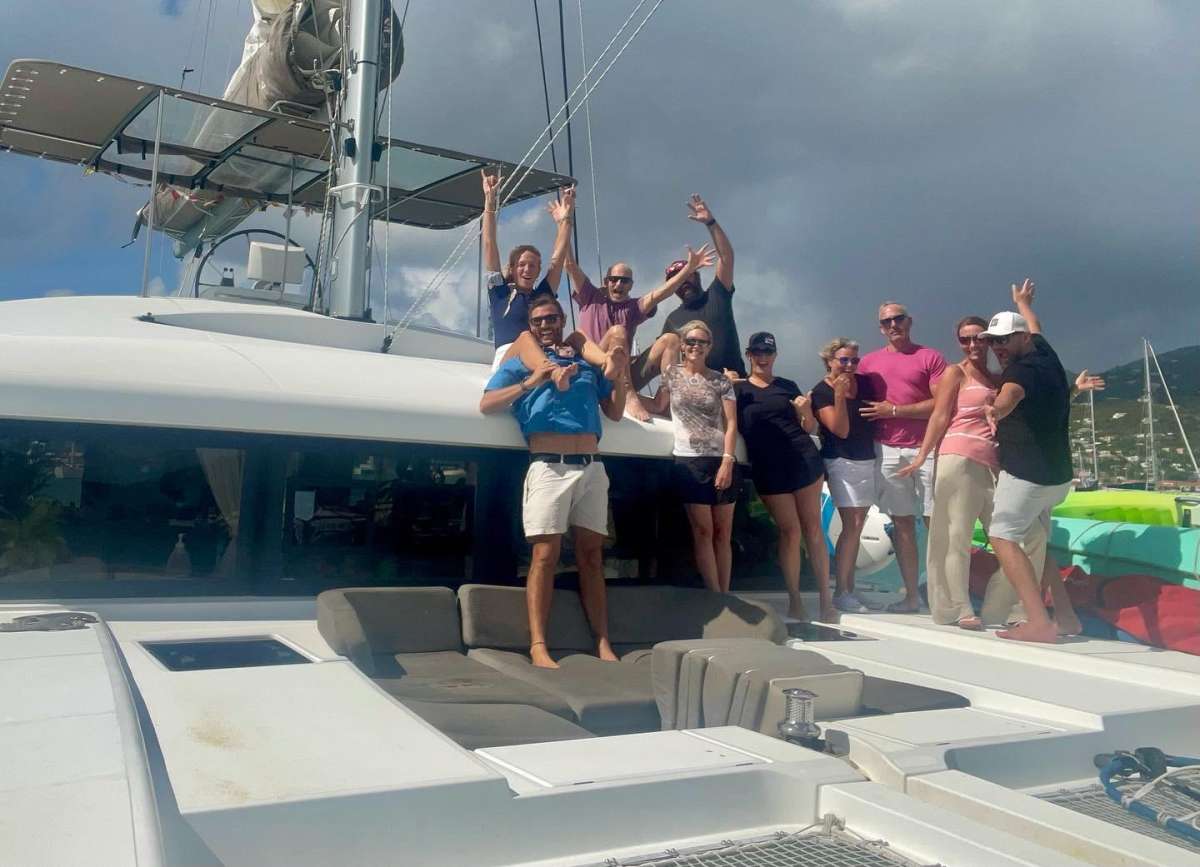 November 2021
Devan and Davis

Bon Temps! We cannot thank you enough for guiding us through a beautiful week of joy and laughter. Devan, your smile and confidence constantly impressed us. Davis, your stories and easy going manner warmed our hearts. Keep the sails high and the love flowing! God bless!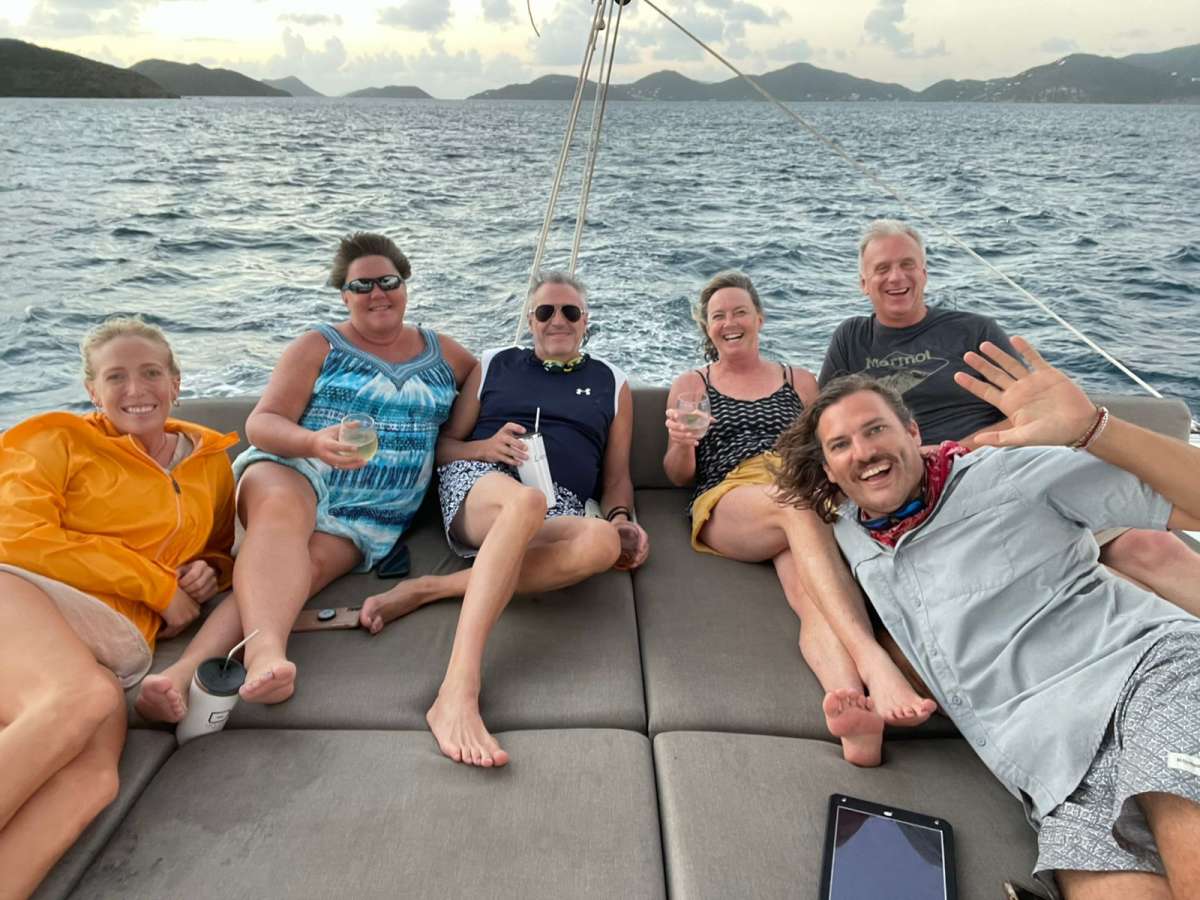 July 2021
I cant even put into words how great this past week on Ocelot has been! Ocelot is a beautiful boat, the USVI is an amazing place, but what really made our trip special was the two of you! Devan, you are an awesome Captain and role model for our girls. You enthusiasm for chartering and always being up for the next adventure made this trip so much more fun for all of us! Tim, in addition to being an excellent chef, you taught poker and always knew the perfect time to offer a cocktail! Both of you were so patient and kind with our gaggle of kids. They adore you! Thanks so much for giving us lots of happy memories from the week.
Take care,
Virginia
July 2021
Thank you for an extraordinary vacation. It was exactly what we need – relaxation with adventure. Thank for always making us feeling safe at sea and for the delicious meals! Thanks for an amazing trip! And for all the really fun dives and places we got to eat! Thank you so much for an amazing week. All the dives were amazing and it was so nice to get to know you guys. See you around!
July 2021
Thanks so much for a great week on the water! Had an excellent time snorkeling, water skiiing and checking out lots of turtles! Food was top shelf as were the bushwackers. The latter made it a lot easier to give all my money away in poker!

June 2021
Thank you so much for such an awesome week! Our family thoroughly enjoyed all of the food, booze, sun, sea, and turtles! Just as much fun was getting to know you two and hearing all of your cool stories! You two make a great team and made our trip unforgettable! Til next time, St. Croix lol

June 2021
Thank you for such a great trip! I loved the food and entertainment. I don't think I will be able to drink anymore alcohol for a while. Thanks so very much for a fantastic trip. You guys were so awesome with your food, entertainment and hospitality! This was a trip we will all never forget!
June 2021
Thank you for taking us to beautiful places and feeding us great meals. I wish you safe travels with your future charters and luck with everything you do in life. It was great meeting you and drinking a lot of booze with you! Stay safe, healthy, and fun, and I hope our paths cross again! Thank you!
June 2021
Thanks for an incredible journey of wildlife underwater, delicious meals, sailing and great cocktails. We appreciate yall treating us like family. We had so much fum, thank yall so so much!

We finally found some turtles! Thanks for taking us on all the adventures! Hope to come back soon!
May 2021
This week was perfect! You both made it the best trip we have ever had. Everything was beautiful! Thank you for setting up all of the activities for us. This is a trip that we will never forget. From the amazing day sail to the amazing meals and the Monday that we all blacked out thanks to the taco bar! It has been a blast! I hope the both of you come visit us in the South Carolina. You are welcome anytime!
April 2021
We have had the best time this week with friends and family. And you two made it even more special. You broke my seasickness cherry and Ashley just likes to follow me so she had to join in. Ashley is an adventure/history seeker so you guys checked those boxes in St. Croix. And we are prepared now for the journey. We just helped with some lessons for your future charters. With each stop the trip got better and better. They were spaced out perfectly and exceeded our expectations. Tim, the food was top notch and that you for working around the food allergies. Until next time!
April 2021
Thank you making this week so awesome! Y'all truly made the trip even more amazing! Y'all really planned an awesome trip with a lot of really cool activities. There was never a dull moment and that is exactly what I was hoping. If we do this trip again I hope y'all are still around because I don't think it would be as fun without y'all! Thank you again for everything!
March 2021
Wow! What a whirlwind of great days, great views, great food and great company! This was just what the doctor ordered after at home for a year. You make running a charter look easy – we know its not! You're always looking for ways to add to a meal, a picnic, or a dinghy ride. The food was just fantastic. We appreciate all your efforts to keep us on the healthy side and keeping it super flavorful with out going overboard on heat! The kids had the time of their lives - tubing, snorkeling, kayaking and hanging out with you two. We couldn't imagine a more thoughtful, friendly, and hard working team to enjoy this amazing vacation, Thanks for making each day so special! With love and appreciation!

March 2021
We started to dream of this trip 1 ½ years ago...little did we know that a pandemic would have us stuck in our houses for the past year. We were so excited to be able to take this trip despite travel restrictions. You and Tim showed us the best snorkel spots and beaches. We were all looking forward to each meal – truly gourmet! But by far, our awesome Captain and first mate were what we will remember best with time. You two are the best – from dance parties and s'mores with all the kids to beating us all to cards – you made our trip fabulous!! We hope to sail with you again soon and challenge you to a rematch! We hit the jackpot with you two and Ocelot – thank you so much!! Skiing and tubing was also so much fun!! And the boat concert – unbelievable!!
xoxo
Virginia, John, Caroline and Camilla
February 2021
There's something about a ride. What a ride through the Caribbean surf, turquoise water, big winds and waves, painkillers and fresh poké. You guys outdid yourselves making us all feel welcome and special. Here's to keeping those good vibrations in a bottle. Onboard with love.
February 2021
Thank you Capt. Devan and Time for a wonderful week at sea. Your skill, warmth, and so much more made this a week ill always remember. Thanks!
February 2021
We came into this trip very unsure of what to expect. We were not disappointed at all. Kevin who is not a fan of water did this trip for me since it was a bucket list trip. And this is the most that I have seen hi relax in a long time. No Phone and no work for 7 days. So, thank you both!! We were offered many options for activities (weather permitted). The food was spectacular!! And the company even better! You girls are special 😊 Keep up the good work stay sweet and always smile even with the difficult guests. The good fun guests will make up for the crabby boring ones. Lol like us!! Blessings to both of you and if you are ever in WV look s up….
Kevin; Jed and wheeling
Hope to see you again!

February 2021
This was in so many ways one of the most memorable trips. Laureen's bucket list trip with great friends and a supper crew. Captain Devan and amazing chef Ashley provided great passage, anchorage, and super good, prepared food.
Thanks for the memories.
M and M

February 2021
This was my bucket list trip – it was beyond my expectations. The service – the food – the knowledge – the conversations – with our captain Devan and our Chief Ashely. They took such great care of us. Great Friends- views. All our moorings. Meeting their friends, the Terrance-drink-windmill the projector- such a great time great memory- so grateful and unforgettable- loved every second.
Love- Laureen and Myrtle

News Years Charter 2021
What a fantastic time we had on Ocelot! The boat is beautiful, island and beaches were stunning and the crew- Devan and Tim were amazing!
This trip was a great escape from reality (especially Covid) for the week and a wonderful way to end 2020 and start a new fabulous year for 2021!
Thanks to Captain Devan and Chef Tim for taking such good care of us. We cannot have picked a better crew to spend our week with, lots of laughing, dancing and awesome libation! we hope to sail with you again someday!

With Love Lexi ,Jake, Jessica, Quinn, Caroline and Linda