Luxury Caribbean Catamaran Charters
Catamaran luxury yachts are an amazing way to vacation in the Caribbean and tour the absolute beauty of the US Virgin Islands (USVI) and British Virgin Islands (BVI) like never before. Not only are catamaran yachts spacious, but they're also exceptional at maintaining a steadier feel for those who may be prone to seasickness.
Here at Caribbean Soul Charters, we offer bespoke, luxury crewed yacht charter booking on catamaran sailboats guaranteed to fulfill your family's dream yachting vacation on the Caribbean sea.
If you're looking for a luxury catamaran sailboat, our concierge yacht charter service will ensure your desires in a Caribbean yacht vacation are met with perfection.
Please select up to five of the below luxury catamarans and email us with your selection and we will do the rest from there.
If you would like to discuss your trip in greater detail so we can customize the ideal trip for you and your loved ones on the best yachts the Caribbean offers, please call +1 (340) 690-1121 or Toll-Free at +1 (877) 432-6700 and let's get started. Be sure to ask for Sue!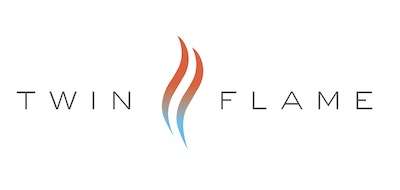 TELLSTAR GUESTS COMMENTS
January 2020
I wanted to let the experiences of our fantastic week onboard Tellstar to settle in before adding a personal note so the time has come to share some recollections of our charter. Even so I'm sure I'll miss a few highlights.

Let's just start with our warm and welcoming greeting from the entire crew and our first view of the absolutely gorgeous Seventy7 Lagoon. Nothing short of a spectacular yacht – we didn't know it yet but it didn't take long for us to realize the crew was equally spectacular in their own rights.

You all must be experienced at keeping your laughter under wraps to the land dwellers trying to find their sea legs but we had an especially challenging experience as the Christmas winds came late this year and we had pretty consistent winds in excess of 20 - 25 knots. Thank you for making us feel safe at all times.

Each of you have such individual talents but collectively – what a team! I loved when Jaimey sent Jake to a nearby yacht so he could have a moment of puppy time – nice and considerate to provide surprises to each other when the opportunity presents itself. And you never stop. We're enjoying water activities while you are in the water keeping that yacht looking beautiful. We're busy with breakfast and you're all making up the cabins/likewise dinner and turning down the beds. So fun to walk out of my cabin to hear Jack and Jake having a very serious discussion on the table settings for the evening – humorous to me but just a simple example on how the details were important to you at every turn.

So individually:
Jake – such an interested and interesting young man. Always ready to learn and waiting for the opportunity to provide us with a delicious beverage of choice. Our group tended to be pretty self-sufficient so we had to make sure to let you show off your skills on occasion – and we were always pleased, but not surprised, with the results. You take pride in your abilities – rightfully so. So fun as the week went on to see your personality come out. When I try to describe you I generally end up at young Renaissance Man – that must be part personality and part upbringing so equal kudos to your family and your own self-determination. Varied interests, funny, humble, knowledgeable and just a joy to be around. The skies the limit young man! Thank you for the reminders on remaining curious and self-development regardless of age. And another thank you for being the source of our random question of the week – What is the difference between lasagna and diversity? (a nod to ASL)

Chef – WOW – the food that just kept coming! Each meal a treat. I hope you know that it was a compliment when we requested an end to the 5 o'clock appetizer. Each meal was so delicious that we had to find a way to limit our excesses since when the meals appeared we tended to clean our plates. AND a very special thanks for providing GF meals to my friend Vikki – so often she is left with a "less than" meal but not on this trip – she really felt taken care of and special and, again, for that a very big thank you. And that GF birthday cake was more than we had hoped for. Making my friends happy makes me very happy. Now in addition to the fresh, delicious, and well-presented meals you have so many additional skills – like accompanying us on snorkel trips – how long can you hold your breath anyways? I was busy doing the group safety counts and had to wait for you to pop up!!! Thank you for the many unobserved hours you spend in the galley working your magic for all of us. (and for the very funny milk pouch story!!!)

Capt. Jack – Where to start? For always making us feel safe and cared for in some rough seas – your captain skills were on full display. You navigate that yacht with remarkable skill that makes it look easy when we're fully aware that it is not – and the communication with your team and your guests is top notch. That skill is matched with your joyful demeanor and the ability to quickly respond to any concerns that were raised. We had one room issue that was addressed head on with grace and complete satisfaction – thank you. In addition that one issue has provided us with so much laughter as we recount some of the charter highlights (the pitter patter between cabins). Another thank you for helping me navigate the "primary" responsibilities with grace and ease as we established the days activities. Your history of the area and story-telling accentuates the overall experience. I enjoyed watching you provide Jake with learning opportunities under your guidance – a great leader knows how to challenge his deck mate and build their confidence – you're a really good teacher in that way. AND you were always so quick to direct praise to the appropriate crew member. You have such an evident joy in providing a unique experience for your guests but, for me, the real skill was in making us all feel like we were in the home of friends that were the BEST HOSTS EVER!!!! Thank you for the "homework". At first it seemed an impossible task to come up with a favorite meal, favorite location and favorite experience BUT what a fantastic way for all of us to both consider and then share our highlights with each other. I don't believe we came up with a single meal but the recall was a feast in and of itself.
From now on my challenge for future vacations is to "top that". You've set the bar high so I hope to let you know how we do. Hoping to see you again in a couple of years – until then smooth sailing to you all.

I said it in person but want to say it again – A THOUSAND THANK YOU'S and I still might be a little short of all the gratitude for our week as your guests on Tellstar Seventy7
All of my very best regards to you
Sharon H. (Jan 2020)

Thanksgiving week November 2019
Dear Jack, Jaimey and Jake,
Thank you, thank you for taking such great care of us this week. It was a pleasure to get to know you. The week was relaxing and magical. Thanks especially for arranging Akim to play the Steel drums for us and for the chance to play on the Hobie 18, we had so much fun with Jake! The food was delicious and interesting and we loved having you join us for Thanksgiving dinner. Thanks also to Jake, intrepid, kind and so much fun to hang with!
Best wishes for a great chartering season!
Lisa

Jack, Jaimey and Jake,
Thank you so much for a wonderful trip. You both made our experience a great one. Your passion for sailing is evident which enhances the joy we felt. Jaimey your cooking was amazing! What a fun and relaxing trip!
Take good care and we will be following you on social media to see what you're up to!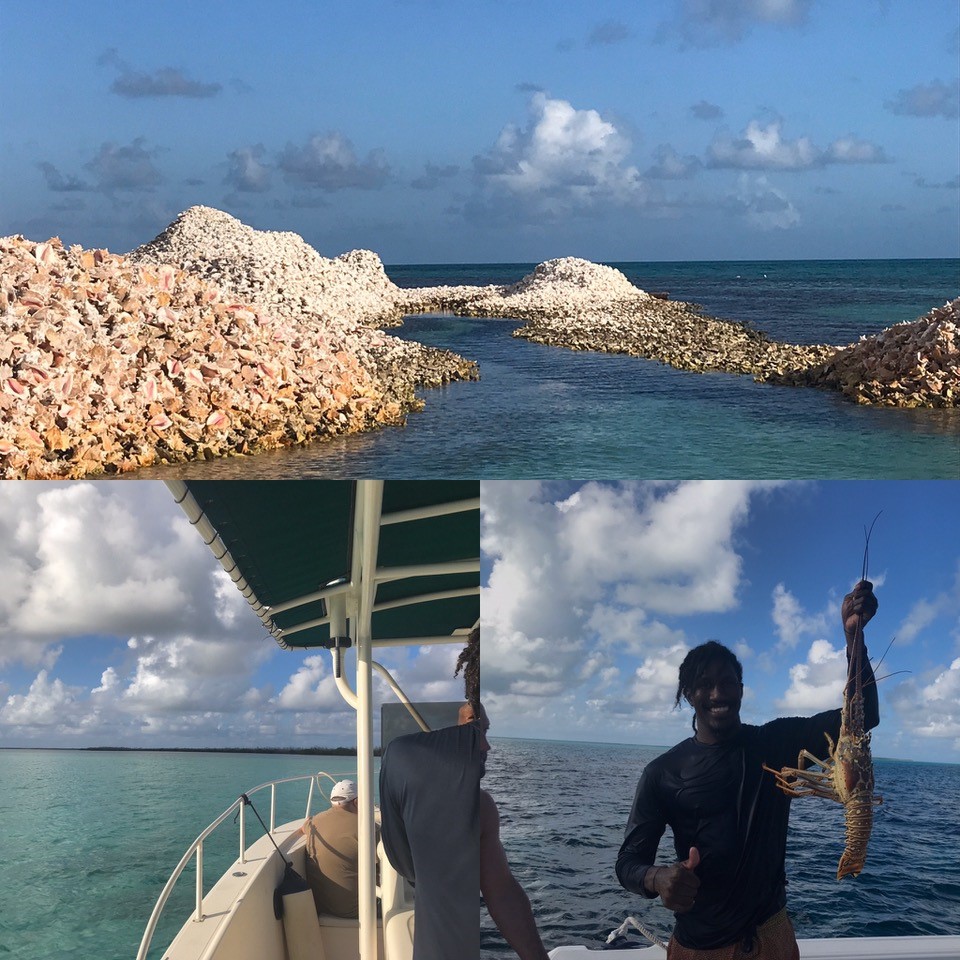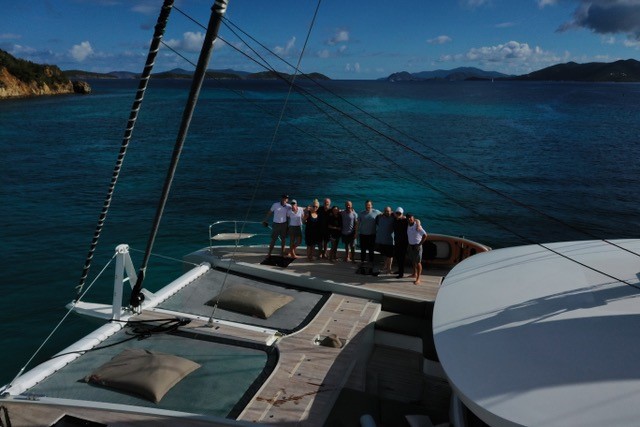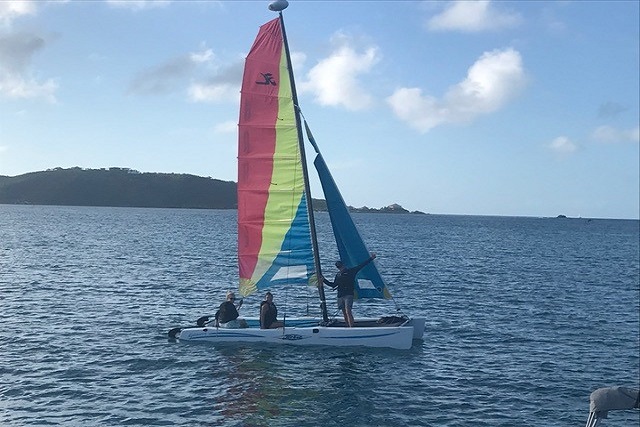 JULY 2019
Lets start by mentioning this incredible vessel. Perfect design and excellent workmanship. Made everyone envious. Then the crew. They made the best, even better. Lively Captain Jack leads one of the best teams on the ocean. Attentive service, safe hands, a wonderfully authentic experience. Jaimey's highest quality and creative menu means we are leaving with a few extra pounds but it's well worth it, everything was outstanding and she's an amazing anchor girl too!Jake is the man! He should be up for the next James Bond. A true gentleman and always engaged in his mission to take care of us all, at all times. A wonderful experience on a badass yacht with our dearest and industry leaders Captain and crew.
July 2019
What can we say? The most wonderful trip with the most wonderful people! For many people trips like this may be normal but to us it is a once in a life time experience that we will never forget. Not only did you take us to places that have never been before but you made us feel pampered and comfortable beyond compare. Between both of you being ready every moment to tend to whatever need we have big or small to the extreme joy you both do it with. This trip was amazing!
Jack your knowledge about well everything made the trip interesting along with the beautiful sights we learned so much too!

Jaimey, we are going home with a few extra pounds on us that we have to blame on you! For 8 days not only did we have incredible sights you also thrilled our taste buds and were surprising us every day with your culinary master pieces.
Together the two of you make the most unforgettable memories for people and are a pure joy to be around Thanks to the generosity of our good friend and your experience we truly had the time of our lives!
The Best Always,
Valent and Joe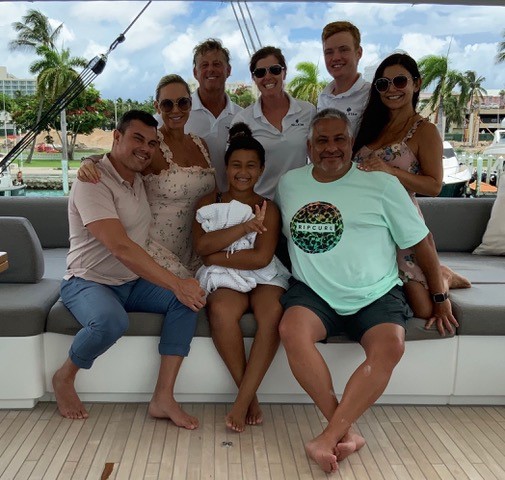 June 2019
Our vacation/graduation experience on the Tellstar was FANTASTIC!
Could not have been any better, seriously, it was AWESOME!
Captain Jack, Jamie & Jake were very accommodating and made our trip memorable forever!
The food was AWESOME!,
The crew did up and beyond all expectations.

APRIL 2019
If you are looking for someone to trust your dream vacation to, look no further than Captain Jack and Jaimey! TellStar is an incredible vessel. Jack is a terrific captain and entertainer and Jaimey's meals are out of this world. What an incredible week of hiking, snorkeling, exploring, sailing and terrific history lessons along the way. Great memories that will last a lifetime! Thank you!
MARCH 2019
No need to answer the individual questions! I rate everything as a 5. The boat was brand new so everything was in perfect shape. The crew was outstanding. They were knowledgeable, fun and all around great people. The food was wonderful. All the meals were great and the appetizers ( killer ceviche) were top notch. The crew planned a great tour of the BVI. We had fun places to stop and hike, great diving for Maggie, and wonderful spots for the rest of us to snorkel and play.
Overall the Tellstar experience exceeded expectations.

June 2018
The following are just a few of the many testimonials for Jack and Jaimey from their previous guests/yachts

SPLIT SECOND LAGOON 620 – JUNE 2018

Just spent an amazing week with Jack and Jaimey. The most gracious hosts, amazing food, incredible knowledge of the BVI's, and constant source of jokes and stories. Can't recommend them enough...the answer is always YES!

April 2018
SPLIT SECOND LAGOON 620 – APRIL 2018

Split Second was spotless, the flybridge upper deck was our favorite hangout.Jack and Jaimey are a phenomenal team. The itinerary was perfect and they made it fun. As a former restaurant owner, with 35 years in the industry, I would have hired Jamie in a heart beat but I know I could never match the view she has from her kitchen. She is talented, precise, and her food presentation is out of a magazine, while ALL being made from scratch, right down to the hamburger buns. The seasoning flavors and textures, are unbelievable, especially for a self trained chef, and she is also a dam good sailor. There are only 2 words; 5 star. Thanks for all your help arranging the charter, it was a wonderful vacation. If I can ever stop talking about it, I will most likely be booking again.

Jack W, sailing the Virgin Islands

March 2018

SPLIT SECOND LAGOON 620 – MARCH 2018

Jack & Jaimey were excellent! They were delightful - looked after our every need and were a joy to be around. Jaimey offered hiking/running suggestions to our son/daughter and Jack amused us with his many tales.
Split Second was very comfortable, clean and the AC was good when required. Fave aspect was the fly bridge.
Food was excellent and always superbly presented. Jaimey satisfied all our needs and always had the hot sauce on the table - as some of us like spicy food! The food was so good, we asked for many of Jaimey's recipes.
The itinerary was perfect for us and, even though the weather (north swell) wasn't always kind, we managed to sail to bays we had never visited before.
Always happy with Sailing Directions' service - can't think of anything you can improve. This was our second charter on Split Second and our second visit to the BVIs - we fell in love with the crew and the islands.

Mary W

February 2018
SPLIT SECOND Lagoon 620 – February 2018

Jack and Jaimey – Thank you both so much for all you did to make this incredible moving experience so special. I (Debi) will never be the same! I will go to this trip in my head and heart often and think of you both.
Well certainly be sharing our love of this vessel, trip and awesome crew. Loved the teamwork and how you make it all look so easy – we know and appreciate how hard you work and all you do! 100%
XO Debi and Ray (Birthday Deb) GO EAGLES!

February 2018
SPLIT SECOND LAGOON 620 – FEBRUARY 2017

We've been chartering for a number of years. Jaimey and Jack were the best! The answer is YES, no matter what the question. Great insight into what there is to do, what you should try, and what's possible given the conditions. Jack's sailing lessons (see their post from 2/13/18) encouraged us to learn and he let us lend a hand. Couldn't have been more pleased with the week.

January 2017
ECLIPSE LAGOON 620 January 2017

Holly and I have been excited about coming aboard the Eclipse for nearly a year now. When our friends told us about Captain Jack and Jaimey and the catamaran experience we were ready to sign up. As we got closer we were abet concerned that the trip may not live up to expectations. You know when you are excited for something for a long time and have those high expectations, many times the experience does not live up to it. As soon as we took our dinghy ride to meet the Eclipse, we realized our concerns were way off base. Not only were Captain Jack and Jaimey attentive and helpful but, most importantly, they made us feel like family and members of the Eclipse crew.

Waking each day to another fabulous meal followed by "Storytime" and our plan for the day ahead just made the experience that much more incredible. Each day we sailed and explored somewhere new and just when you thought things couldn't be more fun and beautiful, the next day arrived. Each meal was expertly prepared and would have made any world renowned chef envious of their quality and presentation. We actually dared to eat off the yacht one night to have some world famous spiny lobster at Anegada Island. While the lobster was fantastic, our entire group decided we were not going to cheat on Jaimey again as her meals were superior to even that lobster. Our only regret for the entire trip on the Eclipse was that it had to come to an end. Eventually the real world came back to haunt us and as we headed home, we knew we would be back. We were not just leaving a crew behind on the Eclipse, we felt we were leaving behind family. Until next time, we wish you both happy sailing and we're looking forward to our next adventure.

NEW YEARS 2015/16
BLUE MOON LAGOON 560 – NEW YEARS 2015/16

Our family of four recently took a seven day New Year's British virgin islands cruise on the Blue Moon catamaran. It was a truly wonderful experience!

The Blue Moon has three guest suites, a spacious indoor salon with a widescreen television including a large selection of recent movies in addition to DirecTV, an aft dining area, a flybridge with large padded seats, and a very large area in the front of the boat with several seating spots including two trampolines, 2 large bean bags, and sunken benches. Plenty of cozy spaces to congregate, sneak off for solitude, or stargaze at night.

While the boat is very luxurious and well appointed, the real treat is the service provided by the crew. First the food: prior to our cruise we were asked about our food and beverage preferences, which we provided by email. Interesting and delicious appetizers, specialty drinks, and combinations of food that we had never experienced before.

We must also mention that the boat is incredibly clean and fresh.
The Captain would conduct a breakfast meeting every day showing us where we were on a map and outlining the myriad possibilities that lay before us for the day, then let us chose our own itinerary. We never really had to cruise more than an hour or two to get to our next destination. We could find an isolated beach, snorkel, float on the large inflatable, waterski, wakeboard, paddleboard, swim, sun, hike, enjoy happy hours or after dinner cocktails at a festive beach bar, or just do nothing and lounge about the boat.
We cannot more highly recommend an excursion on the Blue Moon. We greatly look forward to our next opportunity to sail with them.
~Don