Luxury Caribbean Catamaran Charters
Catamaran luxury yachts are an amazing way to vacation in the Caribbean and tour the absolute beauty of the US Virgin Islands (USVI) and British Virgin Islands (BVI) like never before. Not only are catamaran yachts spacious, but they're also exceptional at maintaining a steadier feel for those who may be prone to seasickness.
Here at Caribbean Soul Charters, we offer bespoke, luxury crewed yacht charter booking on catamaran sailboats guaranteed to fulfill your family's dream yachting vacation on the Caribbean sea.
If you're looking for a luxury catamaran sailboat, our concierge yacht charter service will ensure your desires in a Caribbean yacht vacation are met with perfection.
Please select up to five of the below luxury catamarans and email us with your selection and we will do the rest from there.
If you would like to discuss your trip in greater detail so we can customize the ideal trip for you and your loved ones on the best yachts the Caribbean offers, please call +1 (340) 690-1121 or Toll-Free at +1 (877) 432-6700 and let's get started. Be sure to ask for Sue!


VENTANA GUESTS COMMENTS
July 2020
Dear Richard, we can't thank you enough for your generosity and hospitality. We loved tubing in Magen's Bay, stargazing off St John and snorkeling in countless beautiful coves. Suzanne, the food was incredible - we especially loved the banana pancakes, crab cakes, sun dried tomato ravioli and ALL the deserts! Richard, you make the best "Painkiller", if this Captain thing doesn't pan out, you'll make an excellent mixologist. Thanks for sharing evening card games and giving us a vacation we'll never forget. Although a few dolphins would have been nice lol!

-Nick, Katherine, Sloan, Reese & Grace

June 2020
I've had several people ask about our recent vacation. It was AMAZING btw!! If you're interested in booking a charter for your family, please reach out! Captain Richard and Suzanne were THE BEST!! And don't worry, you won't have to do ALL the work! Seriously what an experience! I highly, highly recommend!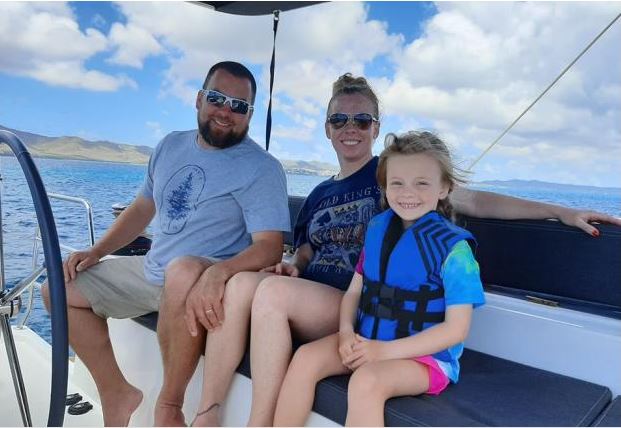 April 2019
We had the absolute best vacation on the Alladora (previous boat) and I would attribute it all to the experience that these two provided. From the very moment we met them, we felt comfortable and felt accommodated for! They make a fantastic team working together and the vibe they had together made for a fun relaxing and amazing time.

Christina is a little spitfire and we all fell in love with her instantly. We would NEVER have believed we would be served such elegant food on the boat. Her meals were always over the top and the presentation and unique options were out of this world. Each morning we were greeted with tea and coffee, Bloody Mary's or Mimosas which was a nice treat.

I honestly cannot say enough great things about these two! I will definitely be on a charter trip like this again and will not accept any other skipper or chef except for these two. They both catered to every individual person's needs the entire trip, cooking separate meals when some guests did not like certain ingredients, they played taxi on the dingy for anyone who ever needed to get to shore and never once seemed annoyed or inconvenienced.

We love the BVI's and will be back for another amazing experience with Jacob and Christina.

New Years 2019/2020
The seven nights we spent on Neverland were absolutely spectacular! Our tour of the British Virgin Islands featured great snorkeling and swimming, beautiful beaches, and interesting ports of call, but what made the vacation truly special was our crew, Jacob Beman and Christina Astuto. Jacob is a skillful sailor, Christina a magical cook, and both of them have a touch of MacGyver in their personalities. (Our first day out featured Christina being hoisted to the top of the mast for some impromptu problem solving!) Christina's touch in the kitchen really took our breath away as she daily turned Neverland into a floating gourmet restaurant. Additionally, Christina and Jacob worked with us to curate a selection of Italian wines that were a constant delight. When we weren't drinking wine, Jacob's rum punch and Christina's negroni's and old fashions were memorable. And when we weren't busy eating and drinking, Jacob had a knack for effortlessly managing our itinerary, changing plans when needed to fit the weather, our interests, and our moods.
Lastly, but perhaps most importantly, Christina and Jacob are a real pleasure to spend time with. Never less than professional, C & J are lively, interesting, fun and funny. We could not have wished for better company!
March 2019
We were fortunate to book two day trips with Capt. Jacob Beman and Christina Astuto on the Pau Hana catamaran during the week of March 17, 2019. Our group consisted of three couples, several of whom had lifelong boating experience and a couple who frankly weren't sure they were ready to spend an hour, much less a day, on a sailboat.

Jacob and Christina immediately took charge of the charter, making sure we were comfortable as well as oriented to the safety procedures aboard the boat. The main challenge our group presented was that half of us wanted to go somewhere to socialize, drink painkillers, and buy t-shirts to bring home, while the other half did not want to see, much less talk to, another tourist if at all possible. Jacob was able to "read the room" & plan a full, fun day that made everyone happy. They were also exceptionally tolerant of the music choices of their guests...even if it was early 90's Hair Bands! Jacob and Christina demonstrated an intuitive talent for customer service, anticipating our needs before we had a chance to ask. Their ability to make us feel taken care of and a bit spoiled while still treating us like long lost friends is an interpersonal skill that can't be taught.

One of the more important and appreciated things I noticed was that both Jacob and Christina demonstrated their knowledge of and respect for the ecosystem around them in the way they operate the boat and the locations they chose to show us. It is clear that they both love this gorgeous corner of the world & want to conserve its beauty for future generations.

I feel that any well balanced review should include some constructive criticism. I struggled to find something to critique about the service we received, but here it is. Jacob's fashion sense is atrocious. The patterns in his shirts and shorts clash to the point of distraction. Christina assured us she is working on the issue, so hopefully improvements will be made in that area.

We enjoyed our time on St. John immensely, but the days we spent on the water were certainly the highlight of the week. After an amazing trip, I believe one's flight home should be spent planning the next vacation. It was the unanimous decision the group that our next getaway would be planned based solely on where Jacob and Christina are working. I just hope they're prepared for that!

Regards, Brooks & Roisin
Boston, MA

Praise from Charter Broker on three well done charters
I have now had 3 charters with Jacob and Christina absolutely nailed it each time.
The planning, the food, their personalities. . . . everything! It was very different groups from a family to a 35 wedding anniversary and all the clients were full of praise.
Charter Broker

June 2020
Sundowners and The Big Blue - what could be better?! Our time aboard SY Rapscallion was absolutely perfect! Captain Richard and Suzanne were THE BEST!! Great dynamics!! Very welcoming and genuine! Perfect for our family. Love the laid back atmosphere and even though the covid-19 threw us a challenge, we managed to stop in amazing anchorages and enjoy the vast snorkeling opportunities! The pier @ Fredriksted is an absolute must when visiting St Croix!

Suzanne, many thanks for your wonderful cooking skills! Everything was beautiful and so so tasty! (Kudos on the homemade sweet and sour mix!) Amazing job! Cannot stress enough! Above & beyond!

To both Captain Richard and Suzanne -
Humble thanks for sharing your sailing knowledge! As we've mentioned this is our dream to live aboard full-time. Appreciate your patience and involvement more than you know! Will has been in his happy place for the last 10 days for sure! haha

Seriously you both have been great! Many many thanks for making this a most memorable trip for our family! I bet Emory will talk (& talk, & talk, & talk..) about her time aboard for years to come! haha Until next time...

Fair winds & following seas,
Will, Rayna, Elle, Emory & Ryan

PS - Mind the "sugar cubes"