Luxury Caribbean Catamaran Charters
Catamaran luxury yachts are an amazing way to vacation in the Caribbean and tour the absolute beauty of the US Virgin Islands (USVI) and British Virgin Islands (BVI) like never before. Not only are catamaran yachts spacious, but they're also exceptional at maintaining a steadier feel for those who may be prone to seasickness.
Here at Caribbean Soul Charters, we offer bespoke, luxury crewed yacht charter booking on catamaran sailboats guaranteed to fulfill your family's dream yachting vacation on the Caribbean sea.
If you're looking for a luxury catamaran sailboat, our concierge yacht charter service will ensure your desires in a Caribbean yacht vacation are met with perfection.
Please select up to five of the below luxury catamarans and email us with your selection and we will do the rest from there.
If you would like to discuss your trip in greater detail so we can customize the ideal trip for you and your loved ones on the best yachts the Caribbean offers, please call +1 (340) 690-1121 or Toll-Free at +1 (877) 432-6700 and let's get started. Be sure to ask for Sue!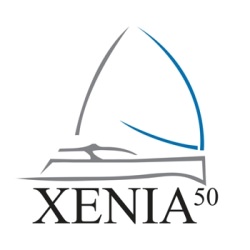 XENIA50 GUESTS COMMENTS
March 15 -21
March 15-21 2020 Cole Charter( last charter before pandemic shutdown)
So difficult to say how wonderful you both have been on our trip. The outside world was in such a state and you both provided such a high level of everything - and of course the food- I am sure i have NEVER eaten as well over such a long period of time. Strange time in the world and you two still made our trip grand.

February 14-21, 2020
Mc Whirter Charter
Wow! What a fantastic Vacation!
Thank you so much Jade and Peter!
Words cannot express how grateful we were to have such fabulous hosts for our dream vacation! the boat, the accommodations, especially the food was beyond our expectations! Top shelf on everything.
Chef Jade you are just lovely and your cooking is amazing. Thank you for all your hard work and effort, much appreciated!
Mike and Janice
Winnipeg,
Canada

Thank you Jade and peter for a wonderful cruise. once in a lifetime experience for an and I.
The food was amazing Jade
I do not know when you will open your restaurant but be sure and contact us!
Thanks to peter for his excellent skills at bringing us to the islands and providing us inside to different aspects of each mooring. Diving the Rhone was unforgettable.
Safe travels to both of you.
Anh & Bruce
Winnipeg manitoba
P.S. thanks Jade for sharing your recipes with Anh.
January 6-13, 2020
Jade and Peter
Thank you for a fabulous tour of BVI and thoroughly enjoyable relaxing trip. Also Jade some of the best food ever. Thank you for all your prep and hard work.
Rachel and Duncan
Christmas Charter 2019
Malone Charter
Jade's food and peter's patience impressed us all. We loved spending our Christmas holidays with them.!!
hope to run into them in Grenada in the future.
Lina, Ella, Marianne and KellyDear Jade and Peter,
What a week you treated us to! From the impeccable gourmet meals to the expert tour guiding to dealing with, um, complex cabin logistics, to besting us all at the most important meme game of all time- you have been nothing short of magnificent. We hope you guys get some well deserved time off soon, ( and a boat full of twenty somethings this next week) Hope to cross paths in the near future. Divansh and Dupre
PS you always have a place to stay in NYC or London.



July 4-11,2019
July 4-11 2019
Thank you for the experience of a lifetime!!
We could not be more thankful for all of the activities, views and unique stops & 5 star meals. Everyone is leaving here beyond pleased with every little detail that makes this trip so memorable! Julia said yesterday that she has never been slightly unhappy here, and i think that pretty much sums it up for the rest of us too. Before, we had never experienced a trip like this and i think it's safe to say Xenia50 has set the bar very high. I'll never forget this 19th Birthday spent here. Thank y'all for making our hearts full and our stomachs fuller! hope to be back at some point! Noel, Jeff, jackson, Kathryn and Julia Vandiver.

June 25 - July 2,2019
Thank you so much for making this one of the most unique and special family vacations we have ever experienced. We are leaving with wonderful memories that will last a lifetime. Our children are already talking about the "next" Catamaran trip and wanting to take their own families on an experience like this when they are older. You have spoiled us with amazing meals, 5 star accommodations and the unlimited entertainment for the kids. We have a new appreciation for the BVI's and the beauty of traveling on a catamaran. Thank you so much for all your patience with the kids and welcoming us so generously into your "home". we hope to be back on board someday.
Jenny & Stephen, Stephen Audry and Lauren

June 2019
June 4-11
Peter and Jade,

Thank you so much for a lovely trip sailing the BVI Jades cooking and food presentation was the best we've had so far. Captain was always making us feel safe and comfortable wherever we decided to go. Peter and Jade were a joy to travel with and extremely service oriented. They exceed all of our expectations.
Thanks again,
Sean and Michelle
Puerto Rico

June 2019
May 27-June 3, 2019
Dear Jade & Capt Pete,
We can't thank you enough for your hospitality on out first sailing experience, quiet honestly we weren't sure what to expect. The boat is well appointed, comfortable and you all made us feel like royalty. Our maiden voyage was a success as your itinerary was the perfect taste of the BVI's We would love to plan another trip and bring all our girls… hope to see you again.
Fondly
Michael and Cynthia
MN

June 3rd 2019
Dear jade And Peter,
Thank you so much for a unbelievably beautiful experience
This was our first experience with a charter boat- wow! Can't wait to try this again- but not without you two. we so appreciate your hospitality helpfulness, kindness and patience :) Jade you should be a rated michelin Chef- taste texture variety Freshness, delightfulness EVERY single meal. Thank you for spoiling us. we appreciate it and will try to replicate your dishes at home.
Thank you for such a memorable trip- memories that will last a lifetime for the six of us.
Best Mike & Missy
MN USA

June 3rd 2019
Jade & Pete
Thank you for all your hospitality & talents We had a wonderful Week enjoying great food and friends in a wonderful setting. Thanks for all you do & for memories that will last a lifetime.
Katrina and Aaron.
MN USA


May 2019 After charter review
Overall Rating: 5
5 being the highest 0 being the lowest

We hope your charter lived up to your expectations. We would love to know some of your impressions about your yachting vacation. Please answer the following questions and add any comments you may have.

- Was the crew friendly and accommodating?
They were great hosts and wonderful people.

- Was the yacht comfortable and clean?
Very luxurious

- Was the yacht well ventilated?
Yes, quite comfortable

- Was the food good and well presented?
Top notch. Well beyond my expectations.

- Did you like the area you sailed?
Yes, we found some great quiet beaches and spectacular snorkeling and scuba sites

- Additional comments on your charter?
Jade and Peter were the best. Very accommodating and their chef skills are amazing. I would want to sail with them on our next trip.

May 2019
May 24th 2019
Jade and Peter
You guys have outdone yourselves and our expectations! We have had such an incredible time aboard your baby Xenia 50.
Jade and Peter your meals are to die for- we want to bring you home with us!
Please come and visit and we'll show your our hood. :) loved every minute of our trip.
Art and Annie
San Diego

"Another trip off our bucket list. so Happy we joined you on this trip. What a great team, it does take two. Best wishes in all your adventures
-Geri
Arizona

"Pete and Jade - Thank you so
Much for your Hospitality- We Had a great trip and will recommend this vacation to all. because of you I am able to remove a bucket list item that has been there for years. If you are ever in Phoenix to call us and stay for a couple days. Jade you are responsible for the 10 pounds I have gained!
-Tom
Arizona

"What a fantastic dinner from beginning to end. Great group of friends and hosts that cannot be described because their talent, generosity & desire to please know NO bounds.
Pete and Jade Thank you a thousand times for your fabulous drinks, snorkeling spots and meals that would put a smile on anyone.
We will never forget this.
All our love and respect
Gary & Natalie





May 2019
Peter and Jade are a great couple and are very hard working. Jade's culinary abilities are first class in both quality, quantity, and presentation. Peter makes great drinks and served and paired good wines with our dinner meals. There was no lack of brand beverages that we requested or that was provided. It was terrific.

Diving was great. Peter did a good job on making sure we were comfortable and safe in the water and that all equipment was working properly. He was a great help in assisting us to get in/out of the water.

April 2019
" Fantastic week with the Thomas Family. Perfect weather, accommodations, fellowship and hosts"
One week is far too short now back to the 'world' and so looking forward to the next journey back to island life.
Thanks Pete and Jade -fabulous new friends.
-Chris and Melanie
Charleston VA"

April 2019 - Repeat Guests
Dear Jade and Peter thank you for this amayzing trip. Jade you make the best food and you really are part mermaid. Peter , you are a great Captain and you recommend the best spots. You made are trip in the BvI's the best it could have bin.
-Eloise ( age 9- all typos and misspell's are her own)

Dear jade and Peter,
I had an amazing time. Thank you so much. I am so glad we got to come back. The food was sooo good and the waterskiing was awesome. Thank you so much for making my trip the best it could be. I hope we can come back in the future.
-Piper (age 11)

Dear Jade and Peter,
I am not sure how but this years trip was even better than last year- hard to imagine that possible. jade - so incredibly talented in the kitchen and the girls adore you. Thank you also for making Eloise's birthday so special! Peter- great captain, drink maker Etc.etc. You guys make the perfect team. Thank you for everything!
Amanda,Craig, piper and Eloise —looking forward to next time!!!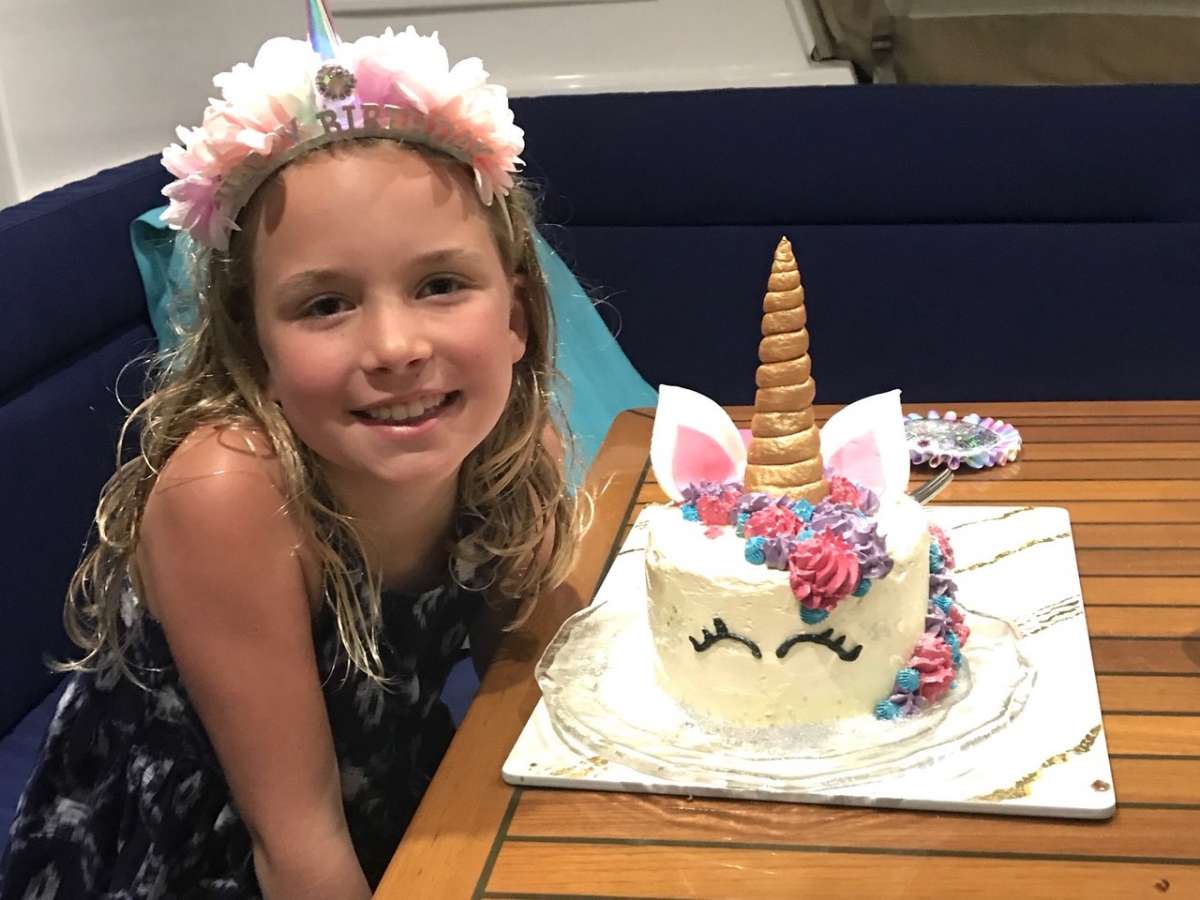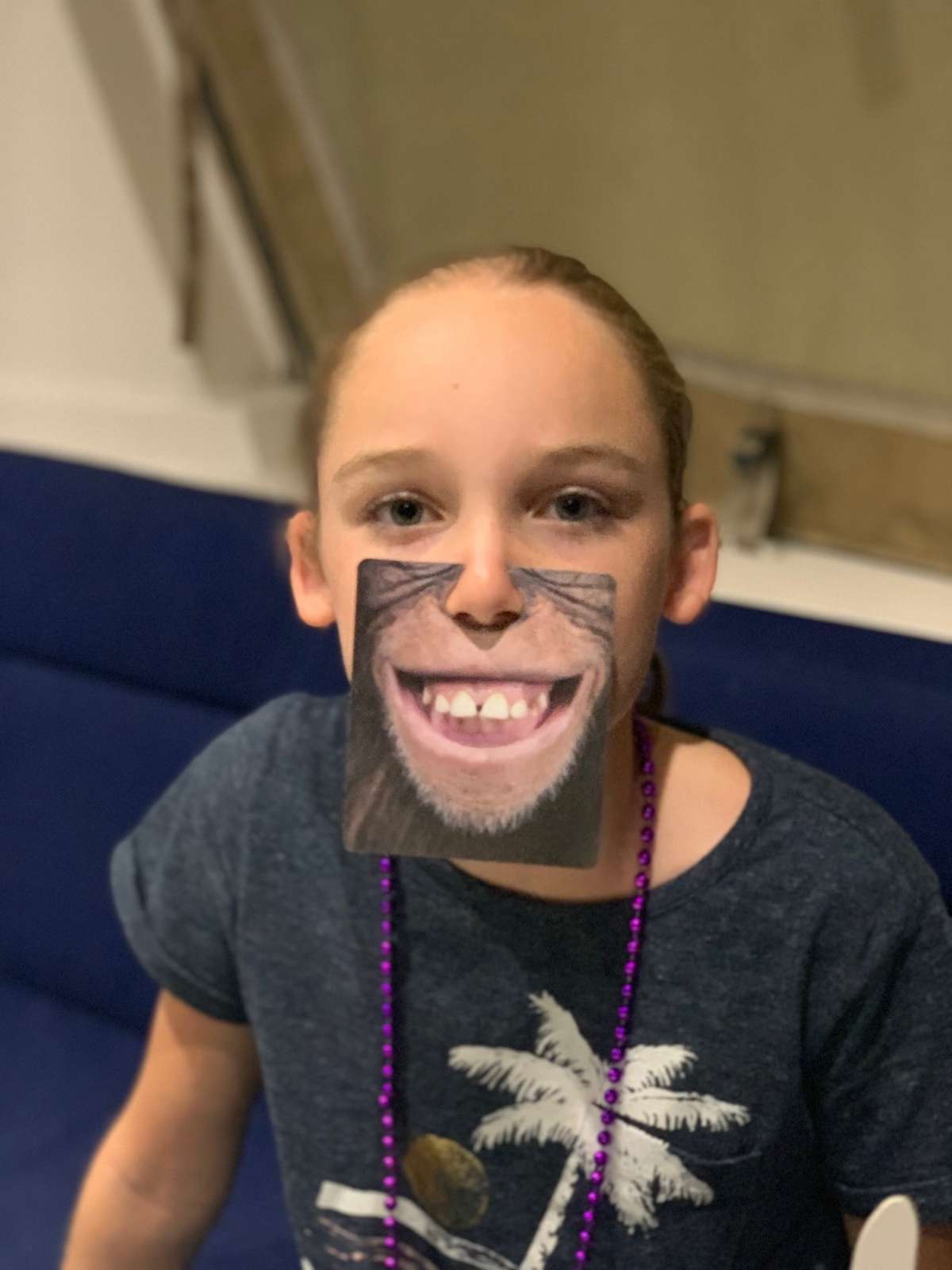 March 2019
"Dear Pete and Jade,
Words cannot express how very great full we are for all you both did to make this trip truly unforgettable! Every moment was perfect. From the beautiful snorkeling spots, unmatched hospitality, outstanding meals-each crafted with incredible, imaginative components, to the tubing ( go Mr. captain!!) and Paddle boarding- we were able to experience so many "firsts" with our girls that we will never forget!! You two have a fantastic gift to creating a magical time for your guests in which the phrase " not a care in the world" is truly a reality!! Again manny many thanks. And hoping very much to see you again soon! Next time with little Thomas joining in. Safe travels and good health!!
The Simons
Jessica
Tony
Mary Grace
Chandini (Chandler :) )
If you ever have time to visit please consider this an open invitation anytime !! ""

March 2019
Pete and Jade
Thank you both so much for your warm hospitality and companionship. This was our first time in the BVI and the first time we chartered a boat —so we really had no idea what we were in for. From the first moment on the dock we have felt welcomed and relaxed. This is truly an amazing experience- one that we will never forget. The food, the sights, the time together on and off the boat have brought us closer together as a family and given us plenty of memories to share and recount for many years.
We will think of you often, Scott, Amy, Kathryn, Charlie and Caroline
Cambridge MA

March 2019
Dear Jade and Peter,
I don't even know where to begin! This past week has been absolutely amazing! We never dreamed we would have had the chance to do something this fabulous and fun! I really want to thank you from the bottom of our hearts for taking such wonderful care of us and for being the best tour guides in the area. Your knowledge of the islands and your friendliness has been phenomenal. And last but not least we literally had the best meals we have eaten in ages and will be talking about Chef Jade's food for years to come! May you continue your journey safely, happy and on your own terms! We will never forget this past week and will always hold the best memories of our trip!
God bless you, Love,
Jennifer, Josh, Emma, Stella, and David

March 2019
Another Bucket item Accomplished! Will definitely return for a future visit. Peter and Jade made the trip a wonderful one- great food experience as well as bartender skills. Thank you both for a great sail.
Nick and Michelle
Jessie and Jeff
Louisiana USA

February 2019
Pete and Jade,
Thank you for everything and more! Words cannot describe our appreciation of both of you . From the moment we arrived we felt welcomed into your home. Xenia 50 is as beautiful as you are! Your love of food and hospitality goes beyond measure. Simply Amazing! We will see you again soon… we will miss you in the meantime!
Love and Friendship
Kenny, Angie, Steve, Heather Mike & Shannon, Cleveland Ohio

February 2019
Dear Jade and Peter,

Tonight is our last night of a spectacular journey through the Grenadines. thank you for making this journey so effortless combined with your kindness and art for loving like. It is a beautiful discovery to be at this juncture in life and be exposed to awesome beauty, wine and foods. we are so grateful to the two of you for making our time together extraordinary.
with our love and best wishes
Bobbie & Andre, Nicole & Jeff, Teh & Chip
Ps if you do not have an appreciation for FINE food and AMAZING wine then you do not deserve Pete and Jade

January 2019
Jade and Re-Pete,

Thanks so much for the best 80th Birthday I ever had.
The entire family, doing their own things appreciate your unfailing indulgence of our pursuits from foils, kites , snorkels, scuba and/or laziness. Jade's imaginative meals were always a delicious of 10 or more ingredients( making it impossible to copy only photograph) this was the best voyage ever for us and hopefully ok for your too
Peter and Cindy Mebel Boston MA
Greg and Maria Paia Maui HI
Jeff and Rebecca Franklin TN
THANK YOU AND FAIR SAILING!

January 2019
Dear Peter and Jade,

This is a bucket list dream holiday fulfilled it in every way possible and more. Looking forward to next adventure with you! The food was outstanding, really felt the love of cooking and hosting. Can honestly say that for once the reviews were justified , in fact you were above and beyond expectations.
-Dupere Family and Emily and Stephanie

January 2019 After charter review
When you arrived, your first impression of the yacht was?
Better than on pictures , very clean , greeting was perfect , quick intro , glass of champagne , showed us main features , safety , we were on our way in 30 min .

What did you think about your accommodation?
All good , amnetities , really good quality , beds comfy . all good

Was the boat kept clean during your charter (your cabins, the bathrooms/heads, your towels, bedding, the cockpit, the galley)?
Yes in fact we even asked to forgo mid trip change ( to avoid washing etc ) but they insisted

Did you miss anything on board?
Nothing , one of my top five trips all time , Pete and Jade were there all the time at our service ,

What did you enjoy the most on board?
Flexibility of going where we want , Food was outstanding , worthy of 5 star restaurant


Please describe your Captain (professional/outgoing/friendly etc.)
Obviously knew the boat , the region , was good at presenting us options , also good cook , good at mixing drinks , good at details , history , excellent knowledge of wines .


What do you think about your itinerary, the places and bays you visited and the activities you have done?
Extraodinary , changed choices based on what we wanted , wanted piece and quiet . gave us options

Please describe your chef (professional/outgoing/friendly etc.)
Worked around the clock , to give us her best , she was very passionate , wanted to experiment , love quality / freshness , meticulous . she loves what she does , again outstanding , we were looking forward to every meal .

Please describe your meals (presentation, quality, quantity)
Work of art , details , table presentation , plating everything was perfect

Do you feel the meals and drinks reflected the requests you made in your preference sheet?
We enjoy all foods so not difficult but she enjoyed surprising us . We had different choices juices for every meal , wines paired for every meal , again details matter and they were perfect

If you had children in your party, what did the crew do to make their vacation special (food, games, toys, etc)?
Older children but yes they took care of everyone , my daughter wanted nice bar , dance etc

Did you receive enough information from us before your trip, was the description of the yacht and crew accurate?
Very much

Would you sail with us again?
Yes I would , for sure.

Any other notes or special remarks you have:
For hikes better use shoes , flip flops not enough !! One of best holidays ever . for once pictures / comments / reviews were accurate , in fact better than the reviews

May we use your comments as a reference for future guests? Yes
Thank you!

New Years 2018/19
Peter and Jade,

Thank you for and amazing week. this trip exceeded our expectations. it was everything we dreamed of and more. the food was FANTASTIC!! Each snorkel spot was beautiful, the boys had a blast. you are wonderful hosts and we hope to see you again.
Fondly, the Brown Family

Christmas 2018
We have been looking forward to a vacation on the water for many years. this one exceeded our expectations. A wonderful relaxing, happy trip thanks to you two.
David and Robin Alpher Philadelphia PA
PS the seven fishes was amazing!!!

What a vacation! we couldn't ask for more- the hospitality, food and the care you took of us. we will be raving about this week for years to come!
Thank you, thank you!
-Kim and Lyndon

Not knowing what to expect and thinking about it for so many months, i've never been more happy, impressed and grateful for such a lovely voyage. when we were told 5 star service I couldn't imagine that on water but all expectations were far exceeded! The Cuisine and accommodations stupendous and the crew- Jade and Pete- true lovers of their craft and such a joy to be with. Until we hopefully meet again thank you doesn't even cover the gratitude we have. Happy New Year
-Gloria S
Peter and Jade Thank you! For your wonderful Hospitality! I was great sharing Christmas with you . The Seven fishes a la Jade was awesome. Everything was great. will tell everyone Xenia 50 is the best. have a great 2019
Bob

November 2018
Dear Jade and Peter ( and Pete's alter ego: Margery),

Thank you so much for this spectacular trip, it really has been a very special week. Everywhere we have gone has been beautiful and the lack of people :) has been excellent. i hope Peter wins his pork pie baking competition ( I think pork Pie is something Margery would like) have a great time in Huntsville AB and on your Canadian road trip!!!
Ella Flemming ( age 14)

It's been a really wonderful week-so relaxing that it feels almost impossible to return to the real world. Thank you for all your hard work, excellent itinerary and endless deliciousness
Julia and Richard Fleming

Thank you for this wonderful trip. We have had so much fun. and the food was so good! we will miss you so much.
Lots of love Tess and Alice ( ages 11 and 9)

November 2018
Celebration of many things….. 50th birthday Anniversary and Closing on a new home. This trip has ruined all other vacations forever! What a beautiful boat with and extraordinary crew. Jade and Peter have spoiled us rotten and we are blown away by the multiple talents. looking forward to another Xenia 50 Trip in the near future.
-Happy sailing Tam and Cal Myrtle Beach SC

Thank you for a wonderful week! You helped us to relax, celebrate and enjoy our time with you and our friends.
Kim and Patrick
Dual citizens of NY and now Charleston SC

July 2018 (Repeat Guests)
Love-love-you two! thank you for another great vacation- here's to engraved water bottles!
The Winslows, Atlanta Georgia , The Goddess and Rowley, Houston TX, lewis and Cathy, Louisiana

Dear Pete and Jade
what a wonderful trip!! Everything was more than we could have expected or imagined. you both were the best hosts on a beautiful yacht. The food was the best!! we loved everything about this journey with you. Hope to be back again in the near future.
All the best,
Christine&Sal
ps you made our anniversary trip with friends great.

June 2019
What an Incredible vacation! Beautiful boat, Incredible food & awesome company! Happy 50th to one of the best people i know ( Steve) - we love you and cannot thank you enough.
Thanks Peter and Jade for an amazing charter.

Truly a fantastic vacation and 50th celebration for Steve. Each day was better than the next. Thank you for personalizing our route and our activities. The food was Amazing! we we felt like we were in the best care for the entire trip.
-love Janet and Steve

June 2019
Jade and Peter
Thank you so much for such an amazing week. Your attention to detail is 5 star. we can't thank you enough for catering to our gluten free needs. We will talk about the incredible food for a lifetime! thank you for everything and for all the amazing hospitality!
- love the Cooley Family, AZ

June 2019
This trip was a milestone in our lives, our husband and I celebrating 30 years & our kids each 2 years with their spouses. We appreciate your attention to every detail and that you were able to adjust the trip for us so we could just chill and relax. You've made private chartering into an art form. We also appreciate your warm hospitality and kindness. The food and service, wine , cocktails made being in these beautiful islands all the better a turtle special and exceptional experience. Thank you for helping to make this family vacation all the better. We pray blessing for you both in all your adventures and hope to return to see you again.
-Teresa & Rick,, Ryan and Lydia, Myranda and Johnathan

May 2018
Dear Peter and Jade
We can't thank you enough for the care and attention you bestowed upon us.. you made my 70th Birthday and family vacation truly memorable. The accommodations- wonderful! The food -beyond description. Please give us a call when your tour of the northwest takes you up I-5 to Ashland
-Jack and Mary
In a word AWESOME!!
-Alexis
PS Jade your culinary skills have left me so inspirited. Please go on Top Chef!
- Mary and Alexis

May 2018
So elegant but felt like home. So safe and comfy. I loved walking into the galley with all the aromas generated by Jade's cooking! Thank you so much for the vacation of a lifetime. Outstanding attention to every detail and best food i have ever consumed!
-Ken and Carrie

Dear Pete and Jade,
Our trip on your boat exceeded all of our expectations. The food was the best i've ever eaten. thank you for the experience of a lifetime. what memories we have made. can't wait until our next adventure! You both are awesome and we appreciate greatly all that you did for us to make this the trip of a lifetime.
-Lori and Frank

April 2018 (Repeats)
Thank you for a relaxing Trip. Pete and Jade are the ultimate Host and Hostess. food and accommodations was amazing,
Thanks again.
Patty and Dave

Pete and Jade we want to thank you for another amazing adventure. there is no better way to see the beautiful Caribbean than to be completely spoiled the way you two spoil our group.
Thanks so very much, Gary and Linda, Dallas Texas
ps thanks for trying to save the goat and for saving the "french bread lady" :)

Pete and Jade
What an awesome vacation! you two are very fun. You are both so talented and always have a smile on your faces. Thank you both for being so kind to our group and putting up with my ( Danny) "unique" sense of humor. this trip has left us with fantastic memories. we will always have fond memories of you both. Thanks for the incredible food, drinks. quiet beautiful coves, secluded beaches, good music, once-in-a-lifetime snorkeling and aliens movie night. we will never forget you two.
Your friends, Danny and Tenny

April 2018
Dear Jade and Peter
Thank you so much for making my Birthday special and my spring break so awesome!
Love Eloise, ( age 8)

Jade and Peter-
The trip of a lifetime and i'm already working on Craig to hopefully be back next year ( spoiler alert: they've rebooked for 2019) You have blown away our expectations on every level. it was an amazing week of family fun, 5 star meals , incredible drinks, and tones of fun!!!! Jade you are an incredibly talented Chef, we have never eaten so well- Every meal! Peter- a fantastic captain- you took us to great spots, waterskiing, tubing, snorkeling, beach bars etc.
You two make such a great team! Thank you, Thank you, Thank you!
-Cheers! Amanda and Craig, San Francisco CA

Dear Jade and Peter, I had a great time. I hope i can come back next year. I saw 4 Dolphins, 2 turtles , 6 stingrays a bunch of puffer fish, tarpon, pipe fish, barracuda, helmet crabs and more. Jade has great great cooking skills and Peter makes great parent drinks and is a good captain.
love Piper ( age 10 ) from SF CA, in the city

Easter Week 2018
Dear Ms Jade and Peter Rabbit,
Thank you for such an amazing trip. Everything was perfect!! The boys had the best time Scurrying around! We will be back!
Love Matt, bridget, Manning, Connell and Jude

March 2018
Dear Peter and Jade,
It is a rare thing to have one's expectations so entirely exceeded by the experience. In Don's case the expectations were modest but he was blown away. In Nicole's case her expectations were very high- and she was still blown away! A simple sailing adventure became a world of discovery and a gastronomic journey that we believe will not be outdone, at least until we see you next. Thank you ever so much for all of the caring detail.
-Don and Nicole North Vancouver, Canada
Thank you so much Jade and Peter for the the amazing trip. The food was beyond amazing the entire time and it was all an unforgettable trip. Definitely one of my most memorable trips. thank you so much for everything!
- Bella
Thank you for the one of a kind experience on this boat. The food was amazing and all the stops we had made were great too! Hope to come back soon and have a great time!
- Marlon
Thanks so much Jade and Peter for a amazing trip and the best tacos i've ever had along with many other one of a kind meals.
- Will

March 2018
We can't thank you enough for another fantastic vacation! our time with you on the Xenia 50 is a yearly family Highlight that we all love and look forward to.
You exceed Expectations every day with fishing, beach time, snorkeling, tubing, secluded coves, sunset ( and sunrises if we could ever rally in time … and FOOD!!! Know that we will miss you both as we return to snowy Boston and we are so grateful to you for your amazing hospitality
-Caroline, David, John and Chris xoxox

February 2018

Dear Jade and Peter,
We can't that you enough for such fabulous week!! Despite the occasional rain shower and chilly water we loved every second of this week!! Your hospitality, expertise and food beyond delicious and gorgeous will always be remembered. You are the Hosts we will chose the most. We hope to see you again soon! Thanks again, Barb & Jake , Mindy & Bob NJ

February 2018
A dream Vacation! Another trip off my "bucket list" Fantastic food and wine shared with great friends. Jade and Peter Treated us like family, welcoming us into their "home".
Karen and Frank


Thanks for the food, the fishing, the drinks, the memories! Next time no christmas winds!
lots of thanks!
Jean and Hank


Jade and Peter, Thanks for making a memorable week. No matter the christmas winds, your food was Obscene! thank you!
Meg and Chris
February 2019
A dream vacation! Another trip off my "bucket list". Fantastic food and wine shared with great friends. Jade and Peter treated us like family, welcoming us into their "home'
-Karen and Frank Wynnewood PA

Thanks for the food, the drinks, the memories! next time no Christmas winds! lots of fun, thanks
-Jean and Hank Mahoney

Jade and Peter thank you for making a memorable week. No matter the Christmas winds, your food was obscene! Thank you!
-Meg and Chris

Christmas 2017
From the clan Jennifer, Tim, Abby, Ali, Nathaniel (and Sylvia) - Peter and Jade, Thank you so much for a FABULOUS Week! We Had a BlastI You have been so wonderful with the kids. Nathaniel is coming home a much braver boy. The food was amazing we will be relieving it through Abby's endless food photos. The service was impeccable. we really cannot say enough. I have a feeling that Abby may get a Mermaid tail for her birthday. Hope to see you again. If you are ever in Boston or Maine, please look us up! If you lower your standards we'd love to have you stay!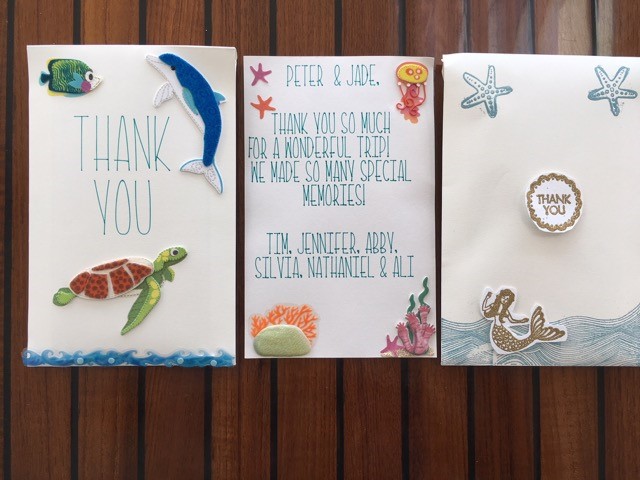 November 2017
Celebrating our 10th anniversary ( even though it's only been 9 years) with our best friends Gabe and Rechel.
Jade and Peter exceeded our expectations with their professionalism Knowledge and Charisma. their Attention to detail was fabulous and the culinary experience was magnifico<3<3<3<3 also the fishing was incredible- two Dorado, a king Mackerel, several Tarpon !!
Frank & Melissa
Louisiana

Jade and Peter Thanks so much for such a fabulous week on Xenia 50! this trip has been amazing. i cannot thank you enough for your kindness, dedication and determination in making our vacation such a success. your attention to detail in everything will never be forgotten. We wish you both safe travels on your future voyages & hope to see you both again soon.
Much love to you both Gabe and Rechel. ( No MOB! )
Louisiana
November 2017
Thanks so much for the five ***** food, service, accommodation and scenic views. We had an absolutely wonderful time and look forward to the second time.
Gayle & Jim
Maryland
July 2017

"Carol - Huston, Texas
The Best sailing trip ever! Not a single disappointment along the way, rather Jade and Peter out did themselves time and again with their amazing sailing , food and customer service. We will be back!
xoxo Carol"

"Sandy & Cathy - La grange Georgia

Fabulous sailing and each meal a culinary experience! Jade and peter were the perfect host to a beautiful vessel. they anticipated our every wish and were truly a great team. We enjoyed every minute. we will partner again!
xoxo the winslows"

June 2017
Mascioli Albuquerque & Family - Brazil
Thank you Jade and Peter
We had a wonderfull Time and made fantastic memories. The food was incredible and you were very sweet with the kids. We are sad to leave but hopeful to come back.

isabella , 8 yrs old
Thank you Jade and Peter
I really liked your food because it is different. i really liked jade and Peter because they are fun an nice. I really liked it is a sail boat because we can sail in it. I had fun doing this time with you =) I really liked the place we went because they were beautiful and nice. i liked that when we were visiting the islands because thy were very interesting. Jade thank you for taking us to see the turtles. Jade think you as well for taking us to Snorkel on our last day.. I liked it because we saw lots of fishes and coral. Peter thank you for putting all the films we wanted Tobago cays because i saw 8 turtles 15 sting rays. i like to be there because the beach there had a lot of shells and rocks. so thank you so much!! you were very well doing your work.Peter you were a very good Captain for our boat. In Bequi i really liked that i saw a water snake. Jade i liked that you played with me. Jade i liked you because sh is fun and i liked peter because he was a very nice captain =)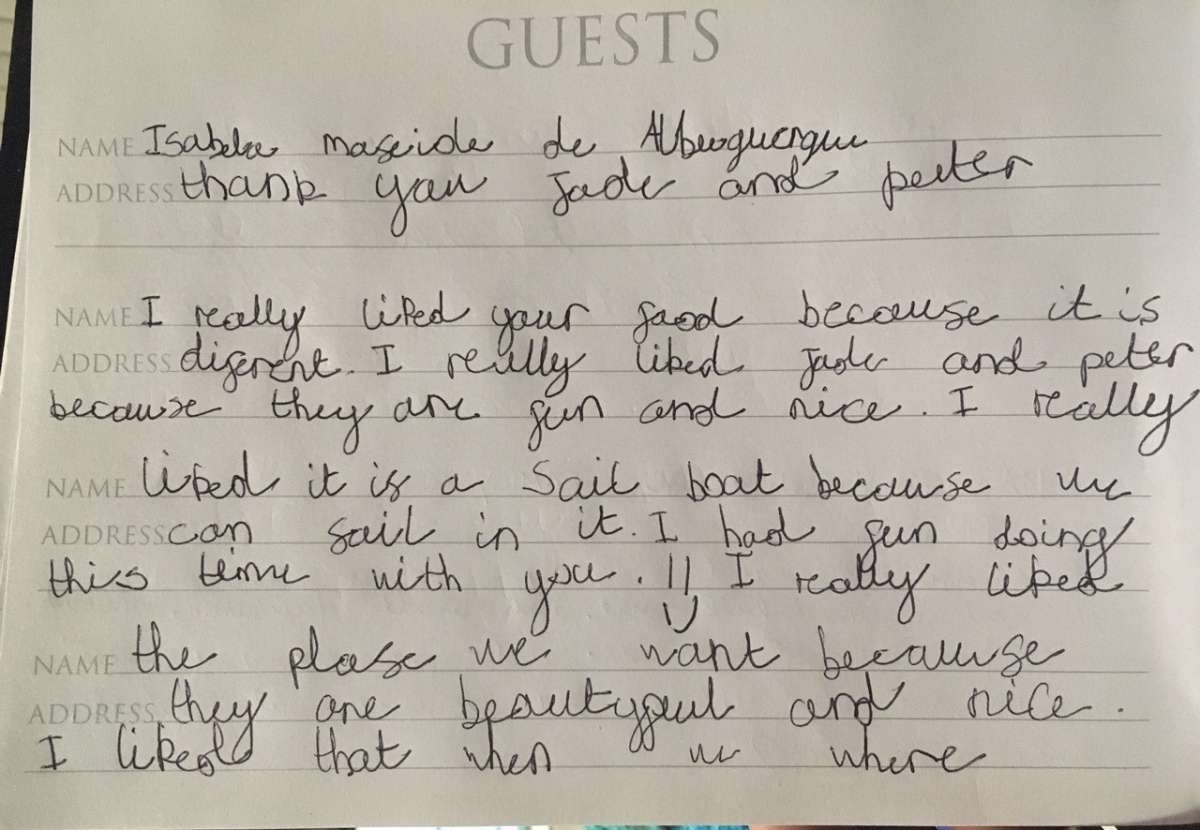 May 28th-June 4th - Sharnberg party
Dear Jade and Pete,
Where to begin? Our time on Xenia 50 has been Memorable! From the first day we set foot on this Beautiful Boat we have been treated like royalty.
The sights the snorkeling, the sailing, the Paddle boarding, and the blissful relaxing have all contributed to this fabulous family vacation. And the food!!! Wow - we have loved every single meal, appetizer and beverage. You have spoiled us completely and we're all leaving fat and happy. Thank you for your gracious and generous hospitality!

Cheers,
Jade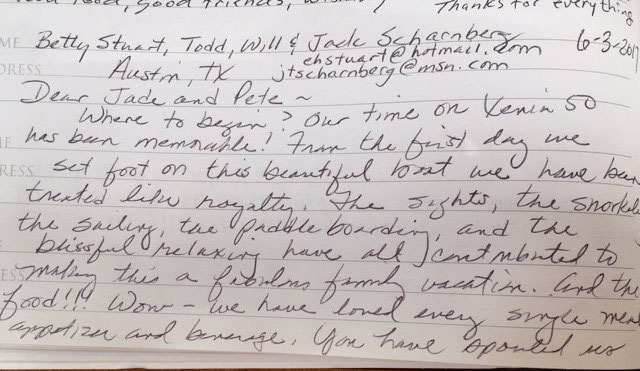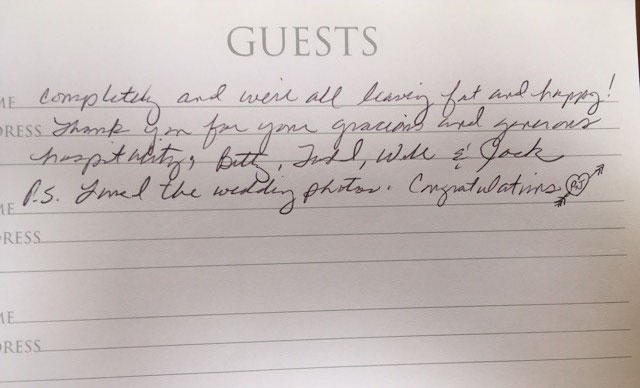 7th - 12th May - Miglicco Party - Broker Feedback
What was your first impression of the yacht? = Exactly as shown on website. Clean and ready.

Was advertised equipment onboard and in good condition? - Yes

Did the skipper/hostess make you feel welcome and comfortable onboard? - Absolutely

Did you feel free to choose activities? - Yes

Please provide specific comments regarding your skipper and hostess. - Pete and Jade simply could not have done anything further than they did. They made our trip memorable

Were the meals and beverages as you expected? - Exceeded all of our exceptions by miles. I may not ever enjoy my favorite 5 star restaurant the same 😜

If you made any special requests were they met? - Any requests were always met

Was this your first visit to the BVI? - No

Would you recommend this yacht for a charter vacation? - Already have, numerous times


7th - 12th May - Miglicco Party
"We have no words for how relaxing and beautiful this trip was for us.
Pete and Jade treated us like royalty, Excellent Crew Thank you! "
Gary and Linda Miglicco, Little Elm TX

"We thank you for putting so much effort, work and skill into making our trip such a memorable experience. We will recommend y'all to friends/family/others. Thanks again!! PS Food was A+++"
Dave and Patty Wheeler- Montgomery Texas


"Good Food, Good Friends, Wishing it would never end!
Thanks for everything"
From Tenny & Danny Miglicco, Lake Charles, Louisiana
April 8th - 29th - Brazier Party
"Such an incredible, relaxing, enjoying pampered week. You both are an amazing team. Best wishes to you both in your life together and in your career. "

Gord of Greater Bowser added;
"Enjoyed the pleasure of your company. You two were more than staff, you became part of our family.
Your experience and skill were beyond our expectations. Wishing you all the best. Hope to hear from you in September while you are in Errington- with smiles Gordo"
Kosh and Gord Lipke, Bowser BC Canda

"Thank you so much Jade and Pete for making this week so incredible. It wouldn't have been the same without your incredible service! You guys make the Xenia an incredible experience it wouldn't be the same without the two of you. Excellent Creative meals, attention to detail, small requests like the hammock, the tube, excellent cocktails… Thank you! "
Jaques and Michelle Du preeze Campbellville, Ontario Canada

"60th Birthday Cruise of a lifetime! We had planned this for 10 years and it exceeded all expectations. Beyond beyond!!! Exceptional!!! Jade and Pete are the best of the best!!!!
Mermaid and Captain Extrodinaire!!!
Thank you!"
Barb and Dan Brazier, Severn Bridge, Ontario, Canada

22nd - 29th April - Brazier Party
"Thank you so Much for your incredible service this past week. The two of you made our week on the xenia Marvelous. Please know that you are really great at what you do! you make an incredible team and work so well together. Thank you for being so kind and helpful and going that extra mile to make our stay on board so very special. All the best- Jaques and Michelle"


8th - 29th April Braziers - 60th Birthday Extravaganza!
"Jade - First Mate
What can anyone begin to say to describe the mesmerizing mermaid that you are .
you are a culinary wiz of an extraordinary kind- your creativity in the kitchen is simply masterful. Your personality shines brighter than any sea glass. you have a zest for life that is contagious . you are a mesmerizing Mermaid! thank you for making our 60th Birthday trip of a lifetime beyond all our expectations- we are xenia find for life, we have the t-shirts to prove it!

To our amazing Captain
Captain of the seas
Captain of the water toys
Captain of our 6 man dingy
Captain of the blender and all heavenly cocktails extroadinaire. Captain of our three week creative amazing routing chart!!
Your "adventure seekers" are beyond thrilled and we will never forget all that you have given us. you give so much of yourself and it is so very appreciated! thank you for making our 60th birthday so very special. we will never forget our time with you on Xenia 50 so very special.
Love, Barb and Dan


15th - 22nd April Brazier Party
"Pure fantasy brought to reality can't thank you both enough"
Tim Brazier and Angelo Musco- NYC

"You have made two 60 year olds so happy!
Thank you just doesn't say how much we appreciate everything you do. You are masters and we will never forget you both.
Much love Barb and Dan

8th-15th April - Brazier Party
A truly incredible week, can't wait to do it again. Better than a 5 star resort"
Carrie and jim Galea, Millgrove, Ontario, Canada

"Thanks for everything - We had a blast You guys were amazing"
Fran And Eric Torante



18th- 25th March

A Perfect, perfect family vacation-Jade and Peter-thank you so much for an incredible week which far exceeded expectations in every way. Your patience, dedication and talent made our vacation The food... words cannot describe it! Thank you, Thank you for an awesome week- we all Hope to have a week with you again xoxo"
Caroline, David, John and Chris Ryan

A truly perfect family vacation! Highly recommend a trip on Xenia 50 with Jade and Peter, it cannot be topped!"

Susan and Richard Russel

Christmas 2016
Our trip was great on Xenia50. The crew, Peter and Jade, were really super, with Peter navigating us to beautiful snorkeling locations and mixing up great cocktails, and Jade cooking amazing meals 3 times a day. The boat, while 2 years old, looks brand new and worked really well for our group. Finally made it to Anegada and loved the beaches and lobster there. Xenia50 and crew should definitely be on your highly recommended list of charterers.
Thank you for a great holiday.
Reed & Leslie

July 2016
Our Experience aboard the Xenia 50 has far exceeded our expectations! the service and hospitality the Jade and Peter showered us with far and wide was impeccable! We were spoiled with all the culinary delights that Jade prepared for our family! both Peter and Jades knowledge and professionalism introduced and enhanced our love of saying in the BVI. This truly was an outstanding vacation and one that will carry our most treasured memories forever!
Love, Evelyn, Gary, Noelle, Eva, Crystal
June 2016
From Rich and Vicki;
"Everything was wounderful, awesome food and AMAZING SERVICE, thank you both for our perfect VACATION!

From Sally and John
What a pleasure meeting Peter and Jade Everything was beyond amazing and wonderful!

From Stephen and Arjiel:
Difficult to put into words how wonderful sailing with Peter and Jade was. We were treated like Kings and Queens, Princesses and Presidents, to the point of feeling guilty. Both exceptional chefs! Xenia 50 & Crew deserve each other!




June 2016
Thanks Jade and Peter for a fabulous vacation! the Boat is amazing and Exceded our expectations crew were top notch fun and full of knowledge! Food was Fantastic and we were pampered the whole week! this is a trip we will never forget and we thank you for helping make this trip a great family vacation!
Christine, Adrian Kyle & Ryan

June 2016
Jade and Peter,
Awesome boat... Check! Awesome weather... Check! Awesome food... Check! Awesome scenery...check! Awesome service...check! GREATEST HOSTS ON THE PLANET ...DOUBLE CHECK!!
Thank you for a fantastic week, one that we will never forget. looking forward to being back with y'all soon! Cheers!! Kellie, Drew, Adam and Ry

APRIL 16-23, 2016
Sorry for the delay in getting back to you. We had an AMAZING time! Peter and Jade are truly truly truly fantastic. The boat was amazing and the food and service were better than we ever could have imagined. Jade (with the occasional Peter meal butting in on her turf) made the most amazing food. Super fresh, super delicious, changed up everything pretty much every day. We never wanted for anything, they had a general outline of a plan for each day and would give us the rundown and ask us what we thought and if there's anything we'd want to change or do more of. Peter was a great captain as he made sure the boat was always positioned in the best possible area for the least amount of waves and swell in the different coves. They were super gracious and the level of service was off the charts. We really can't say enough about the trip and would love to submit whatever review we can.
March 2016
What an amazing week. Peter and Jade went above and beyond for my three children and me. Thank you for such a memorable adventure. The trip of a lifetime! ❤️ the Taylors

New Years 2015/16
We had a wonderful time. Meals were excellent, drinks were fun and creative. Peter and Jade were superb hosts and leaders. We WILL be coming back!
PS we also loved the high tech boat!
The Graass family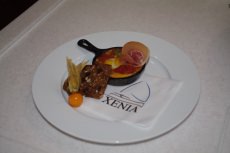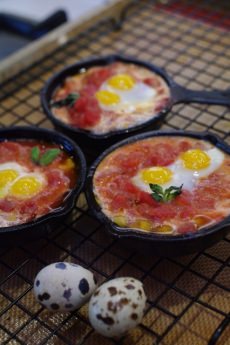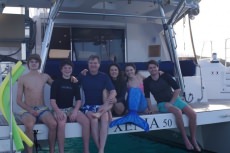 June 2015
Once again, thank you very much for the fantastic trip. We wish we had more time.

This trip was truly the gem of the fam trip. Nobody was expecting such a beautiful boat, a friendly crew and a superb chef. Personally, the cold soup of avocado and cucumber was my favorite meal in the entire week!

The feedback from everybody was spectacular. They were very picky checking how clean Xenia was. Also, highlighted the quality of the amenities, the orchids in the bathroom, the customer service, all snorkel equipments new and the detail of the final and amazing gifts.

Once again, many thank you for the amazing day!

Tania
May 2015
Hi Pete & Jade,

Thank you again for lunch - which was absolutely outstanding!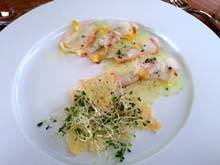 May 2015
I just wanted to say THANK YOU for a terrific lunch on Friday. It's was over the top delicious with a wonderful presentation. Loved the wine too :-)

You're awesome!

Sue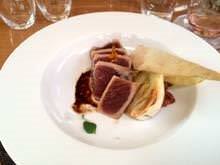 May 2015
Thank you both for an excellent lunch, I thoroughly enjoyed it especially the lobster starter.

Have a great summer.

All the best,
Liz
May 2015
Hi Jade & Peter

I just wanted to thank you both so much for inviting me for lunch on Saturday. It was absolutely delicious and I was blown away by the flavours of a well-balanced meal. The chicken with preserved lemon was incredible as was the raddish and fennel salad. It was all beautifully presented and the clean plates of all guests said it all!

Thank you for making me feel so welcome.

Kind regards
Trudi K
May 2015
Dear Jade and Pete

Thank you so much for the hospitality on Xenia last weekend. Susan and I enjoyed lunch very much.
Looking at the image below, seems others did as well.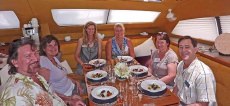 New Years 2015/16
We had a wonderful time. Meals were excellent, drinks were fun and creative. Peter and Jade were superb hosts and leaders. We WILL be coming back.
PS we also loved the high-tech boat!
~ The Graass family