Luxury Caribbean Catamaran Charters
Catamaran luxury yachts are an amazing way to vacation in the Caribbean and tour the absolute beauty of the US Virgin Islands (USVI) and British Virgin Islands (BVI) like never before. Not only are catamaran yachts spacious, but they're also exceptional at maintaining a steadier feel for those who may be prone to seasickness.
Here at Caribbean Soul Charters, we offer bespoke, luxury crewed yacht charter booking on catamaran sailboats guaranteed to fulfill your family's dream yachting vacation on the Caribbean sea.
If you're looking for a luxury catamaran sailboat, our concierge yacht charter service will ensure your desires in a Caribbean yacht vacation are met with perfection.
Please select up to five of the below luxury catamarans and email us with your selection and we will do the rest from there.
If you would like to discuss your trip in greater detail so we can customize the ideal trip for you and your loved ones on the best yachts the Caribbean offers, please call +1 (340) 690-1121 or Toll-Free at +1 (877) 432-6700 and let's get started. Be sure to ask for Sue!



MOBY DICK GUESTS COMMENTS
charter on September 5-12, 2020 in Sardinia - Corsica / Family of 8 from UK
Dear Johanna, Marie & Alain,
For our fist crewed charter, would like to thank the 3 al you for making it the most special experience.
The food was exceptional, the service was outstanding and the skipper was superb.
We hope to be back soon and we wish you all the best with your futures travels.
B Family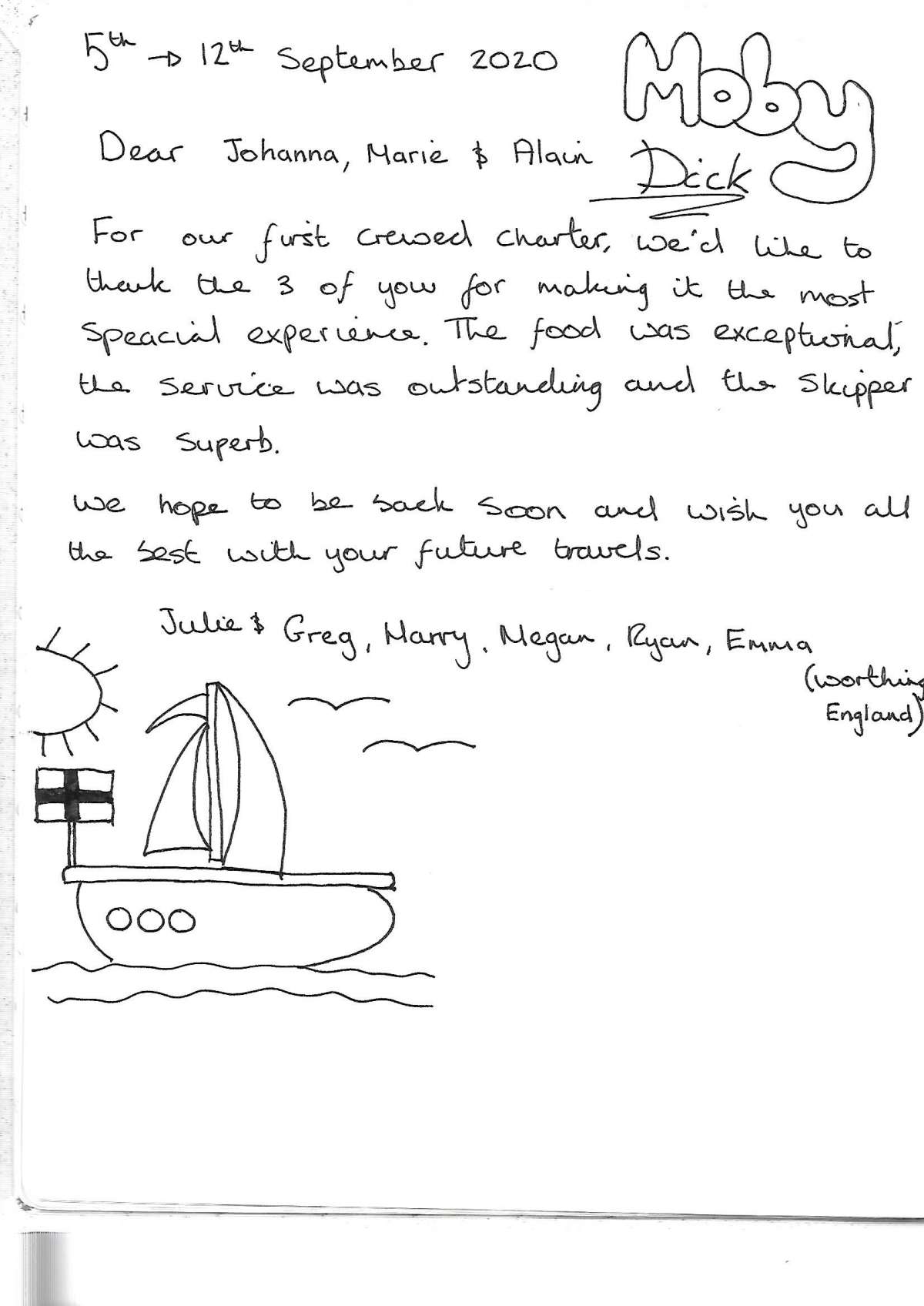 Charter on August 10 - 17, 2020 / Bonifacio - Bonifacio / Group of 10 from Belgium
Merci pour mon plus beau voyage. Une équipe du tonnerre.
Tout ce qu'on a pu voir au long de ce voyage était magnifique, tout comme vous.
La navigation, la plongée pour observer les poissons, c'était trop bien.
Merci pour tout!



Alain, Marie et Johanna,

Un tout grand merci pour ce merveilleux séjour qui nous a transporté très loin de tout nos soucis.
7 jours de pur bonheur!

Capitaine, un grand merci pour nous avoir fait découvrir le sud de la Corse. Ton calme et ta gentillesse vont nous manquer.

Marie, merci au nom des enfants et des adultes pour ces délicieux repas et desserts qui ont réglé nos papilles.

Johanna, merci pour toutes ces petites attentions tout au long du séjour pour su'on ne manque de rien.

Vous faites une merveilleuse équipe tous les 3.

Mille merci !
Charter on July 25 - August 1st, 2020 / Bonifacio - Sta Teresa di Gallura / British famiy of 8
Dear Alain, Johanna and Marie,

This was our first holiday o a boat and the experience could not have beeb any beter. Your choice of the route and places were fabulous.
Thank you for realising so sporty and colour mornings to us.
Merci de nous gater!
G familly
Charter on July 10 - 19, 2020 / SOF - Corsica / 10 guests from Belgium
Dignity, hospitality, service at top level, what an experience, great unexpected sailing.
Going for "Cote d'Azur to maybe the most beautiful island of the Mediterranean.
Top food, to drinks, top pleasure...
We needed this holidays and you fulfill this 100%.
Thanks! P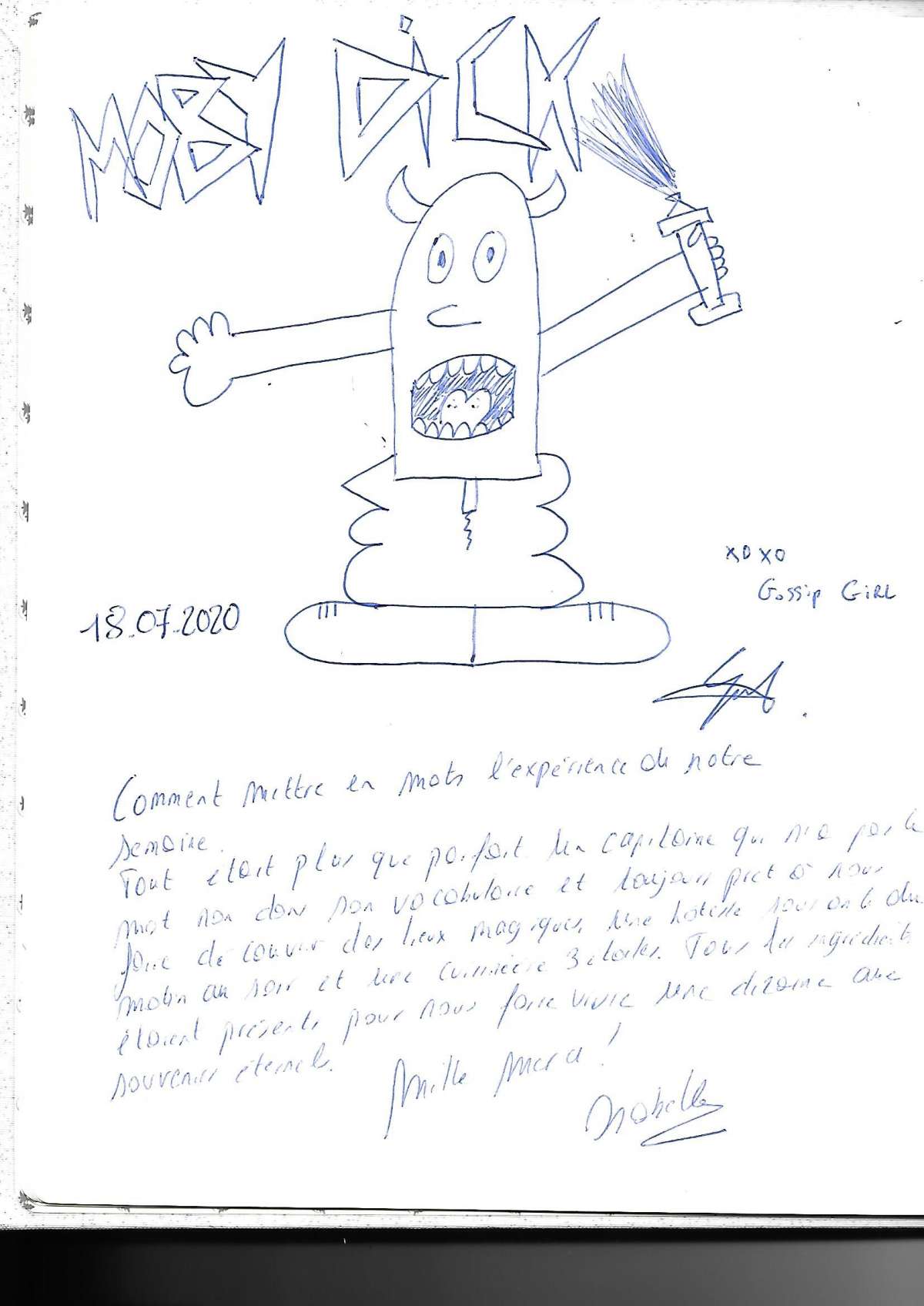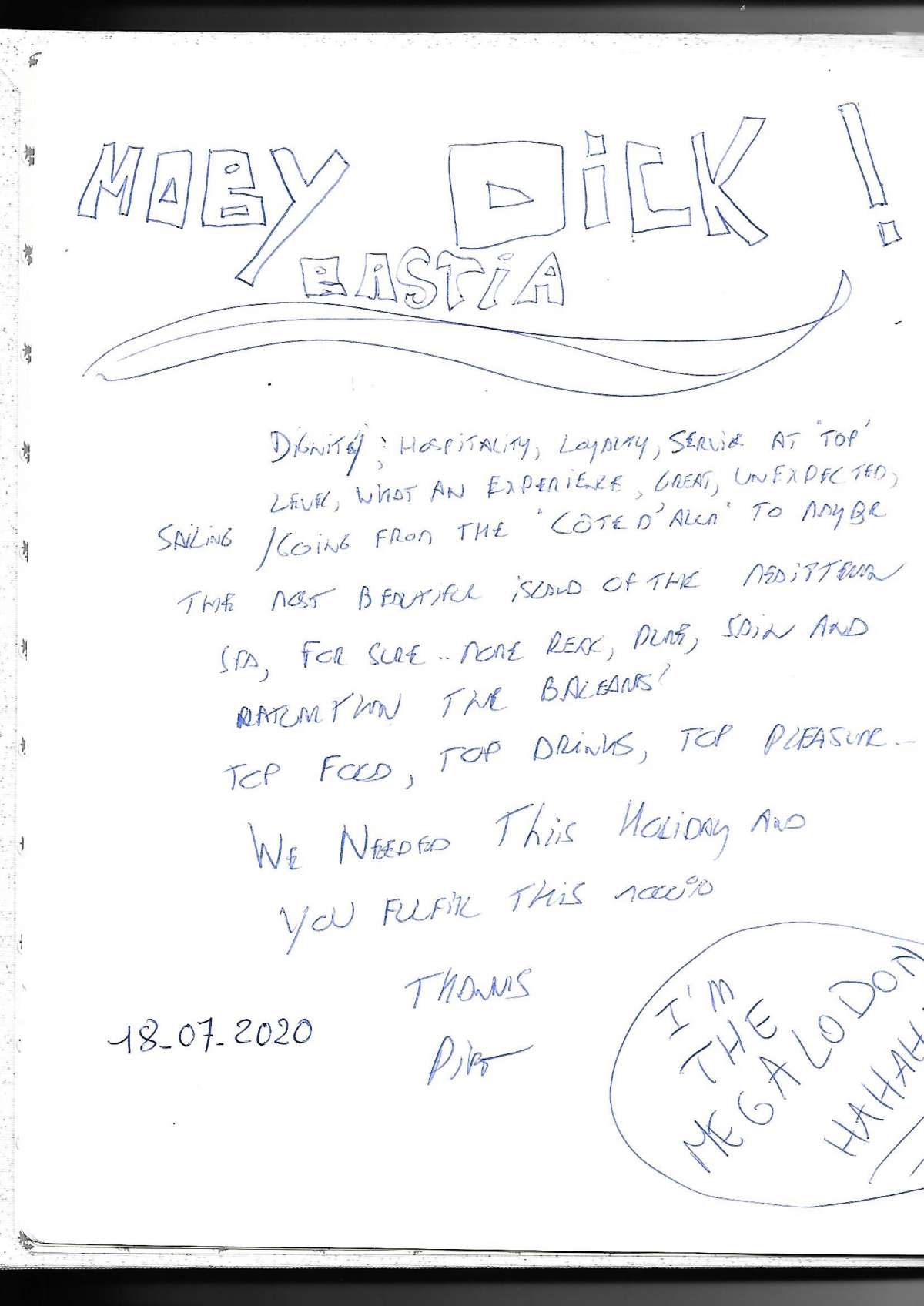 Charter July 10-19, 2020 / French Riviera / Group of 10 from Belgium
See attachmeents with comments and draws.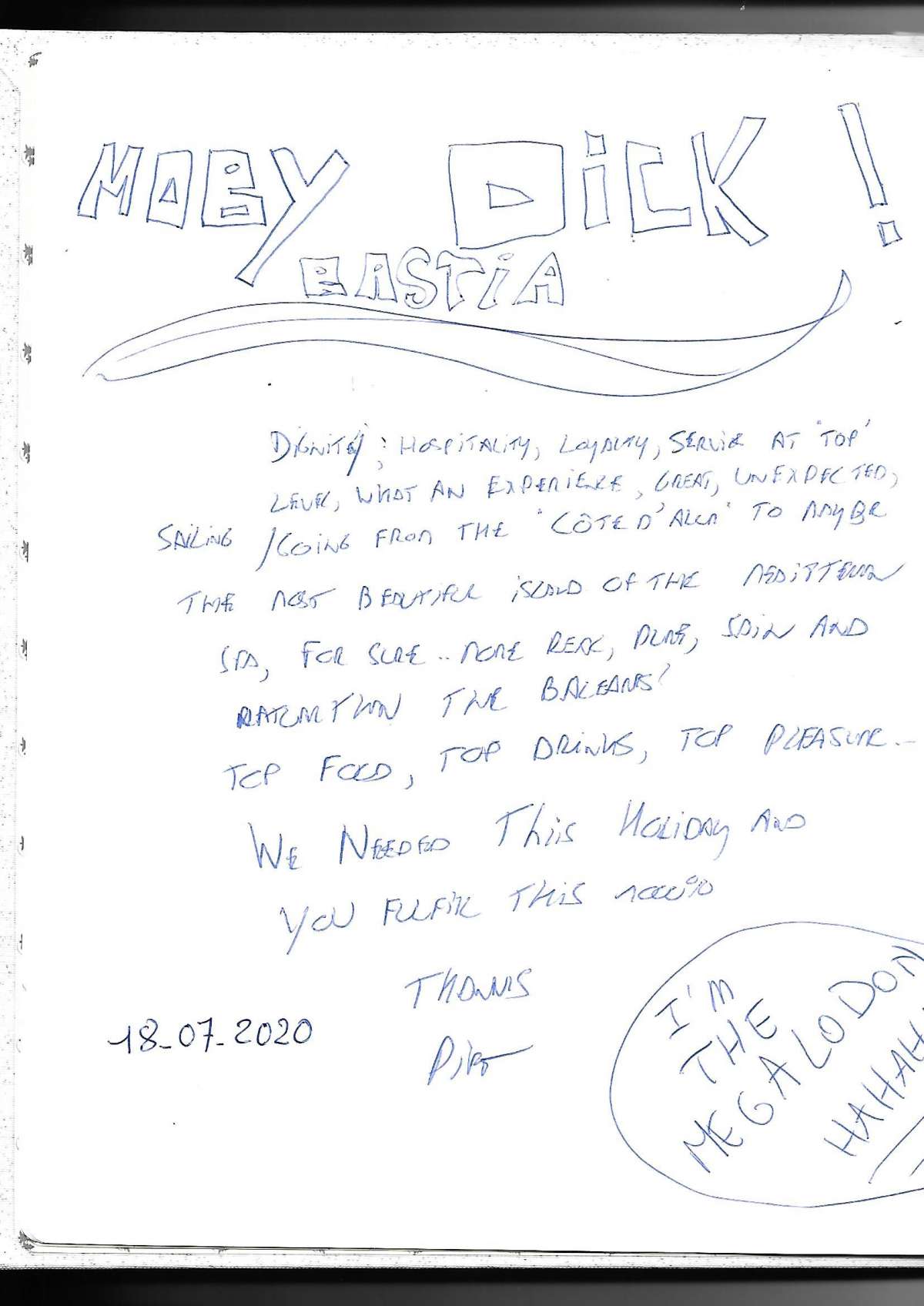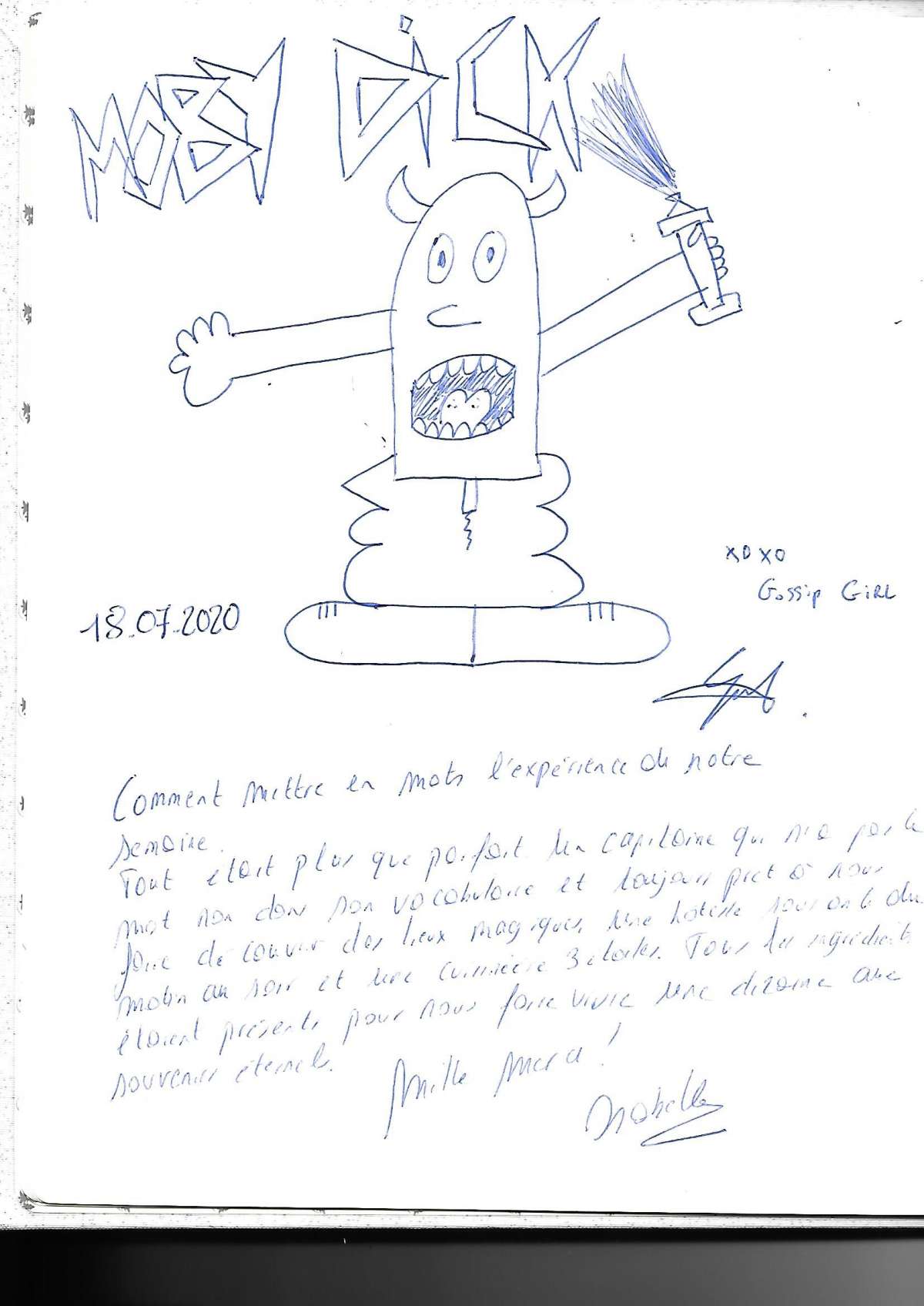 Charter on July 13-20, 2019 / Cala di Volpe - Olbia / Norvegian group of 8
We just finished a fantastic trip with MOBY DICK in Sardinia and Corsica!
7 lovely days with good friends, lovely scenery, great food and wine.
Thanks to the captain Alain for a safe travel, to Mathilde and Silvia for great help during the journey. Lucky us for being able to speak Norvegian with Silvia!
The last sail, Friday night, just outside La Tavolara, we saw 3 dolphins playing in the sunset.
Do we need to say more!
Warm regards to you all from
S family, fom Oslo, Norway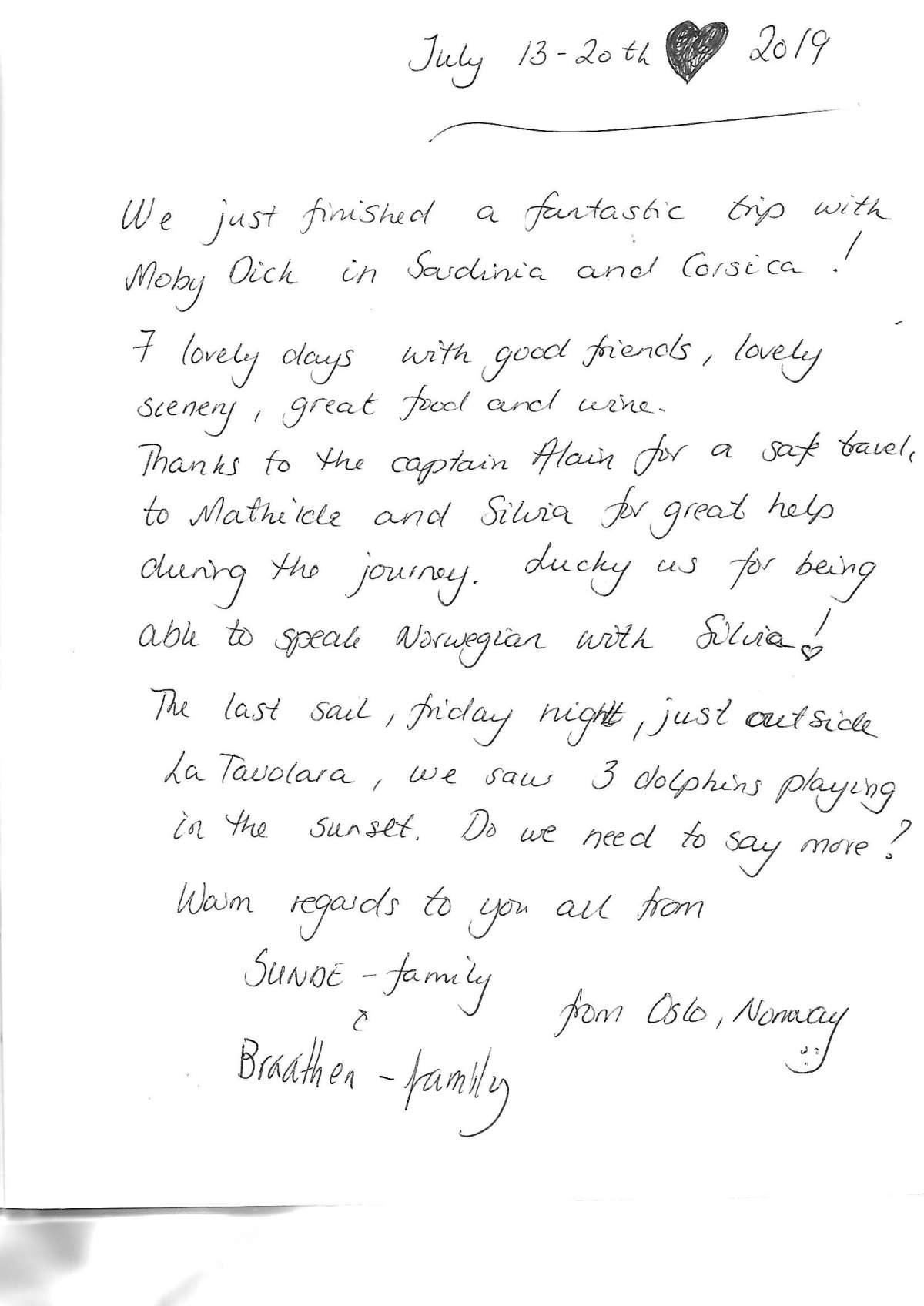 Charter on June 29 - July 6, 2019 / Family of 7 from Germany
The B family from Hambourg & Munich
GRAZZIE MILLE - MERCI !
à Alain, Anna, Chloé et Mathilde
So inspired by your cooking !
Charter June 16-23, 2019 / Olbia-Olbia / International Families of 10
"Comme Vous Voulez !"
Ça, c'est ce que nous avons entendu chaque jour, toujours, n'importe où !
Merci beaucoup à tous pour ce voyage, ces vacances inoubliables. Le Moby Dick, c'est magnifique. Capitaine Alain connaît beaucoup d'endroits magnifiques. Incroyable ! From our 3 generation family from Canada, Mexico and Hungary, a very special thank you to Captain Alain ans the totally marvellous crew of Anna, Chloe, Mathilde. Whatever we wanted, you responded-active ports, quiet bays, peaceful sunrises and beautiful beach dinners. You made the boat feel like our home for a week.
Merci encore. A la prochaine !
B. Family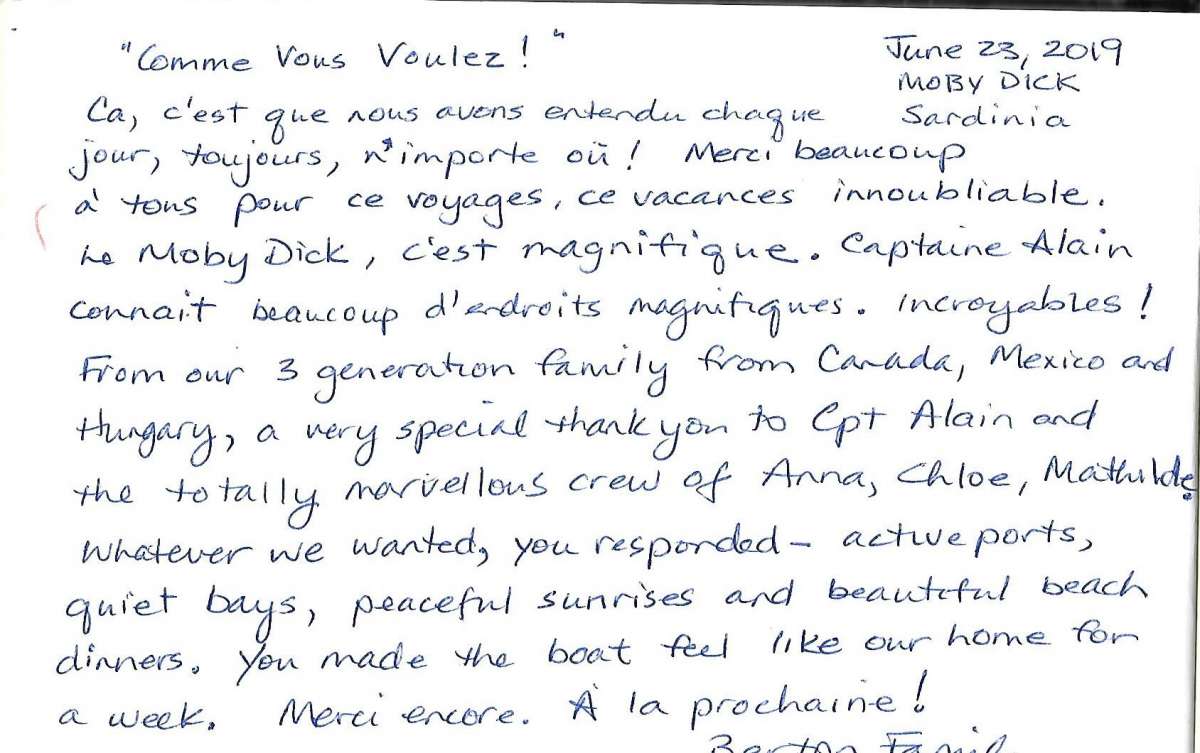 Charter on July 21-28, 2018 / Bonifacio - Olbia / Party of 9 Canadians and Italians
Capt Alain, Estelle & Laetitia,
Merci beaucoup pour une expérience incroyable!!! I'll never forget it. Thank you for showing us all the amazing spots in Corsica & Sardinia and all the work you did to make the trip so amazing!
Merci encore!
M.

On behalf of both families we would like to thank you for making our first sailing trip an amazing and memorable one. We visited the greatest beaches and dinned on your wonderful cooking!
We hope to be back soon and wish you all the best to your future travels.
Thank you for teaching us how to kayak!
We loved every bit of it!!
xoxo, R, H, H, K, J, N, Y & K
Charter on July 31 - August 6, 2018 / Bastia - Bonifacio / French family of 8
Santa Manza, dernier arrêt d'un merveilleux séjour!
Une semaine de pur bonheur, tout a été oublié, ne laissant que le soleil dans nos coeurs.
Magnifique! Sublime! Ces 7 jours ne s'oublieront pas!
Merci Alain!
L; G, J, F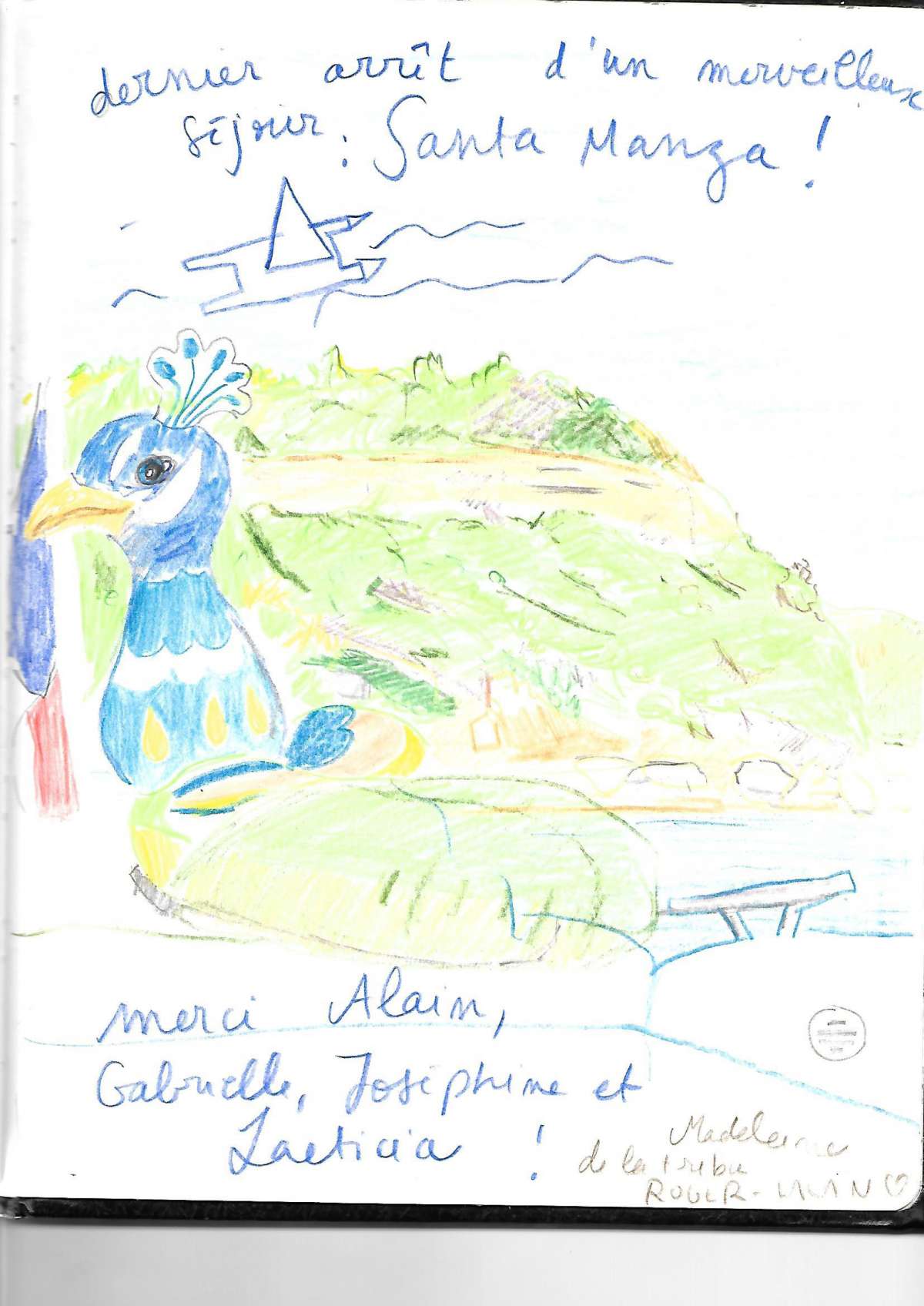 Charter on September 17-24, 2017 / Bonifacio - Calvi / 10 Australian guests
See attachment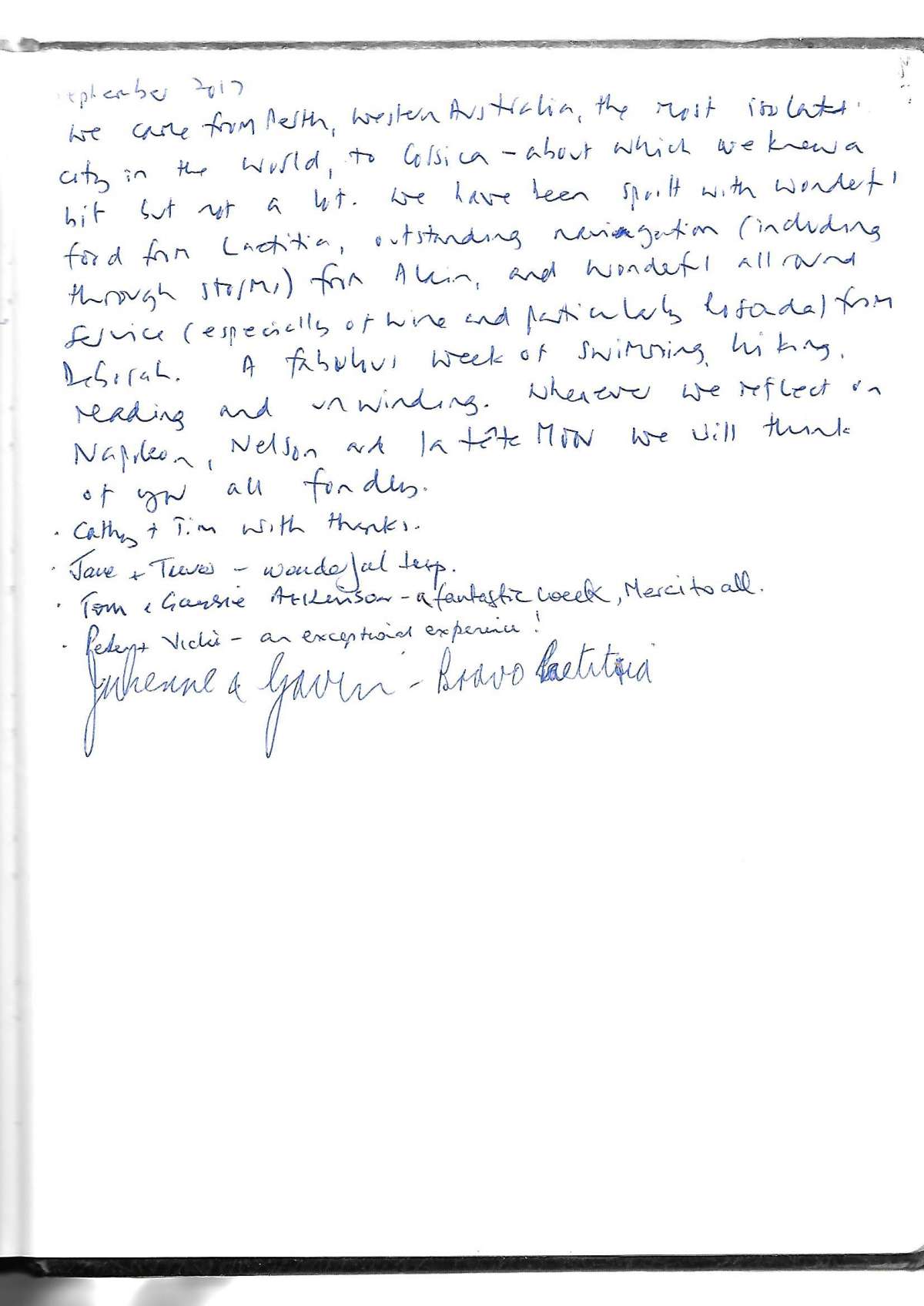 Charter on August 19-26, 2017 / Bonifacio - Porto Cervo - Brazilian family of 10
See attachment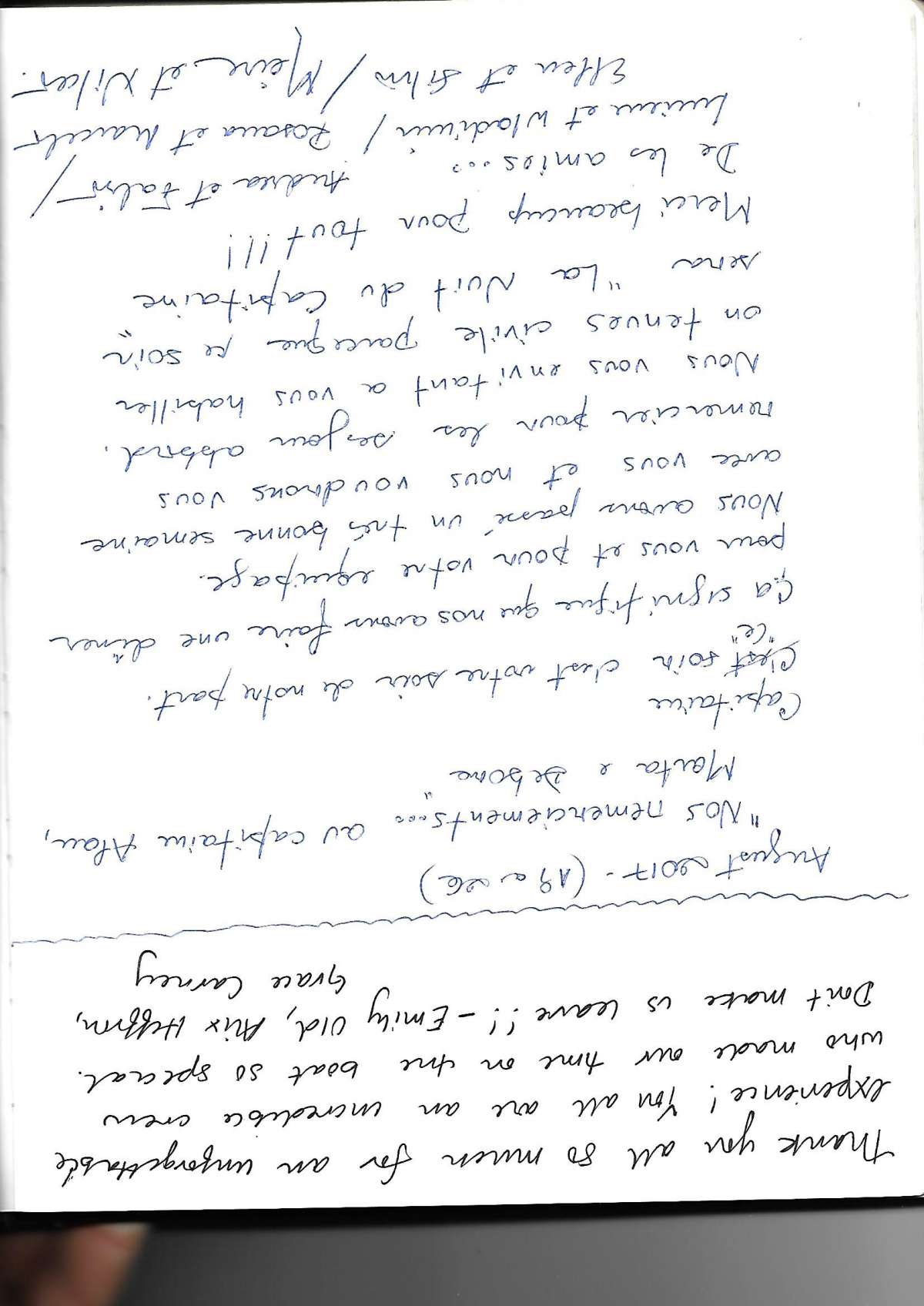 Charter September 4 - 11, 2016 / Bonifacio - Bonifacio / American family of 7
To all the wonderfull crew. What can I say? It was a week called with the best sun, water, sun resets, sunsets, the best food ever and the company of a professional, + skilled crew who we have come to love + cherish.
Thank you for the best time ever. MF

Fantastic, merci pour tout ! P.

Un grand merci Alain et son quipage qui, force de plats dlicieux, de parties de jeux inoubliables et de baignades inattendues ont su transformer ce voyage en rve que nous avons hte de revivre. Y.

Thank you all so mcuh for an unforgettable experience! You all are an uncredible crew who made our time on the boat so special. Don't make is leave!! E, A, G, C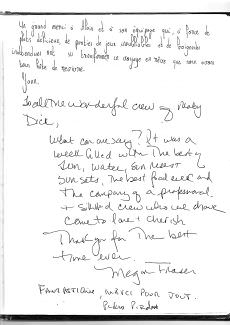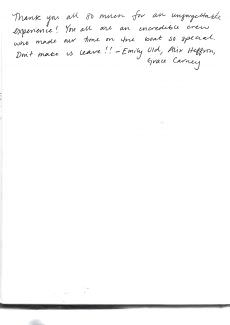 Charter June 17 - 24, 2016 / Peruvian Family of 10 / Olbia - Olbia
The vessel dreams are made of .... a French Cook, a French Sailor and a Corsican Captain...
I could have not scripted a finer trip;

THANKS FOR ALL !

MAGNIFIQUE ! The best over! J.M.

GRACIAS, GRACIAS, GRACIAS !
Merci tous pour un merveilleux voyage!
Nous tions trs confortables et trs bien accueillis.
A bientt mes amis du Moby Dick
A; R & children
Charter July 3-10, 2015 / Napoli - Napoli / US family of 6
Alain, Emmanuelle and Laetitia, MERCI BEAUCOU !! We had a wonderfull week with you - Thank for making our first trip to the Amalfi Coast (and our first private cruise!) a vacation to remember. Emmanuelle - the food ! Marc had to move his belt out two notches! Thank you for a fantastic trip.
S & M.

Alain, Emmanuelle and Laetitia, Thank you so much for such amazing week of sailing the Amalfi Coast. We appreciate all of your assistance and the most delicious food! It has been an experience we will never forget.
Merci beaucoup ! S & K

Alain, Emmnauelle and Laetitia, Thank you for a fabulous trip cruising the Amalfi Coast. What a great experience and we appreciate your help in making it special.
C & B.
Charter June 20-30, 2015 / Nice - Bonifacio / 10 guests
If hapiness is not in the field, it is on water, at anchor in a Corsican bay, with friends and with a professional, smiling and dedicated crew.

Thanks to the sailor and his 2 naiads, to the "Lion de Rocapina" and to our sailing whale.

A - M - O - C - P - S & L



First I would like to tell you MERCI for the warm welcome we had. Then tell you that this cruise was hapiness only. We have discovered such amazing palces thanks to Alain, laetitia and Emmanuelle, great cook. Thanks a lot !

A - T - A & N

Thanks to Alain, Emmanuelle and Laetitia. Very professional, motivated and devoted. Very nice too.
Restfull holidays, delicious feeding meals, lot of fantastic, paradisiac sceneries. Beautifull memories thanks to you. Once again Thanks and see you next year in Sicily !

S - B - S - E

Thanks to all of you for this very nice welcome. Fair winds and see you very soon!
R.

We have 2 lives... the second one starts when we realize we have only one.
These 10 days with you made my life more beautifull.

N.
August 17 -22, 2014 / South of Corsica / Family of 8
Dear Josh,

We had a really fantastic time! Boat was perfect - big fan of Cats now! Crew were really top - v experienced capt, great number 2 and great cook. We prob should have done a different itinerary, but that was my fault. We'd like to repeat in 2014!

John
FAMILY CHARTER / June 27th - July 3rd, 2013 / Bonifacio - Bonifacio
FAMILY CHARTER / June 27th - July 3rd, 2013 / Bonifacio - Bonifacio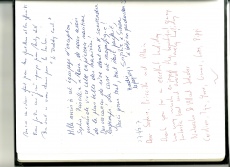 Charter July 20-27, 2014 / Amalfitan Coast / 10 guests
Hello Ladies,

We want you to know MOBY DICK was stunning !!! We just loved her and we will be back onboard for sure very soon.
L spent great time with the captain. All was fantastic (except the weather... even in Corsica!).

Thanks again ! C C
Charter August 9 -16, 2014 / Porto Vecchio - Bonifaccio - Family of 10
A big thanks to Alain and his fabulous team. Thanks to Priscillia for her delicious meals. Thanks to Letizia for her outstanding service. How wonderfull week we spent onboard !!!

Sincerely G. A.