Luxury Caribbean Catamaran Charters
Catamaran luxury yachts are an amazing way to vacation in the Caribbean and tour the absolute beauty of the US Virgin Islands (USVI) and British Virgin Islands (BVI) like never before. Not only are catamaran yachts spacious, but they're also exceptional at maintaining a steadier feel for those who may be prone to seasickness.
Here at Caribbean Soul Charters, we offer bespoke, luxury crewed yacht charter booking on catamaran sailboats guaranteed to fulfill your family's dream yachting vacation on the Caribbean sea.
If you're looking for a luxury catamaran sailboat, our concierge yacht charter service will ensure your desires in a Caribbean yacht vacation are met with perfection.
Please select up to five of the below luxury catamarans and email us with your selection and we will do the rest from there.
If you would like to discuss your trip in greater detail so we can customize the ideal trip for you and your loved ones on the best yachts the Caribbean offers, please call +1 (340) 690-1121 or Toll-Free at +1 (877) 432-6700 and let's get started. Be sure to ask for Sue!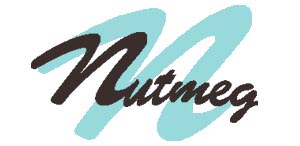 NUTMEG SAMPLE MENU
SAMPLE MENU FROM NUTMEG'S GALLEY
BREAKFAST
All breakfasts are served with Coffee, Tea, Assorted Juices and Fresh Fruit
Banana Pancakes topped with Cinnamon Apples. Served with Crisp Bacon
Breakfast Parfaits with Yoghurt, Granola and Fresh Berries
Deconstructed Eggs Benedict:  Poached Eggs on a Potato & Ham Hash with Hollandaise Sauce
Breakfast Burritos with Salsa and Fried Potatoes
Build Your Own Bagel Platter with Smoked Salmon, Cream Cheese, Tomato, Red Onion and Capers
Traditional Aussie Breakfast with Fried Eggs, Sausage, Bacon and Baked Tomatoes
Greek Frittata with Zucchini, Feta and Cherry Tomatoes
LUNCH
Grilled Cuban Panini with Ham, Roast Turkey and a Pickle and Mustard Sauce. Served with a Side of Chilled Gazpacho
Mediterranean Seafood Pasta Salad with Shrimp, Crab, Feta Cheese, Black Olives and Cherry Tomatoes
Make Your Own Tacos with Grilled Fish or Chicken, Black Beans, Avocado, Jalapenos, Cheese. Salsa and Sour Cream
Grilled Chicken Caesar Salad
Pork Satay with a Spicy Peanut Sauce.  Served with Couscous and Honey-Mustard Coleslaw
Thai Chicken Salad Served in a Lettuce Bowl and Topped with a Mango Salsa.
Your Choice of Grilled Cheeseburgers of Fish Burgers. Served with Baked Potato Fries
SUNDOWNER COCKTAILS WITH APPETIZERS
Indulge in the Captain's Daily Cocktail or choose your favorite.
Nutmeg's Special Pain Killer, Pina Colada, Classic Margarita, Cosmopolitan, Dark & Stormy, Shark Bite 
or a 'Virgin' Cocktail which appeals to all ages.
APPETIZERS
Conch Fritters with a Spicy Mango Sauce 
Sushi & Nori Roll Platter with Pickled Ginger & Wasabi 
Bruschetta with a Variety of toppings such as Fresh Tomato-Basil-Caper Salsa, Olive Tapenade
or Bacon-Leek and Goat Cheese Spread
 Mixed Seafood Ceviche with Crisp Tortilla Chips
 Antipasti Plate of Prosciutto, Salami, Olive Tapenade and Homemade Hummus
 Spinach Artichoke Dip with Baked Pita Chips
 Tortilla Chips served with Salsa, Guacamole and Black Bean Dip
DINNER
Grilled Mahi-Mahi over coconut rice with Pineapple-Cilantro Salsa
Max's famous Paella! with a Medley of Shrimp, Mussels, Italian Sausage and Chicken.  Served with a Fresh Green Salad
Grilled Jerk-flavored Pork Medallions topped with a Green Curry Mango Sauce.  Served with Roasted Broccoli and Cauliflower
Award Winning 'Tamarin Duck Breast' with Tamarind-Grand Marnier sauce. Served with Sweet Potato and Grilled Asparagus
Filet Mignon Grilled to Order Topped with Caramelized Onions.  Served with Scalloped Potatoes, Corn Puree and Grilled Zucchini
Chicken Piccata with Creamy Mushroom Flavored Fettucini Alfredo
BBQ Baby Back Ribs with Twice Baked Potatoes, Grilled Corn on the Cob and Roasted Balsamic Vegetables
DESSERTS
Lemon Breeze with Lemon-zest Coconut Macaroons
Rum Pineapple Upside Down Cake with Salty Caramel Sauce
Mango Cheesecake
Tropical bread pudding with rum custard sauce
Pina Colada Inspired Sorbet with Coconut Whipped Cream
Chocolate & Fresh Fruit Platter
Almond Cake with a Strawberry Coulis