Luxury Caribbean Catamaran Charters



CATALYST GUESTS COMMENTS
April 2019
Area Cruised: Virgin Islands
Overall Rating: 5
5 being the highest 0 being the lowest
We hope your charter lived up to your expectations. We would love to know some of your impressions about your yachting vacation. Please answer the following questions and add any comments you may have.
1. Was the crew friendly and accommodating?
Alan was the perfect Captain.
2. Was the yacht comfortable and clean?
The accommodations were very comfortable and clean. We loved it!
3. Was the yacht well ventilated?
We had a nice breeze every night and no need for air condition.
4. Was the food good and well presented?
The food was beyond good. He is an amazing chef.
5. Did you like the area you sailed?
The BVI's are gorgeous.
6. Could we at Virgin Island Sailing, Ltd. have helped you further in any way?
Nope everything was perfect
7. May we post this review on our website?
Yes
8. Additional comments on your charter?
Captain Al is a fantastic captain. He is so very knowledgeable about the area, which was great while sailing by islands. He was great with the kids and very attentive. He is a gourmet chef! Everything ran so smoothly. I would highly recommend him to families and would definitely go back!
9. It is our pleasure to keep you informed of relevant specials / updates for your next charter. When do you plan to charter next?
Maybe next year

February 2019
We had an amazing vacation and would highly recommend Captain Al. We were looking for a low key, relaxing vacation and that's exactly what we got! Our meals were awesome and Captain Al makes a mean pain killer!!
~Roxanne
April 2017
Are you dreaming of the "perfect" vacation? One where you can relax, unwind and enjoy life's best moments? Well, look no further than renting the Catalyst! The Catalyst is a 44 foot catamaran that travels to the best sites and islands in the British Virgin Islands. Your captain(and owner), Captain Alan Roberts, is not only the perfect guide and host, he is also an outstanding chef, who creates gourmet delights for breakfast, lunch and dinner.
Captain Alan brought us to the best snorkeling sites and we saw the most colorful fish, beautiful coral and plant life. We would swim back to the boat and awaiting us would be culinary delights, like seared tuna with calamari salad and seaweed! Yum!

We got to experience the thrill of sailing, but also had the opportunity to explore the islands—maybe a hike or take an open air taxi ride up to the highest point on Virgin Gorda—the views were spectacular. We swam and paddle boarded right off the boat into beautiful white sand beaches and often found a local watering hole to quench our thirst.
So if you are looking for a vacation that offers both relaxation, fun and adventure, book the Catalyst and sail off into the sunset!

The Pepins



February 2017
Just returned from a week on Catalyst. This was a bucket-list vacation for my wife and I and our two grown children. The consensus is that it hit the mark as an all-time favorite for family vacations. Alan, first and foremost, is an enormously competent skipper, expertly driving the boat from one island to the next, drawing on his years of experience in the British Virgins to find the best anchorages, on-shore excursions, best beach bars and restaurants, and best snorkeling and diving spots in the area. We were particularly taken with the experience of leisurely motorsailing to a reef, donning our gear, and stepping off the boat to be led through the next reef or wreck on the agenda by Alan, who is a relaxed and helpful divemaster.

The boat had enough real estate for for each of us to find a private spot to roost if we so desired. But one of the best aspects of the trip was Alan's meals and afternoon Painkillers and Rum Punches with snacks. Alan is a great cook. At first my kids thought it would be a little awkward to have someone cooking and cleaning for us while we lolled around. They got over that quickly and the consensus is that if/when we do this again it will be a full-board charter instead of the half-board charter we arranged this time, and we will not leave the boat other than to swim, snorkel, and dive. Thanks again, Alan, for a wonderful time.
R. Goldbaum

January 2017
We just returned from an amazing week on the Catalyst. If you have any reservations, don't. Captain Alan Roberts is clearly capable, responsible, and knowledgeable. The bookingpayment process was super easy. Captain Alan was trustworthy, gracious, and quick to respond to questions or provide information and instructions. Captain Alan is a top-notch Captain, Chef and tour guide. He devised our route based on the things we wanted to dosee and the time we had. He served up one amazing bay after another with a variety of activities at each one. When we arrived, Captain Alan pointed out where to snorkel, the calm waters for paddle boarding, or a little known spot for happy hour and live music. In some situations, we needed a taxi on land, so Captain Alan phoned ahead and our driver was waiting. He reviewed dinner choices each night; adding insight into what was served, the price point, history, what they were known for, etc. and made reservations. We opted for half board, which allowed us to take in the local flavor, while having all breakfasts and most lunches on board. We agreed that despite visiting some of the islands' best restaurants, we preferred what Chef Alan served. In the morning he was ready with coffee when the first of us appeared (or so I heard ;-) ), and had a breakfast spread (& coffee) ready when the rest of us appeared. He made sure everyone had everything they needed before cleaning up the kitchen or starting out on the day's route. As the sun sloped into the hazy rays of late afternoon, there was usually a call for "Happy Hour" and Captain Alan emerging with island cocktails and snacks. Before the trip, you will complete a preferences sheet. In hindsight, we didn't give him much to go on… but he still managed to impress all of us.

The Catalyst itself was very comfortable, clean, well-cared for, and equipped for anything you might want (stand up paddle boards, kayak, snorkel or scuba gear, fishing gear, etc.). The trampoline beanbag was perfect to get some sun while sailing to the next island. The boat is equipped with Sirius (choose your station), a hook up for your own device (iPhone, iPad, etc.), or blue tooth. The cockpit was a great spot for getting silly into the night, playing games, watching the Tarpon school around the light from the boat, or marveling at the stars (& mast lights from other boats). Don't hesitate to sail with Captain Alan. You won't regret it!

S. O'Connell
January 2017
We booked our first ever catamaran vacation in the BVIs with Captain Al and the Catalyst at the end of January 2017. We only did 5 days (should have done 7)- but it was the best 5 days we could have asked for. We were only with one other couple--- and Captain Al was the captain and chef. We did a half board tour (more to come on that).... First- the Catalyst! 44 feet, clean, wonderful! The beanbag on the front of the Catalyst was my personal favorite! Great place to lay and get sun as Captain Al is sailing. Lots of room to sit on the front of the boat, back of the boat, and in the boat! We all had our own private bedrooms and bathrooms. Great catamaran! Scuba gear (we didn't), snorkeling gear, stand up paddleboards, and sea kayak were also onboard and all of us made great use of them. Second- Captain Al as the chef, host, and guide. All my favorite meals (except 1) were prepared by Captain Al. He's an excellent chef and host. Obviously we communicated beforehand- any food and beverage preferences- but he did an excellent job of cooking. Always asked if he could get us coffee or drinks. Again, he was an excellent host. Very knowledgeable about the islands, sites, bars, restaurants, beaches, snorkeling and/or diving spots, etc. We intentionally had a "loose" itinerary and went with all of Captain Al's suggestions re: islands/beaches to visit, bars, restaurants, hikes, etc. He was always willing to accommodate anything we wanted to do on any schedule we wanted. He understands customer service! Finally- this was the first time we booked a vacation like this (catamaran) and for my husband and I- were in the BVIs. I highly recommend doing half board- as there are certain restaurant and bar experiences (Soggy Dollar, Willie T's, Foxys, etc) that I think you must do--- if you have never been. When we go back and do this again (and we will) we will do "full board" as it allows for all meals on the catamaran and we can go to even more remote beaches and sites as we won't have to worry about getting food. Again- that being said- if it's your first time- we would recommend half board. Also- I would do 7 days. We really wanted to make it to Anegada- but didn't have enough time with only 5 days. However- it gives us a great reason to return! My husband and I do a fair amount of traveling- this by far- is in our top 3 vacations we have ever done. Great experience and I have already referred Captain Al and both boats to coworkers & friends.

S. Sherry
April 2015
Alan,

Just wanted to drop you a quick note and to tell you how much we enjoyed our charter. This was the most enjoyable vacation I ever experienced and I hope
to do it again soon. Cave snorkeling at Norman Island was an enjoyable
experience and the evening spent at the Bight was outstanding, ending with a fabulous dinner at the Pirate Bight Beach Bar. This was a perfect day and I thought things couldn't get better than this. Of course I was wrong, every day was better than the day before. Snorkeling at the Indians was the best I had ever experienced and the day at Cooper Island was a perfect ending to another perfect day. Virgin Gorda and the Baths is something that is a treat no matter how many times you do it, and Saba Rock is a nice place to spend a happy hour. The sailing to and beaches at Anegada are the best, and the lobster dinner at the Anegada Reef Resort is an experience that should not be missed. Guana Island had very good snorkeling at Monkey Point and the anchorage and beaches at White Bay were beautiful. The Great Harbor at Jost Van Dyke was very scenic, the dinner at Corsairs was a delight and finishing the night dancing at Foxy's was just perfect.

We wanted to eat our dinners on the various islands so to experience each with more than a casual walk through. With this said, the dinners that you prepared for us, not to mention the breakfasts and lunches were as good or better than the food on shore. As much as we enjoyed our dinners on shore, we all agreed than dining on board under the stars along with the culinary delights you prepared was very special. We are all talking about the next charter and trying to decide if we want to eat every dinner on the boat or go ashore. You have caused us quite the dilemma, but one with no bad outcome.

Anyway, thanks again. Our trip was everything we thought it would be and more.

Best wishes,

Bill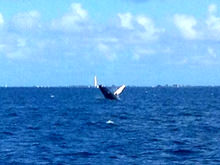 March 2015
Randeen is definitely a people person and really kept things fun and entertaining. Capt. Alan is very competent, obviously knows what hes doing and we felt very safe with him at the helm. We would certainly recommend them to our friends.
The meals were outstanding! Every meal was a delight and we were always excited to find out what was on the menu. Something different every day and we just enjoyed it so much! Both Alan and Randeen are very accomplished in the galley!
I had the opportunity to snorkel and Id never done that before. Swimming in that beautiful ocean and kayaking around was also just great!
They just treated us like royalty on the one hand and as friends on the other.
I dont know that well ever have another opportunity for a trip like that but if we did, wed absolutely do it all over again!
January 2014
We loved being able to sail on the Catalyst. Captain Alan was very organized and had everything planned out. He also was able to make dinner reservations for us at different locations. When we were on Virgin Gorda, he also made arrangements with a Taxi driver to drive us around the island and give us a tour.

Catalyst was comfortable for all 6 adults, even for our two tall men. The queen size beds were comfortable and we all slept well (in between the night time rain showers when we would have to wake up to close the port windows, only to reopen them again after the 10 minute rain storm was over).

Captain Alan was able to take us to great sites for both scuba and evening snorkeling. We loved having the paddle boards and kayaks on the boat. It seemed like there was never enough time to do everything we wanted to do.

Once it got dark outside, it was fun to enjoy card games and dice games on the deck until we went to bed.

Thank you for helping to arrange the Catalyst for us. I would recommend this boat and Captain Alan to other guests.

Thank you
Kari & Raleigh

JUNE 2014
Morgan CharterMay 27 - June 3, 2014

We just completed the half-board on Catalyst for 7 days - it was phenominal! All island stops were well organized - every detail to include snorkling, swimming, customs, shopping, eating, & reservations were already considered and planned out by our Captain. The meals were delicious, down to the preparation, presentation and taste - with absolutely zero complaints. The catamaran is spacious with plenty of room on top to relax in the sun or take cover under the bimini for shade. The scenery was truly incredible, unlike any other place we've been. Snorkling allowed glimpses of beautiful fish, sea turtles, sting rays and many other sea life in the lovely blue and green clear ocean waters. Our favoirite stop was Saba Rock - watching the tarpin feeding. There was just the right amount of interraction with the Captain, very knowledgeable and he provided great detail on the history and stories of the different islands. A vacation truly designed for disconnecting with very limited decision making necessary.

Jeffery M

November 23-30, 2013
Four of us joined Alan and Randeen for a special celebration at the end of November. Diane was celebrating her 50th birthday and had dreamed of a barefoot cruise for the event. We spent a long time researching various boats and routes but finally settled on `CATALYST` and now have no doubt we made the right choice. We were looking for an experienced, friendly, versatile captain who could cook and mix cocktails and Alan certainly fitted the bill. The food exceeded our expectations but be warned - there is a lot of it! As we are not big eaters (apart from one
person) we finally had to ask for the portions to be reduced as we felt so guilty for not doing justice to Alans` amazing culinary expertise - sorry we couldn`t eat all the birthday cake. On the other hand there were never any refusals or leftovers when it came to the cocktails!

We were surprised how spacious the beds were and the `head` worked perfectly well for our needs. The weather wasn`t very cooperative as there was more rain than anticipated - actually wet weather didn`t really enter our heads when booking - but Alan always had alternatives for us to think about. He took us to some great `happy hours` on lovely beaches and encouraged us to try paddle boarding. That was hilarious but finally a we got the hang of it - thanks Randeen for your tutelage.
We also snorkelled and floated in tubes at the rear of the boat but lazing on the trampolines at the front of the boat as we sailed was definitely a favourite.

I expect most people choose this type of holiday to indulge in all things water based but as we are not the most confident people in the water Alan allowed us to do things at our pace and never pushed us into doing things we were uncomfortable with. This is why he was perfect for us; it may have been his boat but it was our holiday!


Alan and Randeen work well together and her company and humour was much appreciated. Now we are all looking forward to when we can make a return trip aboard the `CATALYST` though this time we will be prepared for the Painkillers and Bushwhackers!

Lynn, Michael, Garry and Diane
Mid Glamorgan, S Wales, UK

November 21-28, 2013
Yacht: CATALYST with Alan Roberts
Charter Dates: November 21-28, 2013
Area Cruised: Virgin Islands

We hope your charter lived up to your expectations. We would love to know some of your impressions about your yachting vacation. Please answer the following questions and add any comments you may have.
1. Was the crew friendly and accommodating?
Alan was great and very accommodating for our family. He was able to pick some great places to see and explorer based off our interests.
2. Was the yacht comfortable and clean?
Yes- the boat was very comfortable & clean.
3. Was the yacht well ventilated?
Yes. We only had trouble one evening when our fan was acting up but Alan was able to fix it.
4. Was the yacht's cooking and cleaning equipment sufficient?
Yes- as good as expected for a smaller area.
5. Did you like the area you sailed?
Very much. Best family vacation we have ever done and we have been to some great places!
7. May we post this review on our website?
Yes
8. Additional comments on your charter?
We will be sailing with you again very soon. The best and most relaxing vacation you could ask for!

JULY 2013
Anyone interested in exploring the British Virgin Islands should charter the Catalyst and its Captain, Captain Alan Roberts. This was our dream trip of a lifetime and Captain Alan made our dream come true.sailing, snorkeling the most extraordinary reefs, experiencing those fun and unique beverage establishments and relaxing on the most beautiful beaches. On June 22, 2013, we set sail from Red Hook, St Thomas USVI to Foxys on Jost Van Dyke BVI and an overnight stay in the beautiful Great Harbor Bay. Then on to Norman Island with snorkeling at the Caves, a hike up the hillside to view the most beautiful Money Bay and a night cap at Willie Ts. After a short motor we moored at the best spot for extraordinary snorkeling around The Indians. We then sailed to Trellis Bay, Beef Island for shopping, swimming with the Turtles and dinner at the Last Resort. At Spanish Town, Virgin Gorda, we hiked the unique Baths trails and swam at Devils Bay Beach and then a taxi ride over the tops of Virgin Gorda to view the most extraordinary and breathtaking views of the various bays. Ending in Leverick Bay, we met Captain Alan and spent the evening at Saba Rock for happy hour and at The Crawl Pub for dinner. On to Jerusalem Rock as we sailed by The Baths for more snorkeling and dinner at Coopers Island. Off to Peter Island, we had yet another snorkeling adventure, with swimming at Sandy Key and then shopping at Sopers Hole, Tortola and on to Cane Garden Bay for dinner. The last stop on June 28, 2013 was Jost Van Dykes White Bay where we enjoyed a day and an overnight stay in this most beautiful bay.

The half board experience with Captain Alan is highly recommended. His breakfast, lunch and dinners made in the small galley kitchen were all incredible. They were all presented in a beautiful presentation and he scheduled our nights out at fun and unique places with great food. The bar and cooler was always stocked with our beverage choices and whenever we ran out of Painkiller mix another container appeared as if by magic. We ate way too well and now at home, we are trying to recreate some of his recipes! It was Captain Alans knowledge of the BVI that provided us the opportunity to see beautiful sites each day and his expert sailing abilities made our trip marvelous. We thank Captain Alan for being such a gracious host in his home and for welcoming us to what I can only describe as paradise!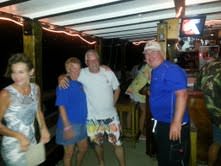 APRIL 20-27, 2013
Dear Alan,
I just wanted to send a note to thank you again for all you did to make our sailing charter to the BVI the trip of a lifetime. We did a lot of research prior to picking the Catalyst for our crewed charter, and you and the boat both exceeded all of our expectations. I am at a loss to think of even a single thing that could have made it a better trip! All six of us felt like we were at home for our week in paradise!
From the moment we stepped onto Catalyst, not a single detail was left unfulfilledThe common areas, the cabins, the magic ice chest, the magic box (if we couldnt remember where we put our sunglasses, Kindles, cameras, etcthere they were!) everything was just magnificent! You put you all in to making sure every moment of our week onboard and ashore was what we wanted and beyondyou left no doubt that you know your way around the BVI!
Did I mention the food? Your years in food and beverage and hospitality were not lost on usBreakfast daily was heavenly. Lunches were well beyond sandwiches and chipsand dinner OMG! If you are chartering with Alan and the Catalyst, make sure he does his awesome guacamole on at least one occasion, and his sesame seared tuna with calamari salad was a meal that I had wished was never endingI told you Alan, if the Catalyst were a restaurant and served that meal I would return again and again!
Again, Alan, thank you! If anyone out there is considering Alan and the Catalyst for their crewed charter Stop thinking and book it!!! You will not be disappointed!
Todd B., April 2013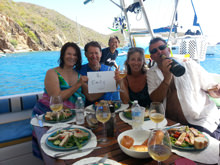 APRIL 12-19, 2013
A Huge thank you is in order for Captain Alan,and his first mate , Randeen. Four of us from Colorado ventured, sight unseen, to enjoy a 7 day sail on the catamaran, Catalyst, in the Virgin Islands. Although we were not sure exactly what to expect, we were pleasantly surprised!!
Captain Alan took such pride in his boat.... therefore, the accommodations were very clean and comfortable... and each cabin nicely appointed. Our Capt. not only was an experienced sailor and navigator, he also was a gourmet chef!!!! We were spoiled by three lovely and delicious meals a day... and he very considerately took care to prepare things according to dietary restrictions for one of the ladies in our group. His meals were thoughtful, beautifully presented, and delicious. Unbelievable that he could carry that off, and also sail us to great snorkeling destinations every day, as he knew that was on our wish list!!
His choice of snorkeling venues were extraordinaire.... and his mooring spots were a nice mix of quiet and solitude, as well as places where we could venture off and hike, explore, and even on occasion share in the island scenes and meet island people.
Randeen, his first mate, was such a delight!! She was fun, had a wonderful sense of humor, was very sensitive to all of us as the charter guests, and waited on us hand and foot!!! She made our drinks to order, any time of the day...... made the beds up, and freshened our bathrooms daily. She also served the meals and cleaned up after us. Never failing to make sure we were all doing what we wanted to be doing! We were so extremely SPOILED!! We also felt that she could easily be one of our dear friends~ so personable!!
Capt. Alan and Randeen also did such a nice job of giving privacy to the four of us, and very gracefully allowed us the space and time to just be "our little group". Also joining us at times, to help navigate an island or two... and share a meal or a drink on occasion.
All in all, it was one of the nicest vacations any of us have ever taken.... and we are grateful for having chosen The Catalyst for this very, very special time together. Could not have been a more beautiful place to be, nor a more relaxing break from our busy lives at home!! Thank you Captain Alan, and Randeen!! We shall return!!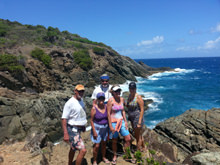 DECEMBER 2012
Alan and the Catalyst provided my family with the best vacation of all time. From the first moment we boarded the Catalyst, we felt comfortable and at ease with our captain and the luxury sailing yacht. Once on board, Alan helped us refine our first few ports of call. At each anchorage or mooring Alan made us aware of multiple activities available to us (snorkeling, beaches, hiking, beach bars and restaurants). The Catalyst is well equipped as a private charter vessel with a large dinghy with an engine large enough to water ski or wakeboard behind. Alan provided every kind of water sports equipment you could imagine (stand-up paddle board, kayak float pads, masks & snorkels, fishing equipment, etc.). My familys favorite equipment was the bean bag floating cushions positioned on the trampoline. These were very comfortable and made sun bathing, sleeping outside or star gazing lots of fun. We selected to do a half-board charter which entailed Alan providing meals and drinks for 7 breakfasts, 5 lunches and 2 dinners on our 7 day trip. Alan served up some of the best chef quality food and Caribbean style drinks. For shore meals, he took us to excellent places, the staff knew him and took very good care of us.
Alan was most accommodating to ensure that our vacation was complete and stress free. He is a very experienced and knowledgeable captain who exceeded all of our expectations. His personality is laid back but he's always professional and very polite. We cant wait to back onboard the catalyst again. Thanks Alan for the great sailing trip.
The Cox Family
Dec 2012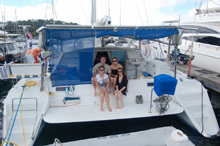 APRIL 2012
Captain Alan and Catalyst:
Our family just returned from a week long charter aboard Catalyst. Captain Al navigated the beautiful Caribbean Sea with skill and knowledge. He demonstrated fine culinary skill, keeping this family of five, with three teenage boys, well fed and hydrated for the duration of our charter! This being our second charter in the Virgin Islands, Captain Al made it a whole new experience for us. He sought out new harbors, dive sights, restaurants and activities. Here are a few wed like to share:
Activities: Daily scuba diving was a highlight. Dive master Alan took us to new dive sites each day. Wakeboarding was a blast. Kayaking, snorkeling, and beautiful beach exploration ranked high on our list.
Meals: Captain Al can serve up a feast. The boys are still raving about the fabulous meals he prepared. The bar is well-stocked. For those evenings we chose to eat out, Captain Al always had great restaurant suggestions.
The catamaran: Catalyst was spacious and the pictures online are accurate. The bean bag pads over the trapeze were incredible for sunning and lounging!
Recommendation high for Catalyst and Captain Al!

January 2012 - 40th Anniversary cruise
Alan,

Celebrating our 40th wedding anniversary on the Catalyst was our best vacation ever. The Virgin Islands provide a beautiful setting for such a special time and you helped us get the most out of them. From the charm and serenity of places like Cooper's Island to the adventure and stunning beauty of Virgin Gorda every stop was perfect and unique. This is the vacation against which all of our others will be measured.

And the S/V Catalyst makes the prefect base from which to enjoy the islands. The outstanding captain and crew, spacious quarters, wide variety of water toys and especially the bean bag beds in the trampoline make this an exceptional vessel. But the most exceptional feature of the Catalyst is the food that comes out of her galley. Every meal, snack and beverage was worthy of a five star restaurant with service to match. You've managed to create a vacation fantasyland and we consider ourselves fortunate to have been able to enjoy some time there.

Thanks,
Byron and Marilyn

Christmas December 2011
Monica and I, our twin 10 year olds, Jack and Olivia and my mother, Nancy recently set sail with Captain Alan for a week on the Catalyst. We travel often and have enjoyed beach vacations throughout the world, but nothing compared to this. The British Virgin Islands are beautiful and Alan is an outstanding captain, chef and fantastic guide. He and the entire experience truly exceeded our expectations.

Upon arrival, we kicked of our shoes and never put them back on for a week. We awoke each morning to the smell of fresh coffee and bacon or pancakes. We then sailed from island to island for a day of hikes, snorkeling, inner tubing, wake boarding, stand up paddle boarding and beach activities. When we were on the boat, there was plenty of room to spread out. Each afternoon we'd have cocktails and snacks on the boat and frequented Foxy's, the Willy T, Myett's and the like each night.
Alan outdoes himself with the food and drinks, so be sure to take advantage of his skills as a chef.

We had never stayed on a boat and are not sailors, yet we were comfortable the entire trip. We never once worried about the safety of our kids and they absolutely loved the experience. They are already asking when we can do it again. If you are considering a trip aboard the Catalyst, I can highly recommend it. This was a truly unique experience.

Sean

St. Paddys Day - 40th Birthday Cruise March 2011
When my wife and I started seriously looking into chartering a Cat for my 40th, we only made a few searches before we kept going back to Cpt. Alan's page with his boat Catalyst. We're so glad that we went with our gut on this. We had an amazing time. The trip was so much more than we had expected.
After more than a year of built up anticipation and fantasizing about it, one fears that you'll be let down by what actually happens. Not the case here. We hit St. John, Sandy Spit, Cane Garden Bay, Jost Van Dyke (for St. Patrick's Day), Cooper, Virgin Gorda, and Norman Islands. Including visits to The Baths, Bitter End, Pirate's Bight, and the Willy T. As well as a full moon party in Trellis Bay, lots of snorkeling, kayaking and paddle boarding. We fit so much into this trip, it felt as though we had been on board for two weeks!
As for our dear Captain Alan, he's not only adept at handling his vessel, but superb at handling a group of raucous 40 somethings looking for fun. He's got a very professional style that shows he's always anticipating guests needs and perfectly customizing their experience. He worked with us, applying his knowledge of "island time", in creating an itinerary that took care of our few specific requests. Also, he's a masterful concierge. Planning for taxis, making reservations for dinner or tours, providing us with all options at every harbour, bay or mooring. As his wards, we knew we were in very capable, and somewhat "salty", hands.
As previous reviews have claimed, he is a master of cuisine. Our food experiences were always better on the boat. How does he do it? It was all well thought out, perfectly presented, and tasted superb. Some of our highlights were: Seared Sesame Ahi, Catalyst Burgers, Grilled Brats w/ Caramelized Onions, Coconut Curry Shrimp & Rice, Filet Mignon over Wasabi Potatoes with Roasted Asparagus and a Balsamic Redux, and pretty much every breakfast, no matter how simple or involved. There's nothing like waking up on a boat and realizing you're not at home, going up on deck with your coffee and just soaking it in, knowing that you're in for another amazing day, and then BAM! Time for breakfast. There's also a magic cooler that resides behind the Captain's chair. It had a way of replenishing itself with ice and beer all week long; all the while as we tried our best to empty it!
After our week of exploration, revelry, and relaxation, Catalyst was more more than just our boat, it was our home. Alan had become a friend, and all of us had fallen in love with the Virgin Islands and the water that surrounds them. We're left with so many memories and great satisfaction in our commitment to sail with Catalyst. Thanks so much to you Alan. It was indeed a trip of a lifetime.

Woody J.
Charlotte, NC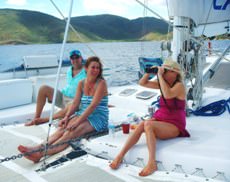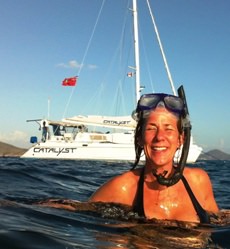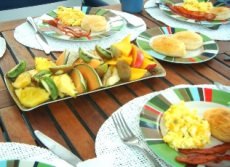 January 2011
Spending a week on a sailboat, exploring the BVIs has always been a dream of mine one that I had long before I met my husband and got married four years ago. Unfortunately for me, I married a man who is not a fan of boats and has a past experience with sea sickness that prevented him from sharing this dream of mine. However, as my 40th birthday was approaching, and we were discussing what we could do to celebrate, my sweet husband had a change of heart and told me to go ahead and book it!

You can imagine my excitement I was beyond thrilled, and didnt waste a minute. I immediately went to the Virgin Island Sailing website and started researching boats and discussing options with Gail. Within a week, I had our charter booked, our plane tickets purchased and our hotel room in St. Thomas reserved for the night prior to boarding the boat.

I originally was looking at monohulls but after reading reviews and talking with Gail, I decided that a catamaran would be the best option for me and my husband, taking into consideration his concerns about living on a boat for a week and being sea sick. We were told that a catamaran would be much more stable and have a lot more living and hanging out space. I also spent quite a bit of time researching different captains. If we were going to be on a boat for a week with another person, I wanted to make sure it was with someone that we would enjoy and get along with.

Picking Alan Roberts and the Catalyst was definitely one of the best decisions that I made one that made our trip not just unbelievably great, but truly fabulous! Since there were just two of us, we did the Captain Only option full board which turned out perfectly.

Despite all my husbands concerns and anxiety about the trip, we both ended up having an absolutely fabulous time. Neither one of us got sea sick. My husband took one Bonine a day as a precaution and I wore sea band, but we both felt great every day. The catamaran turned out to be a wonderful choice for us. The boat was stable while sailing, and we couldnt believe all the room we had on the boat. There was plenty of room for lying in the sun, hanging out on the boat at night, reading, dining, sleeping etc. Our favorite spot on the boat was on the trampolines we would lay there while sailing, enjoying the occasional splashes from the waves and would spend evenings there gazing at the stars. Our bedroom and bathroom were more than adequate, and my husband raved about the quality of sleep and the amazing dreams he had each and every night something that rarely happens back home on solid ground.

As wonderful as the Catalyst was, Captain Alan was the icing on the cake! From the moment we stepped on board, he was there to help us feel comfortable and to have an amazing vacation. He took into consideration our wishes for our vacation and then served as our guide to turn our desires into reality. Each day, we sailed to a different island and had a completely different and amazing experience every place we went. We snorkeled most every day, I tried the stand-up paddle board, I water skied and actually got up on my first try (not on my second or third, but oh well..), we hung out in the floating water chairs, we hiked and visited sugar cane ruins, we hung out on beautiful sandy, white beaches, we visited beach bars, shops and restaurants, heard some great reggae bands and saw the most amazing scenery in the world. When we realized that we were there during the week of the full moon, Alan helped to rearrange our itinerary so that we could attend the amazing Full Moon Party at Trellis Bay which was quite the experience not one to be missed! Alan was a fabulous tour guide, making sure to take us to all the must see spots and then to other areas off the beaten path. He was also able to accommodate other special requests such as my husbands desire to watch or hear the football playoffs Alan and my husband enjoyed the games on Sirius radio on the boat, and Alan even radioed one of the beach bars to see if they were showing the games. And when I decided that I needed to get at least one run in during the week, he took me over to an island and pointed out a good running trail. My husband and I were impressed with Alans knowledge of the area and his ability to make sure that we had everything we needed while also giving us more than enough privacy and space to enjoy activities on our own. He always seemed to be there when we needed him, and conveniently out of sight when we didnt.

The highlight of the trip and what made our choice of the Catalyst and Alan the absolute right one was the food the food was unbelievable! We were blown away by every meal breakfast, lunch, happy hour snacks and dinner were all something we anticipated each day. We constantly told Alan that he needs to open his own restaurant or, at the least, publish a cookbook full of Catalyst recipes. Every meal we ate was better than the last, and each meal was better than the food we typically get in the nicest restaurants in our town. I dont know how he does it, but he works magic in the Catalysts small galley kitchen. My husband and I have never eaten so well in our lives and it was definitely a wake up call when we arrived home and had to cook for ourselves again. Between the food and the fabulous drinks margaritas, pina coladas and bushwhackers that Alan mixed up for us, we were in foodie heaven!

While we saw many other bigger, newer or more expensive boats during our trip, my husband and I realized that everyone else on those boats were seeing the exact same sights that we were and having the same experience, but we felt certain that they werent eating nearly as well or enjoying the company of their captain as much as we did ours. We would definitely recommend the Catalyst and Captain Alan to anyone considering a sailing trip through the BVIs and hope to return ourselves some day!

Christy
Raleigh, NC


Lewis...Feb. 2010
Well what can I say. This was one of the best vacations I have ever had! My two brothers and I went down to the B.V.I. hoping for a good time, and ended with a great time. Our Captain, ( Allan Roberts ) bent over backward to be sure we were enjoying ourselves. Not only did he ask us what we wanted to do, but made suggestions as to what we might do, (otherwise we would have missed a lot). As well, he is a patient and understanding divemaster, ( we are qualified, but sporatic divers ) And set the dives to our abilities starting at beginner to more advanced, always making us comfortable, and being sure that the dives were enjoyable and interesting.
The work that he put in to getting us to see all that was the B.V.I.
in the time we were there was amzing, as was the food! You gotta try a Catalyst Burger! Breakfast lunch and dinner are worthy of a 5 star restaraunt, but consumed not overlooking the water, but on the water.
Thanks Allan!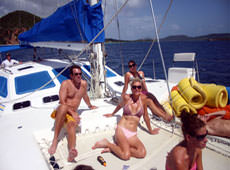 Garrison Jan. 2010
Dear Gail,

I just want to take a moment to thank you for getting me set up with Captain Alan Roberts on Catalyst. Gwen and I just got back from our second annual trip with Al. It was as spectacular as the first, and then some.At my request, we snorkeled twice a day. Never the same spot twice, and each dive more spectacular than the last. Gwen is afraid of boats, water, and fish, yet, just like last time, she came away begging me to do it again next year. One of the hard things I have a hard time describing to my friends, is the feeling you get from having a postcard view, in all directions, every moment, of every day, for an entire week. After dinner, we lay on the soft trampoline type bow, gazing at stars, with a balmy breeze soothing our minds, bodies, and spirits.

Somehow every gorgeous bay had something special to offer. We walked the most beautiful beaches weve ever seen, on islands ranging from secluded, to deserted. We took the most spectacular hike Ive ever taken, from quiet bay, to secluded polished rock shoreline, then elevating and narrowing to its completion atop a jagged cliff, with a 200 foot drop to wave beaten rocks, and a panoramic view as far as the eye can see.. Were not big party animals, but when we wanted to socialize a bit, Al just set us up in a great beach place with live music, and a nice mix of locals, and fellow happy sailors.

My lame descriptive ability couldnt possibly do justice the food Al conjured up. By day three, I was completely embarrassed by the amount of food worship we were heaping on him..Seriously, he must have thought wed just come off a 40 day hunger strike or something. I doubt Oprah gets food as good as that! The swordfish with mango salsa was amazing. The mahi mahi with some crazy reduction sauce was beyond description. Snack time with Als famous guacamole dip, and a fruity little rum drink, always works for us as well.

I just want to finish by saying that the most important ingredient on this trip, is Captain Al. He takes this amazing paradise of a location, and allows you to fully experience, and enjoy it, in your own personal way. Hes extremely knowledgeable, congenial, confident, and witty. Yet he always seems to be at the edges of your vacation of a lifetime. Hes not trying to be the show. Hes allowing you to enjoy the real show, which is this spectacular group of islands, and the waters surrounding them. Hes always there when you need him, yet hes NEVER there when you dont need him. Gwen and I think the world of him!!!!! His patience, humility, and ego-less presence, make him a pleasure to be around. He has our profound thanks, and we thank you for putting us together.

My apologies for rambling, but it was all so wonderful, that I get a bit excited describing it. I am including my phone number, and would drop whatever Im doing, just to speak with anyone interested in sailing with Al Roberts aboard Catalyst. I couldnt possibly recommend him in strong enough terms!!!!!!!!!!!!!!!



Happy Sailing!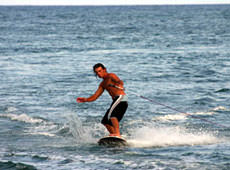 2009 Mark, Stephanie, Taylor and Natalie Clifford
Alan,
It's been the better part of a year since our sail aboard Catalyst but all of us still reminisce about the fantastic time we had. Sitting here at home watching the snow fall has me day-dreaming about another relaxing cruise through the BVI with complete confidence in our captain's skills, both at the helm and in the galley. Our two-day stop in Anegada was unforgettable as were our stops at Norman Island, Jost Van Dyke and Leverick Bay. But it was your recommendation that led us to two spots we hadn't seen on our two previous trips to the BVI, Sandy Spit and Cane Garden Bay, both of which were absolutely beautiful. These great memories will certainly last a lifetime and we all look forward to the next time we see you aboard Catalyst.
Cheers,
Mark, Stephanie, Taylor and Natalie Clifford Blairstown, NJ USA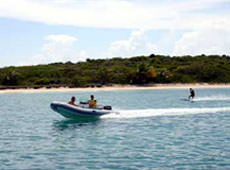 March 2009
Sailing on Catalyst was an amazing, Outstanding, once in a lifetime (I hope not) experience. I cant say enough about this trip to do it justice. The boat was beautiful, comfortable and stocked for any of our meals and then some. The itinerary was wonderfully planned and executed. The food that Alan prepared was fabulous, varied, delectable, and suited for our specific tastes. The dining was so varied and spectacular, as to be impossible to describe.

But what truly made this trip perfect was the CREW. Alan creates an environment that is so relaxed, comfortable, enlightening, enriching, friendly and fun, that I felt I was sailing with family (Only way better). Not only did he treat us wonderfully, he was extra ordinarily respectful and kind to Laura (His crew for the trip). She was absolutely sweet, kind gracious and helped in every way possible.

Gwen and I would recommend a vacation aboard the Catalyst in the strongest possible terms. I only wish Alan and Laura could understand the depth and richness of the experience they provided to us. It is a gift that we will always treasure!!!!!!



Most sincerely and gratefully yours

Gregg J Garrison

March 4th, 2009





Laura A. Pawlow, Ph.D.
Spending 5 days sailing the Caribbean on the Catalyst was the most amazing vacation my husband and I have ever experienced! Not having grown up on the water, I have to admit I was pretty nervous about the idea of spending 5 days on a boat, but it turns out I had nothing to worry about. Captain Alan's competence completely put my mind at ease and the accommodations had all the comforts of home. The ship is clean and beautiful and our host was wonderful - he spoiled us with delectable meals every night and made sure we were comfortable and having a great time - I wanted to take him home with us! Our days were spent sailing, snorkeling, kayaking, hiking, and soaking up the sun, and after all that we'd wind down with a wonderful dinner, some cocktails, and conversation under the beautiful stars. We recommend the Catalyst without reservation to anyone thinking about a sailing vacation, and we can't wait to return ourselves!

The de Groen Charter
Dear Alan,

On behalf of the whole de Groen family I would like to thank you and Ashley for a truly unforgettable sailing vacation in the BVI. From start to finish you planned a perfect trip for us. The itinerary was varied, very well organized and offered something for everyone: breathtaking beauty, incredible snorkeling, local color, an introduction to scuba diving, fantastic sailing (especially with your beautiful gennaker), enough beaching and swimming to get us through the long, cold Dutch winter and of course, incredibly delicious meals, snacks and cocktails. Anne-Elise is still talking about chocolate fondue under the stars aboard her very own private yacht and I marvel at the gourmet meals you magically produced from such a small kitchen! We enjoyed exploring the islands with you and appreciated your extensive knowledge of the area and the local hotspots. We felt supremely pampered and well taken care of and will always cherish our memories of our vacation aboard the Catalyst. With many thanks, Laura de Groen, Enschede, the Netherlands


Willis Charter
Q : Was the condition of the yacht up to your expectations?

A : I have never been on a catamaran before and I loved it! Everything was great!

Q: Did you find your accomodations comfortable?

A: We were in the smaller cabin but it was sufficient considering the fact that we could go up front or sit around the table in back.

Q: Was the crew attentive to your needs?

A: Alan made us feel very comfortable and went out of his way to do even more than we needed.

Q: Did you enjoy the meals and beverages served aboard?

A: Alan did a great job and everything was delicious.

Q: Was the itenerary fun and exciting?

A: Absolutely - even better than I expected - we saw 6 islands in 6 days.

Q: Would you charter this yacht again?

A: Would love to

This was probably the best vacation I've ever been on. Alan was fun, entertaining and added to the trip. He gave us information and pointed out sights as we sailed.
We recently returned from a charter with Alan Roberts on the Catalyst. The trip was outstanding in every way! I highly recommend Alan as a Captain and Chef. The food was creative, attractively presented and delicious! My husband and I had a medical emergency and he was extremely accommodating in altering his plans to take care of our needs. We look forward to returning again for a fun filled week with Captain Alan.



Carol Adelaar