Luxury Caribbean Motor Yacht Charters
If you're looking for the #1 luxury yacht chartering experience for the perfect motor yacht vacation in the Caribbean, look no further than Caribbean Soul Charters.
Here at Caribbean Soul Charters, we offer bespoke, luxury yacht charter booking for motor yachts to make your trip to the Caribbean one filled with memories that will last a lifetime.
Please see below for a plethora of motor yacht charter options and select up to five luxury yachts and email us with your selection of crewed options. We'll do the rest from there.
If you would like to discuss your trip in greater detail so we can create the ideal customized trip for you, your friends and your loved ones on a crewed motor yacht, please call +1 (340) 690-1121 or Toll-Free at +1 (877) 432-6700 and let's get started. Be sure to ask for Sue!

Previously named ENTERPRISE

CREW PROFILES
Title
Name
Nation
Born
Licenses
Captain
Jacob Beman
American
0
0
Number of Crew: 4
Languages:
Crew Profiles:
Captain - Jacob Beman

Captain Jacob grew up in Chicago and left the cold weather for sunny Southern California after college. It was there that he fell in love with sailing and yachting and never looked back. After purchasing his own boat and becoming involved in several race teams, he decided to make his passion his full-time career. Jacob traveled the world to gain experience and hone his skills, working several seasons in the Mediterranean and Australia. He arrived in the Virgin Islands in 2018 and he has never looked back!

For the last four seasons, Jacob has been a Captain in the USVI and BVI, and it is his favorite place to charter and show his guests the trip of a lifetime. Last season, Jacob was the captain of S/Y Synergy in the BVI. When his same owner recently purchased the beautiful M/Y Synergy, Jacob was thrilled at the opportunity to stay with the family, and move aboard as the captain of M/Y Synergy!


Chef - TBD


Natalie Lammers - Stewardess

Natalie hails from Grimes, Iowa. Growing up she swam competitively and continued through college where she competed as a Flame at the University of Illinois at Chicago. Alongside being captain of her swim team, Natalie was also a member of the Student-Athlete Advisory Committee where she served as Vice President and Social Events Chair.

Natalie recently began her yachting career after working in banking for two years. Her desire to see the world and work hands-on with people made the yachting industry the perfect fit. She is dedicated to providing an unforgettable vacation for every guest who steps on board, putting great detail into every aspect of the interior of the vessel. Natalie believes her greatest asset is her positive attitude, and both guests and crew will benefit from her radiant energy.

In Natalie's spare time, she loves to craft, talk to friends, and have new experiences. Her greatest passion is traveling and seeing the world, making new friends along the way.


Kate Carns - Mate

Kate grew up between Portland, Oregon and Seattle, Washington on a small farm. She spent a lot of time on the different lakes and at the ocean with her brother and cousins. Kate primarily worked in the coffee industry and even taught a coffee 101 class which went over palate development and the agricultural process of coffee from farm to cup. She also worked in sales, event planning, business development, and coached basketball.

Kate started yachting about a year and a half ago, although she has spent a lot of time on the water on various boats prior to her start. The pandemic gave her a chance to think about what she would like to pursue next and Kate fittingly landed on yachting, due to her love for the water.

As mate, Kate ensures the exterior of the boat is kept looking fresh and clean. She is committed to providing the best experience on the water for all guests. When looking to learn something new and get out of your comfort zone, Kate will provide a safe and comfortable way to show guests some new activities. She brings a positive attitude, sense of humor, and a good work ethic on board the vessel.

Kate is working her way to pursuing her captain's licenses and eventually hopes to run her own program. She also aspires to open her own little coffee shop one day.

In Kate's spare time, partaking in water sports, snowboarding, riding her motorcycle, spending time with her dog, or trying new coffee shops are among the things she loves to do.

Whatever an ideal holiday looks like for a guest, Kate is committed to bringing it to fruition onboard SYNERGY.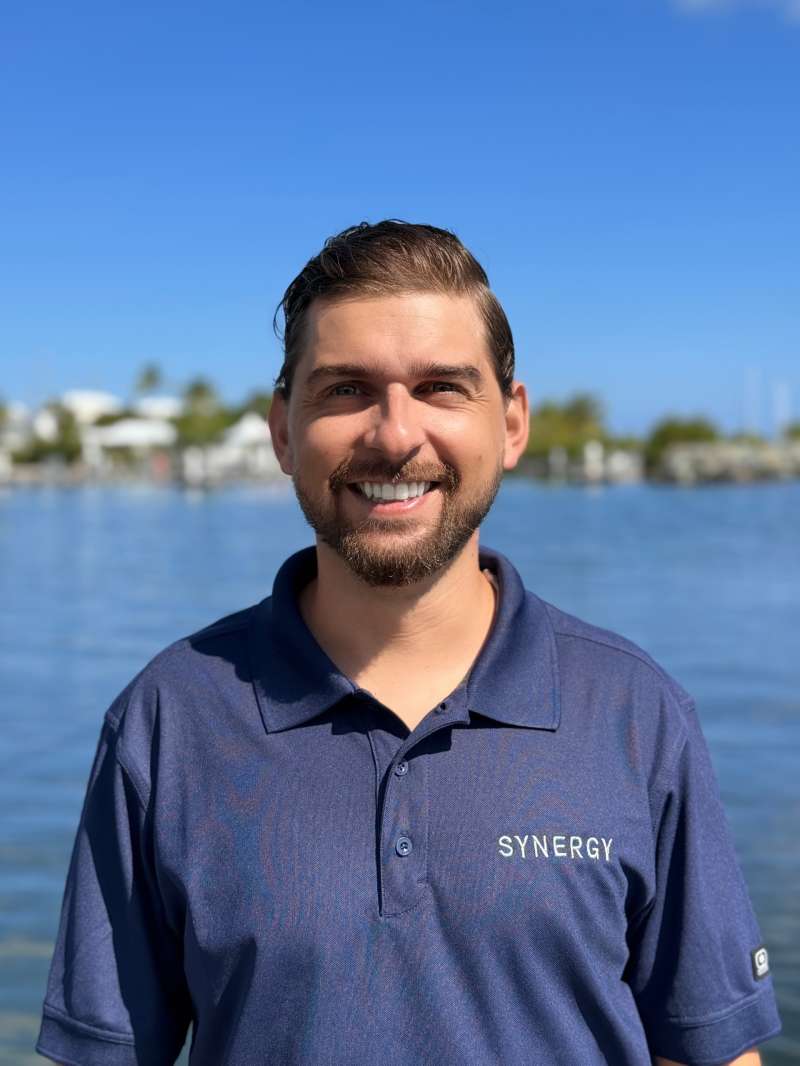 Jacob Beman
Captain
---