Luxury Caribbean Motor Yacht Charters
If you're looking for the #1 luxury yacht chartering experience for the perfect motor yacht vacation in the Caribbean, look no further than Caribbean Soul Charters.
Here at Caribbean Soul Charters, we offer bespoke, luxury yacht charter booking for motor yachts to make your trip to the Caribbean one filled with memories that will last a lifetime.
Please see below for a plethora of motor yacht charter options and select up to five luxury yachts and email us with your selection of crewed options. We'll do the rest from there.
If you would like to discuss your trip in greater detail so we can create the ideal customized trip for you, your friends and your loved ones on a crewed motor yacht, please call +1 (340) 690-1121 or Toll-Free at +1 (877) 432-6700 and let's get started. Be sure to ask for Sue!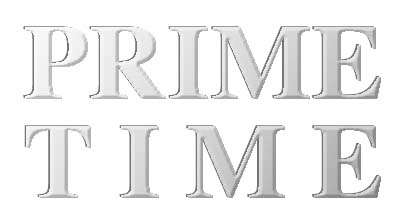 PRIME TIME GUESTS COMMENTS
Guests aboard in late October, 2021, in the BVI, wrote
Captain Joe and his first mate Mike were nothing short of fantastic hosts. They mapped out amazing excursions that they felt we couldn't miss, and jam packed them to make sure we got to experience as much as we could in only 3 days. We had the best trip we could have imagined and it was like out of our dreams. The food was fantastic, the drinks were always ice cold and ready, the ships common quarters were always spotless. We're already trying to figure out how we can get back down there again! I promise if you book with these guys you will NOT be disappointed. They made you feel like family and never heard the word "no" from either of them. Give these guys the opportunity to show you a trip of a lifetime. Thank you again Joe and Mike, we'll be back for a full week next time.
Christmas week, 2019, aboard PRIME TIME - The guest said:
We spent a week with Joe and Mike on 'Prime Time', It was an amazing experience. There was ample toys on board for water sports ( wake-boarding, several stand-up paddle boards, sea-kayaks, etc), we also saw the great spots of the BVI: Virgin Gorda, Jost Van Dyke, etc. The setting was beautiful but Joe and Mike were able to make our experience extra special by quickly adapting the itinerary to our wants and preferences.

Prime Time is in excellent condition as well as its tender. The rooms are really nice and there is a very good amount of outdoor space to enjoy the sun. Joe is a wonderful cook, the majority of our charter ended up making his biscuit and gravy recipe after we were back.

Overall, it was an incredible and and unforgettable experience. If you are looking to charter a yacht in the BVI, you cannot go wrong with Captain Joe, Mike and Prime Time.
Early October, 2019 guests on a book-by-the-cabin charter, wrote:
As recent empty-nesters we didn't want to charter an entire vessel, so our broker found us Prime Time. We excitedly booked and were upgraded to the king suite; omg his and her bathrooms for an entire week!!! Completely by chance, our October weather conditions were ideal, and because it wasn't quite "season," we literally had the Islands to ourselves. Spectacular snorkeling everyday, and Captain Joe was very accommodating, getting us to all the great spots, and even encouraging us old-timers to try out the SUP and ZUP board (which i mastered)! He went above and beyond by offering his vehicle for us to explore Tortola! The boat vibe was very comfortable and relaxed and laid-back, exactly our style. My happy place was with my butt in the bean bag on the bow with a drink in my hand every time we were under way!!! #beanbagonthebow

Deanne and Pascal, Florida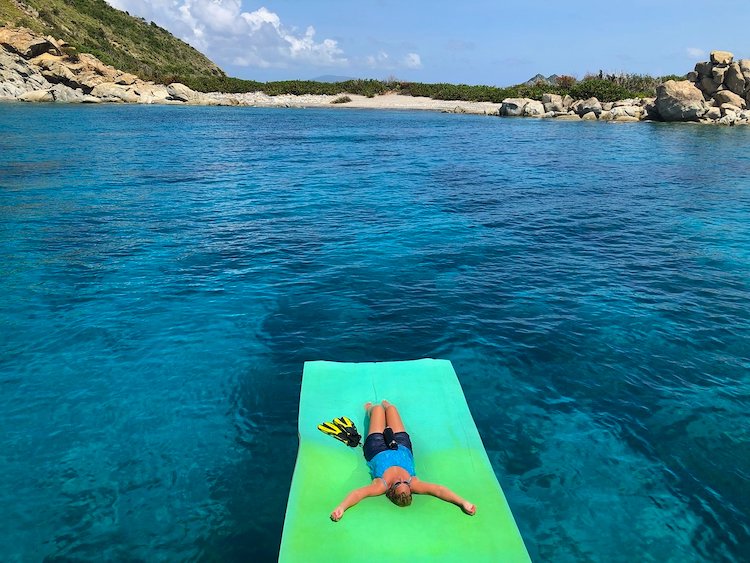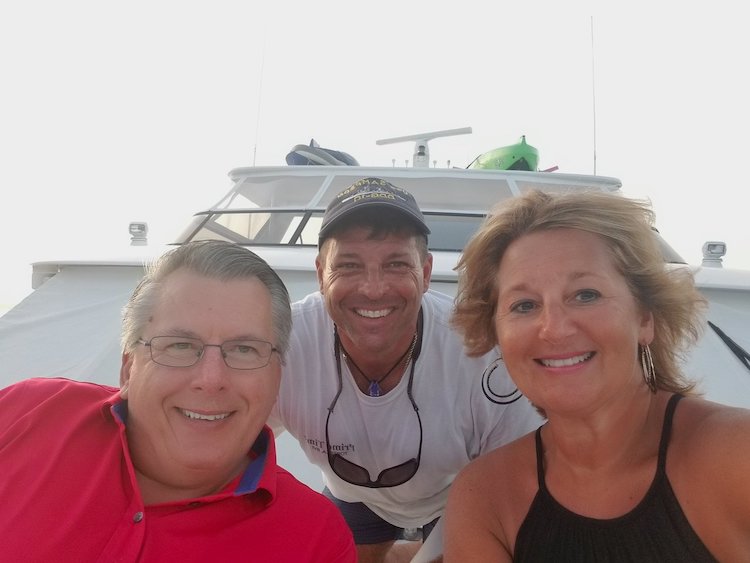 Mid May, 2019, guests on PRIME TIME wrote:
Incredible week on Prime Time cruising through the BVI
I booked this trip for my wife's 40th birthday. There were 6 of us on the trip and we stayed on the boat for 8 days. We toured all of the islands in the BVI, went scuba diving (saw sharks!), hit all of the awesome beaches and beach bars and even took a jump from the top of the yacht into the water 40 feet down! Joe (Captain), Michael (1st Mate) and Londa (Chef) made sure that anything we needed was taken care of and ensured each day had something new and fun to do.
A little more detail: The Boat - The boat is plenty large for 3 couples. We spent most of the boat time on the wide open top deck catching sun or shade while enjoying cocktails. There was a ton of room up there and the breeze was great. We used the main level of the boat for some games at night and watched a couple movies. The boat had hi-speed wifi for the entire journey. Netflix and facetime worked just fine to watch movies and stay in touch with our kids. Lower deck rooms were a great place to escape the heat and catch a cat nap. I slept in the master and must say that the bed was more comfortable than I was expecting.
The Food- Londa was the chef on board and the food was incredible. Regardless of the menu, she made every dish taste great. We had Mahi Mahi, Pork chops, BBQ ribs, West Indian Roti and Lobster to name a few. All were amazing. We even asked us to use the left over lobster for lobster mac the next day and that was awesome too. Really impressed with her...
The BVI - What a great place. I have been throughout most of the Caribbean and really loved how the BVI. It is quite arid in comparison to Jamaica or some others but still beautiful, mountainous and sandy. Also, the people were terrific - never had an issue. I loved how we could see all the islands from each location and it only took us an hour or 2 to get from one island to the others.
The Diving - We used Blue Water divers and my wife was able to take her PADI course with them during the trip. I dove one of the days also and saw a shark for the first time - awesome and scary at the same time! The divers picked us up at the boat and took us to our spots. Joe coordinated with them and made it seamless.
Overall we had an extremely memorable trip and will certainly be coming back to the BVI. Thanks Joe!